Beauty's Daughter: The Story of Hermione and Helen of Troy (Paperback)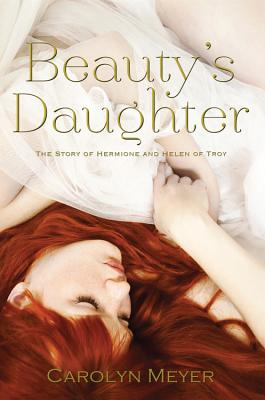 $8.99
Email or call for price.
Description
---
What is it like to be the daughter of the most beautiful woman in the world?
Hermione knows . . . her mother is Helen of Troy, the famed beauty of Greek myth. Helen is not only beautiful but also impulsive, and when she falls in love with charming Prince Paris, she runs off with him to Troy, abandoning her distraught daughter. Determined to reclaim their enchanting queen, the Greek army sails for Troy. Hermione stows away in one of the thousand ships in the fleet and witnesses the start of the legendary Trojan War.
     In the rough Greek encampment outside the walls of Troy, Hermione's life is far from that of a pampered princess. Meanwhile, her mother basks in luxury in the royal palace inside the city. Hermione desperately wishes for the gods and goddesses to intervene and end the brutal war—and to bring her love. Will she end up with the handsome archer Orestes, or the formidable Pyrrhus, leader of a tribe of fierce warriors? And will she ever forgive her mother for bringing such chaos to her life and the lives of so many others?
About the Author
---
Carolyn Meyer is the acclaimed author of more than fifty books for young people. Her many award-winning novels include Mary, Bloody Mary, an ABA Pick of the Lists, an NCSS-CBC Notable Children's Trade Book in the Field of Social Studies, and an ALA Best Book for Young Adults; Anastasia: The Last Grand Duchess, a New York Times bestseller; White Lilacs, an ALA Best Book for Young Adults, an NYPL Best Book for the Teen Age, and an IRA Young Adults' Choice; and Marie, Dancing, a BookSense Pick. Ms. Meyer lives in Albuquerque, New Mexico. Visit her website at www.readcarolyn.com.
Praise For…
---
"Beauty's Daughter burrows into the recent interest in Greek mythology and builds a fictional account of the young woman's quest to find her lost love."—VOYA "This title would make a great pairing for students studying Greek mythology or reading the Iliad or Odyssey and will appeal particularly to students interested in ancient history."—SLJ "For readers intimidated by the language of the Iliad, this makes a fine companion piece, highlighting the soap opera of relationships among the key players and the interventions of the gods into their daily affairs."—Bulletin "This account should whet readers' interest in additional source material."—Booklist Praise for Carolyn Meyer's Young Royals books: "High drama . . . irresistible."—Booklist "Riveting."—Publishers Weekly "Masterful."—VOYA "Captivating."—SLJ —