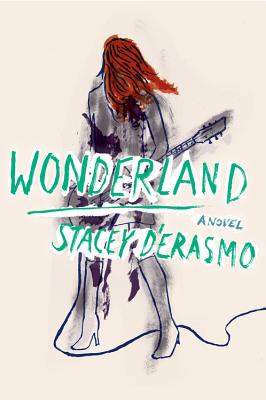 $14.99

Not Available In-Store - Usually Ships from Warehouse in 1-5 Days
Staff Reviews
---
Indie rock star Anna Brundage had her 15 minutes of fame, and then slid back into the shadows of regular life. Now she has a second chance--in Stacy D'Erasmo's brilliant new novel we meet Anna at the beginning of her European comeback tour. This powerful book is about life on tour--train rides, drinking, casual encounters with fans--and D'Erasmo knows what she's talking about from her research touring Europe with Scissor Sisters. But Wonderland is also about what is at the heart of our need to create--Anna's music, her father's sculpture and the author's prose all reflect and inform each other, and create a deep sense of longing and beauty within the reader. This book is for the artist in each of us!
—
SARAH B.'S STAFF PICKS
May 2014 Indie Next List
---
"With a voice as raw and lively as an amplifier crackling to life, Wonderland's Anna Brundage is the perfect rock-and-roll narrator. D'Erasmo explodes the tropes of coming-of-age stories, presenting a woman coming into her own at 44, seven years after her spectacular rise and fall on the indie scene. Back with a new band, a new album, and one last chance to make it as a musician, Anna's journey is a wonderful meditation on music, the creative spirit, and the highs and lows of an unconventional life."
— Josh Christie, Sherman's Books & Stationery, Freeport, ME
Description
---
An NPR Best Book of 2014
A Time Top Ten Fiction Book of 2014
A New York Times Book Review Editors' Choice
A BBC Top Ten Book of 2014

"Exquisite...As inspiring in its way as Patti Smith's memoir Just Kids." —Los Angeles Times
 
"Briskly addictive . . . Told in the voice of a female rock Ulysses." —O, the Oprah Magazine
 
"Marvelous . . . D'Erasmo conjures up the seedy, sexy spectacle of life on the road with amazing vividness, and fills in the inner life of a woman who has one last chance to get her voice heard." —Lev Grossman, Time
 
Anna Brundage is a rock star. She was an overnight indie sensation, but lost her fame just as fast as she found it. Now forty-four, she pours everything into a comeback, selling her famous father's art to finance an album and a European tour. A riveting look at the life of a musician and the moving story of a woman's unconventional path, Wonderland is a glimpse of how it feels when a wish just might come true.
 
"Anna made me think of Florence Welch of Florence and the Machine, mixed with a little bit of Janis." — Paste
 
"Richly interior . . . What makes Anna such a powerful narrator is her seductive desire to keep her options open." — Washington Post
About the Author
---
STACEY D'ERASMO is a recipient of Guggenheim and Stegner Fellowships, the author of three previous novels and a book of nonfiction, The Art of Intimacy. Her work has also appeared in The New York Times (Magazine and Book Review), Bookforum, and Ploughshares, among others. She teaches in Columbia University's MFA program.
Praise For…
---
"Ingeniously conceived and believable… D'Erasmo is a gifted and skillful writer." —Lionel Shriver, The New York Times Book Review "Stacey D'Erasmo's exquisite Wonderland...succeeds, not through bombast but with beautifully measured, understated writing and meticulous characterization...Wonderland's narrator, Anna Brundage, is so beautifully realized that I wanted to download her music on iTunes... a striking evocation of the artist's quest" —Elizabeth Hand, Los Angeles Times "Briskly addictive. . . Some sentences dance like wind chimes in a hurricane; others evanesce. . . D'Erasmo expertly conjures the seductive uncharted space that lures the sculptor, the musician..." —O, The Oprah Magazine "An exceptionally well-written novel... I read Wonderland and saw that D'Erasmo wanted to write about what it means to devote your life to your art too, but she kept that the focus of the entire novel, and it makes for a razor-sharp, unsparing book. She captures both the joys and the terror, the grind and the exaltation." —Emily St.John Mandel, The Millions, "A Year in Reading" "Dreamy... [with] finely tuned prose… Given the book's sensual imagery and magnetic heroine, it's hard not to wonder what Anna would sound like—I pegged her as some combination of Björk, Florence and the Machine, and Janis Joplin." —Mother Jones "Her story reads like an unusually lucid travel journal...In Brundage, D'Erasmo has created a wry, questioning, sensual artist." —The New Yorker "heartbreakingly intense…[a] dramatically satisfying, philosophically complex novel." —San Francisco Chronicle "D'Erasmo's writing exhibits a life-and-death intimacy that grabs at us" —USA Today "[A] questing, questioning, melodic narrative…Sentence by sentence, Stacey D'Erasmo is a gorgeous writer...[with] a vibrant, idiosyncratic voice" —Minneapolis Star Tribune "the prose constantly achieves the magic trick of seeming both weightless and grounded...an evocative exploration of universal themes: the anxieties of middle age, the bittersweet freedom of the creative life, the burden of the legacy a daughter inherits from her father." —BookForum "A cool, dreamy read, by turns drug-fueled, anxious, touched by grief, blistering with the heat of survival instinct…delicious"  —Black Heart Magazine "D'Erasmo gives us an inside look at a world most of us will never experience. As Anna strives for perfection in her music, you get the feeling she might just make it." —The Oklahoman "[WONDERLAND] delicately melts together a captivating story, artistic language and meaningful imagery." —NeuralPop "As Robert Mapplethorpe told Patti Smith, this one, Wonderland has the magic." —Washington Independent Review of Books "A must read for any up and coming artist to grizzled veteran." —Femmusic "[D'Erasmo] combines the delightful worlds of literature and music while bringing out the best in both mediums…a rich and exquisitely crafted novel." —LambdaLiterary "breakout" —Vogue "A spellbinding look into the protagonist's being... meticulously crafted ... Days and shows pass, but within this routine, a transformation slowly creeps into the narrative: that of commitment, and, perhaps, hope for the f —