The Nazis Next Door: How America Became a Safe Haven for Hitler's Men (Paperback)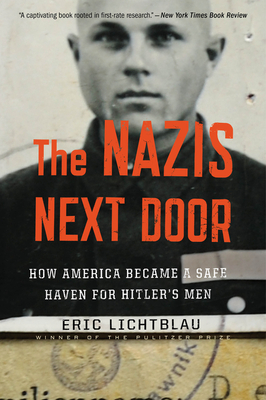 Staff Reviews
---
I knew that our country harbored Nazi scientists after the war. I was aware that war criminals were found residing here long after the conflict. I did NOT know that the CIA and FBI knowingly protected people guilty of the most vicious crimes imaginable, all in the name of combating Communism. The information here is disturbing, but a double shock is how compelling and entertaining a read this makes. It's like losing oneself in a great old thriller like "The Boys from Brazil" or "The Odessa File," except the story here is chillingly true.
—
Stephen
Description
---
Read the history behind the series THE HUNTERS (starring Al Pacino) in this "captivating book rooted in first-rate research" (New York Times Book Review) that tells the true story of how America became home to thousands of Nazi war criminals.

For the first time, once-secret government records and interviews tell the full story of the thousands of Nazis—from concentration camp guards to high-level officers in the Third Reich—who came to the United States after World War II and quietly settled into new lives. Many gained entry on their own as self-styled war "refugees." But some had help from the U.S. government. The CIA, the FBI, and the military all put Hitler's minions to work as spies, intelligence assets, and leading scientists and engineers, whitewashing their histories. Only years after their arrival did private sleuths and government prosecutors begin trying to identify the hidden Nazis. Now, relying on a trove of newly disclosed documents and scores of interviews, Eric Lichtblau reveals this shocking, shameful, and little-known chapter of postwar history.
 
New York Times bestseller — Espionage category

"Disturbing." — Salon    

"Engaging." — Chicago Tribune

"A gripping chronicle." — Times of Israel

"Riveting . . . An important, fascinating read." — Jewish Book Council
About the Author
---
ERIC LICHTBLAU, a two-time Pulitzer Prize–winning journalist, is the best-selling author of The Nazis Next Door and Bush's Law: The Remaking of American Justice. He was a Washington reporter for the New York Times for fifteen years, while also writing for the Los Angeles Times, The New Yorker, TIME, and other publications. He has been a frequent guest on NPR, MSNBC, C-SPAN, and other networks, as well as a speaker at many universities and institutions. He lives outside Washington, D.C.