Mr. Splitfoot (Paperback)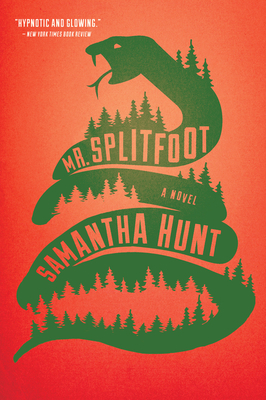 $14.95
Not Available In-Store - Usually Ships from Warehouse in 1-5 Days
Staff Reviews
---
This is a beautiful ghost story written in stunning prose that embraces a psychological realm. The novel is told through parallel storylines. The prose is dreamy and imaginative and tells the tale of an epic journey through upstate New York between a silent aunt and her pregnant niece. There are family memories, criminals, utopian communities and the mundane world all colliding into our characters' tales. Mr. Splitfoot is a fantastic read and takes the reader on a magical-musical ghost-like journey.
—
Cindy
January 2016 Indie Next List
---
"When Cora's Aunt Ruth, whom she hasn't seen since childhood, shows up on her doorstep, mute yet demanding Cora follow her, Cora makes a split-second decision to do that to escape her dead-end job and the father of the baby she is carrying. The tale of the road trip that follows and the details of Ruth's past are told in alternating chapters until they merge. The cast of characters and settings are mysterious and creepy, like something out of a David Lynch movie. Readers will be compelled to keep the pages turning until the secrets are revealed."
— Kelley Drahushuk (W), The Spotty Dog, Hudson, NY
Description
---
A New York Times Editors' Choice * A Paris Review Staff Pick * An Indie Next Pick

"Hypnotic and glowing." — New York Times Book Review

"An intriguing mystery with clues, suspense, enigmas galore, and an exhilarating, witty, poignant paean to the unexplainable, the unsolvable, the irreducibly mysterious."
— Boston Globe
 
Ruth and Nat are seventeen. They are orphans. And they may be able to talk to the dead. Enter Mr. Bell, a con man with his own mystical interests. Together they embark on an unexpected journey that connects meteor sites, utopian communities, lost mothers, and a scar that maps its way across Ruth's face.

Decades later and after years of absence, Ruth visits her niece, Cora. But while Ruth used to speak to the dead, she now won't speak at all. She leads Cora on a mysterious mission that involves crossing the entire state of New York on foot. Where is she taking them? And who—or what—is hidden in the woods at the end of the road?

"An escapist adventure, a gothic page-turner that is also so finely crafted that you'll feel enriched as well as transported for having read it." — Esquire
 
"An American gothic fever dream." — Chicago Tribune
 
"Gripping." — The New Yorker
About the Author
---
Samantha Hunt's novel about Nikola Tesla, The Invention of Everything Else was a finalist for the Orange Prize and winner of the Bard Fiction Prize. Her first novel, The Seas, a twisted tale of mermaids, won the National Book Foundation's Five under Thirty-five prize. She lives in upstate New York.
 
Praise For…
---
"Ethereal . . . The book deftly straddles the slippery line between fantasy and reality in a story that's both gripping and wonderfully mystifying . . . [I]nterconnected chapters build suspense while keeping readers guessing about what crazy turn might happen next. Hints of what's in store for readers include a cult of Etherists, a noseless man, a pile of lost money, and a scar-like pattern of meteorite landings. This spellbinder is storytelling at its best."—Publishers Weekly, starred review

"A truly fantastic novel in which the blurring of natural and supernatural creates a stirring, visceral conclusion."—Kirkus Reviews, starred review

"I get the chills. Is it a true story? Is it a sad story? It's what people want. It has a lot of good energy and people, people will like it. They will keep reading it until they read the end of it. It's intriguing because a person will know there's something two-sided. Yeah. It's a good one."—Charlotte Brontë, speaking through a medium

"Part road trip, part gothic, Mr. Splitfoot belongs on the shelf beside The Haunting of Hill House and We Have Always Lived in the Castle. Samantha Hunt is astonishing. Her every sentence electrifies. Her characters demand our closest attention. Her new book contains everything that I want in a novel. If I could long-distance mesmerize you, dear reader, into picking up this book and buying it and reading it at once, believe me: I would."—Kelly Link, author of Get in Trouble,Magic for Beginners, and many others

"I'm speechless. Mr. Splitfoot is so inventive, so new; I haven't read anything like it in years. On the surface it's about false spirituality and the most demented road trip across New York State ever attempted, but it's also about the horrible ties that bind us and the small acts of redemption that make life almost okay. On top of that, it's a thrilling page-turner. I couldn't stop reading it."—Gary Shteyngart, author of Little Failure,Super Sad True Love Story, and many others

"Mr. Splitfoot is lyrical, echoing, deeply strange, with a quality of sustained hallucination. It is the best book on communicating with the dead since William Lindsay Gresham's Nightmare Alley, but it swaps out that novel's cynicism for a more life-affirming sense of uncertainty."—Luc Sante, author of Low Life and many others

"Mr. Splitfoot is an absolutely thrilling book. Filial and maternal love are on display in all their complicated hugeness. But Hunt gives us plenty of humor amid the horror and awe—
and then turns on the lights and shows us what was looming above us the whole time. I can't stop thinking about it."—Sarah Manguso, author of Ongoingness, Two Kinds of Decay, and others