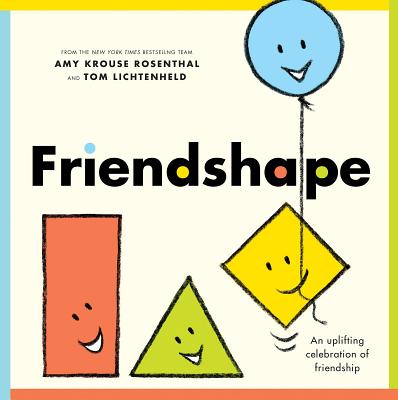 Description
---
The bestselling creators of EXCLAMATION MARK! introduce a triangle, circle, square, and rectangle who celebrate the gift of friendship.Friends shape who we are. They make us laugh. They fill us with fun. They stand by us during life's up and downs. And even when we disagree with our friends, if they're tried-and-true, they don't stay bent out of shape for long. That's the beauty of a good buddy. This joyous book rejoices in the simple beauties of friendship, and reminds readers of all ages that it's good to have a group of pals.
About the Author
---
AMY KROUSE ROSENTHAL was the author of the memoir Encyclopedia of an Ordinary Life and the children's books Cookies: Bite-Size Life Lessons, illustrated by Jane Dyer; One of Those Days, illustrated by Rebecca Doughty; and Little Pea, illustrated by Jen Corace.
Tom Lichtenheld is the illustrator of New York Times bestsellers
Duck! Rabbit!
,
Exclamation Mark
,
Steam Train, Dream Train
,
Shark vs. Train
,
Mighty, Mighty Construction Site
, and
Goodnight, Goodnight, Construction Site
, which has been on the bestseller list for over three years. He has also written and illustrated a number of books, including
What Are You So Grumpy About?
,
Cloudette
, and
E-mergency
, a Publishers Weekly and Boston Globe Best Book of 2011. For more information, visit him at tomlichtenheld.com.
Praise For…
---
Praise for EXCLAMATION MARK!*"How does an exclamation mark learn his purpose? Readers will giggle and cheer to see the process."--KIRKUS REVIEWS, starred review*"This picture book deserves a !!!"--BOOKLIST, starred review*"This one is a must-have!!!"--SCHOOL LIBRARY JOURNAL, starred review

Praise for EXCLAMATION MARK!*"How does an exclamation mark learn his purpose? Readers will giggle and cheer to see the process."--KIRKUS REVIEWS, starred review*"This picture book deserves a !!!"--BOOKLIST, starred review*"This one is a must-have!!!"--SCHOOL LIBRARY JOURNAL, starred review