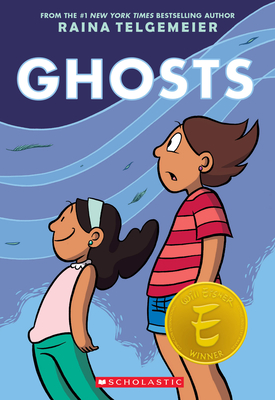 Staff Reviews
---
This is the first book that I have read by Raina Relgemeier and I really enjoyed it. It's the story of Catrina and her younger sister Maya, who has cystic fibrosis, and their family's movie to Northern California to help with Maya's health. The town of Bahia de la Luna is alive with more than just it's current residents, it is also filled with ghosts! I love that the author brings in Dia De Los Muertos and explained the celebration. I also enjoyed the book because I could relate to Maya, as a child I spent a lot of time in hospitals with lung problems. I feel Raina's story is beautiful and recommend it to all age groups!
—
Heather G.
Description
---
From Raina Telgemeier, the #1 New York Times bestselling, multiple Eisner Award-winning author of Smile, Drama, and Sisters!Catrina and her family are moving to the coast of Northern California because her little sister, Maya, is sick. Cat isn't happy about leaving her friends for Bahía de la Luna, but Maya has cystic fibrosis and will benefit from the cool, salty air that blows in from the sea. As the girls explore their new home, a neighbor lets them in on a secret: There are ghosts in Bahía de la Luna. Maya is determined to meet one, but Cat wants nothing to do with them. As the time of year when ghosts reunite with their loved ones approaches, Cat must figure out how to put aside her fears for her sister's sake -- and her own.Raina Telgemeier has masterfully created a moving and insightful story about the power of family and friendship, and how it gives us the courage to do what we never thought possible.
About the Author
---
Raina Telgemeier is the #1 New York Times bestselling, multiple Eisner Award–winning creator of Smile, Sisters, and Guts, which are all graphic memoirs based on her childhood. She is also the creator of Drama and Ghosts, and is the adapter and illustrator of the first four Baby-sitters Club graphic novels. Raina lives in the San Francisco Bay Area. To learn more, visit her online at goraina.com.
Praise For…
---
* "Telgemeier has her finger on the pulse of middle-grade readers, and this might be her best yet." -- Booklist, starred review* "Telgemeier's bold colors, superior visual storytelling, and unusual subject matter will keep readers emotionally engaged and unable to put down this compelling tale." -- Kirkus Reviews, starred review* "A can't-miss addition to middle grade graphic novel shelves; hand to fans of the author and newcomers alike." -- School Library Journal, starred review* "The story is consistently engaging, the plot is tightly built." -- Publishers Weekly, starred review"[A] gem of a graphic novel" -- Bulletin of the Center for Children's Books"Raina Telgemeier's characters fizz with visual energy." -- The New York Times Book Review

* "Telgemeier has her finger on the pulse of middle-grade readers, and this might be her best yet." -- Booklist, starred review* "Telgemeier's bold colors, superior visual storytelling, and unusual subject matter will keep readers emotionally engaged and unable to put down this compelling tale." -- Kirkus Reviews, starred review* "A can't-miss addition to middle grade graphic novel shelves; hand to fans of the author and newcomers alike." -- School Library Journal, starred review* "The story is consistently engaging, the plot is tightly built." -- Publishers Weekly, starred review"[A] gem of a graphic novel" -- Bulletin of the Center for Children's Books"Raina Telgemeier's characters fizz with visual energy." -- The New York Times Book Review
Coverage from NPR