I Survived the Attack of the Grizzlies, 1967 (I Survived #17) (Paperback)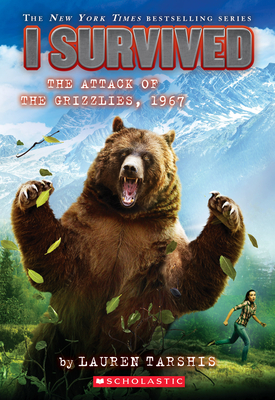 Other Books in Series
This is book number 17 in the I Survived series.
Description
---
New York Times bestselling author Lauren Tarshis tackles the historic grizzly bear attacks in Glacier National Park in this latest installment of the groundbreaking I Survived series.No grizzly has ever killed a human in Glacier before . . . until tonight. Eleven-year-old Melody Vega and her family come to Glacier National Park every year, and it's always been a place where she can forget her troubles. But this year is different. With Mom gone, every moment in the park is a heartbreaking reminder of the past.Then Mel comes face-to-face with the mighty grizzly. Now her only thought is one of survival. Mel will soon be a part of one of the most tragic seasons in the history of America's national parks - a summer of terror that will forever change ideas about how grizzlies and humans can exist together in the wild.
About the Author
---
Lauren Tarshis's New York Times bestselling I Survived series tells stories of young people and their resilience and strength in the midst of unimaginable disasters and times of turmoil. Lauren has brought her signature warmth and exhaustive research to topics such as the battle of D-Day, the American Revolution, Hurricane Katrina, the bombing of Pearl Harbor, and other world events. She lives in Connecticut with her family, and can be found online at laurentarshis.com.
Praise For…
---
Praise for I Survived the American Revolution, 1776:
"Tarshis successfully blends historical fact with an involving narrative." -- School Library Journal
Praise for I Survived the Destruction of Pompeii, AD 79:
"Tarshis serves up another gripping adventure... with the light-speed pacing and death-defying maneuvering fans have come to expect." -- Booklist
Praise for I Survived the Battle of Gettysburg, 1863:
"Informative and breathlessly paced." -- Kirkus Reviews
Praise for I Survived The Attacks of September 11, 2001:
"[Tarshis] crafts a dramatic, emotionally intense tale that takes account of 9/11's physical and emotional costs -- short- and long-term -- while ending on an upward beat." -- Kirkus Reviews
Praise for I Survived Hurricane Katrina, 2005:
"Expressive illustrations capture the drama of the storm and its aftermath, but the book's real power comes from its exploration of what it means to be a hero." -- Booklist
Praise for I Survived the Shark Attacks of 1916:
"A gripping story that will hold the interest of reluctant readers." -- School Library Journal
Praise for I Survived the Sinking of the Titanic, 1912:
"The fast pace and intrinsically fascinating disaster story will keep readers turning the pages." -- Kirkus Reviews
Praise for I Survived the American Revolution, 1776:
"Tarshis successfully blends historical fact with an involving narrative." --
School Library Journal
Praise for I Survived the Destruction of Pompeii, AD 79:
"Tarshis serves up another gripping adventure... with the light-speed pacing and death-defying maneuvering fans have come to expect." --
Booklist
Praise for I Survived the Battle of Gettysburg, 1863:
"Informative and breathlessly paced." --
Kirkus Reviews
Praise for I Survived The Attacks of September 11, 2001:
"[Tarshis] crafts a dramatic, emotionally intense tale that takes account of 9/11's physical and emotional costs -- short- and long-term -- while ending on an upward beat." --
Kirkus Reviews
Praise for I Survived Hurricane Katrina, 2005:
"Expressive illustrations capture the drama of the storm and its aftermath, but the book's real power comes from its exploration of what it means to be a hero." --
Booklist
Praise for I Survived the Shark Attacks of 1916:
"A gripping story that will hold the interest of reluctant readers." --
School Library Journal
Praise for I Survived the Sinking of the Titanic, 1912:
"The fast pace and intrinsically fascinating disaster story will keep readers turning the pages." --
Kirkus Reviews
Praise for I Survived the American Revolution, 1776:
"Tarshis successfully blends historical fact with an involving narrative." --
School Library Journal
Praise for I Survived the Destruction of Pompeii, AD 79:
"Tarshis serves up another gripping adventure... with the light-speed pacing and death-defying maneuvering fans have come to expect." --
Booklist
Praise for I Survived the Battle of Gettysburg, 1863:
"Informative and breathlessly paced." --
Kirkus Reviews
Praise for I Survived The Attacks of September 11, 2001:
"[Tarshis] crafts a dramatic, emotionally intense tale that takes account of 9/11's physical and emotional costs -- short- and long-term -- while ending on an upward beat." --
Kirkus Reviews
Praise for I Survived Hurricane Katrina, 2005:
"Expressive illustrations capture the drama of the storm and its aftermath, but the book's real power comes from its exploration of what it means to be a hero." --
Booklist
Praise for I Survived the Shark Attacks of 1916:
"A gripping story that will hold the interest of reluctant readers." --
School Library Journal
Praise for I Survived the Sinking of the Titanic, 1912:
"The fast pace and intrinsically fascinating disaster story will keep readers turning the pages." --
Kirkus Reviews