The Toss of a Lemon (Paperback)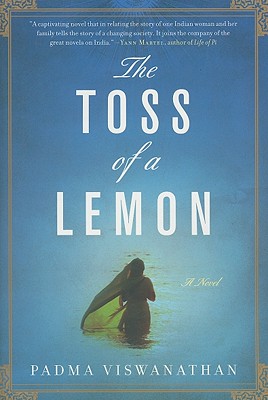 $22.95
Not Available In-Store - Usually Ships from Warehouse in 1-5 Days
Staff Reviews
---
Spanning the lifetime of one woman, The Toss of a Lemon offers an intimate look into a Brahmin household. This beautiful story brings to life an exotic yet recognizable family in the midst of social and political upheaval. If you love to read about culture and family bonds, this is a must read.
—
Brandi
October 2008 Indie Next List
---
"This book so wonderfully captures the life of one Indian woman and her family living through all the changes India undergoes in the first half of the 20th century. Padma Viswanathan has created characters you will care about, and gives fantastic descriptions of the food. Plan to eat Indian during your reading of this highly recommended book."
— Lisa Sharp, Nightbird Books, Fayetteville, AR
Description
---
Sivakami was married at ten, widowed at eighteen, and left with two children. According to the dictates of her caste, her head is shaved and she puts on widow's whites. From dawn to dusk, she is not allowed to contaminate herself with human touch, not even to comfort her small children.
Sivakami dutifully follows custom, except for one defiant act: She moves back to her dead husband's house to raise her children. There, her servant Muchami, a closeted gay man who is bound by a different caste's rules, becomes her public face. Their singular relationship holds three generations of the family together through the turbulent first half of the twentieth century, as India endures great social and political change. But as time passes, the family changes, too; Sivakami's son will question the strictures of the very beliefs that his mother has scrupulously upheld. 
The Toss of a Lemon is heartbreaking and exhilarating, profoundly exotic yet utterly recognizable in evoking the tensions that change brings to every family.
About the Author
---
PADMA VISWANATHAN is a fiction writer, playwright, and journalist. She was awarded first place in the 2006 Boston Review Short Story Contest. She lives with the poet and translator Geoffrey Brock and their children in Fayetteville, Arkansas.
Praise For…
---
Praise for THE TOSS OF A LEMON:
"Padma Viswanathan has real talent." -- The New York Times Book Review
"A brilliant tour de force." - India Today
"Viswanathan's book, like Rushdie's work, aims for epic status. But it actually achieves something that is in many way more nuanced than the broad brushstrokes of an epic: a meditation on fate's workings in a family dominted by the quiet rule of one woman- and the struggle of her son against the strictures of her belief." -- The Washington Post Book World
"We are left wondering what will happen as all cultures in the world continue to converge -- will a collective future become more important than singular, personal pasts? -- a mystery that the book earns, and one that haunts us well after closing the back cover." - Minneapolis Star Tribune
"Viswanathan immerses readers in the realities of the caste system from both sides; in telling a universal story of generational differences on a personal level, she makes a vanished world feel completely authentic. Superbly done." - Booklist
"the portrait [Viswanathan] paints is dazzling. Gender rules, class relations, and the political castes of late 19th- and early to mid-20th-century India are well presented, making this an important work of historical fiction." - Library Journal, starred review
"Viswanathan's absorbing first novel, based on her grandmother's life, goes deep into the world of sourthern India village life...Viswanathan is especially adept at unobtrusively explaining foreign customs and worldviews to Westerners while wholly respecting the power and significance they hold for practitioners." - Publishers Weekly
"[Viswanathan's] narrative, refreshingly, is free of anachronism, and she has a pleasing way of engaging the reader's senses—not least with some mouth-watering descriptions of 'dry and wet curries, pacchadis of yogurt and cucumber…deep-fried patties of lentil and chili,' and other such delicacies....Of a piece with the recent works of Vikram Seth, and reminiscent at times of García Márquez—altogether a pleasure." --Kirkus Reviews, starred review"The Toss of a Lemon is heartbreaking and exhilarating, profoundly exotic and yet utterly recognizable in evoking the tensions that change brings to every family's doorstep. It is also the debut of a major new voice in world fiction." - Booklounge.ca
"This is a rich, sensual book that uses life itself as its plot…reading it is an experience of immersion.... There is a whole world here between two covers." - The National Post (Canada)
"It [The Toss of a Lemon] pads in on little cat feet and rips you along. You don't realize you're on an epic journey in the midst of a generational saga until you're well along and it's far, far too late to turn back. Not that you'd want to. Not that you even could…. What astonishes here is Viswasathan's virtuosity…The Toss of A Lemon is astonishing. Brilliant. Beautiful." - January Magazine (Canada)
"With its rich and complex background and often sharp insights The Toss of a Lemon is a valuable and evocative work…" - The Montreal Gazette
"[I]n The Toss of a Lemon we see exactly how magnetic, how sinkingly seductive that [Brahmin] life was, and how difficult it must have been when the habits and customs of millennia were overturned by the shock of the new…Leaving the book feels like getting out of a warm bath on a cold day. Viswanathan is a charming writer…one's senses are overwhelmed by a rich density…Viswanathan makes clear the fear and ferocious love motivating ancient tribes, clans and classes that cling to the old ways." - The Globe and Mail
"The brilliance of The Toss of a Lemon rests not so much in its intricate plotting as in the compressed, poetic precision with which Viswanathan depicts a lost world." - Walrus
"This soaring new novel, inspired by the Edmonton author's family history, will draw comparisons to The God of Small Things, but Viswanathan has a voice and a vision all her own." - Chatelaine
"The Toss of a Lemon is an ambitious work that delivers through its careful examination of class hierarchies, gender divisions, and complex familial relationships…the prose is crisp enough to create a concrete sense of the places that the characters inhabit. The language captures unspoken melancholy through the rhythm of strummed drone strings, or the wonder of childhood curiousity through the taste of soil that 'is crunchy and damply acrid and contains a couple of jasmine petals'.….Ultimately the family at the centre of the novel serves as a fascinating microcosm of a a nation that is freeing itself of vestiges of colonialism and class divisions." - - Quill and Quire
"The story is heartbreaking and exhilarating, exotic yet utterly recognizable in evoking the tensions that change brings to every family." – The Asian Star
"In this, her debut novel, Padma Viswanathan performs a wondrous balancing act of words. She sustains a vivid sense of the moment while spanning decades, brings unforgettable individual characters to life while recounting a saga of generations, and lays bare the inner worlds of those characters while evoking an entire nation in turmoil. Rich with sensual detail, The Toss of a Lemon is the story of a community centred on tradition during an era of upheaval and change. Above all, it is a moving and deftly-drawn portrait of a family." - Alissa York
"It's a remarkable achievement for a book to capture the slow, stately pace of an 8,000 year old culture and yet keep a story moving at a brisk pace. The Toss of a Lemon gives readers the rare opportunity to enter the life of a Brahmin widow, to live her norms and routines and rituals as they have been lived by countless women over thousands of years. I closed it indebted for this immersion in a world I could not have otherwise entered." - Shyam Selvadurai
"The Toss of a Lemon is a glorious feat, as boisterously written as it is wholly engrossing. It's about love – and cruelty – and how each reverberate across the generations in one family. And it is that rare thing, a novel that manages to be both epic and intimate at the same time." - Peter Orner
"What pleasure it was to read this rich and fascinating saga. It had me keeping the light on into the night, mad to find out what happened next." -- Lynn Freed, author of Reading, Writing, Leaving Home, Curse of the Appropriate Man, and the The Servants' Quarters
"The Toss of a Lemon is a captivating novel that in relating the story of one Indian woman and her family tells the story of a changing society. Precisely and deftly written, constantly interesting, morally serious yet sympathetic -- I challenge any reader to start reading this book and give up on it. It joins the company of the great novels on India" -- Yann Martel, author of Life of Pi