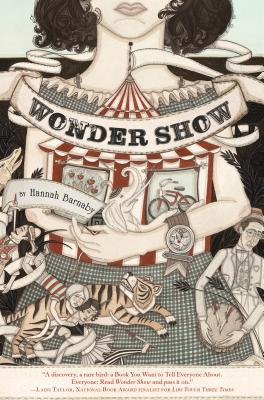 Staff Reviews
---
Have you ever wanted to run away to the circus? How about the carnival? That's just where Portia Remini finds herself when she escapes from Mister and McGreavey's Home for Wayward Girls. She's a "normal" among a menagerie of human oddities, looking for a new life and the father that left her behind. A beautifully crafted tale of loss, hope, curiosity, and a little murder mystery mixed in for good measure.  The Wonder Show is a book to get lost in.
—
Brandi
Description
---
Ladies and gentlemen, boys and girls, step inside Mosco's Traveling Wonder Show, a menagerie of human curiosities and misfits guaranteed to astound and amaze! But perhaps the strangest act of Mosco's display is Portia Remini, a normal among the freaks, on the run from McGreavy's Home for Wayward Girls, where Mister watches and waits. He said he would always find Portia, that she could never leave. Free at last, Portia begins a new life on the bally, seeking answers about her father's disappearance. Will she find him before Mister finds her? It's a story for the ages, and like everyone who enters the Wonder Show, Portia will never be the same.
About the Author
---
Hannah Barnaby holds an MA in Children's Literature from Simmons College and an MFA in Writing for Children and Young Adults from Vermont College. Formerly a children's book editor, she has also worked as a bookseller and a writing instructor. Hannah was the first writer to earn the Children's Writer in Residency at the Boston Public Library. Visit Hannah at hannahbarnaby.com, or follow her on Twitter@HannahRBarnaby or Instagram@hannahbarnaby. 
Praise For…
---
Nominated for the William C. Morris YA Debut Award
A Kirkus Best Teen Book of 2012
"Broken but resilient, Portia is a sympathetic heroine whose simple, unadorned need for love and acceptance will be immediately recognizable to any young reader."
—Bulletin
"This will appeal to readers looking for something a bit different than most YA fare."
—Booklist
"Through skillful description, the dreariness of the Home and the fantastical nature of the carnival world comes vividly to life."
—Horn Book
"This predominantly third-person narration is richly textured with psychological tension, complex characterization, a vivid setting, and a suspenseful plot . . . one will be spellbound by this intriguing reading experience."
—SLJ
* "Infused with nostalgia and affection, this celebration of the deliberately constructed self will hold readers in its spell from beginning to end."
—Kirkus, starred review