The Awakening (Mass Market)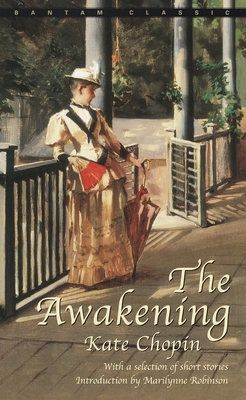 Description
---
First published in 1899, this beautiful, brief  novel so disturbed critics and the public that it  was banished for decades afterward. Now widely read  and admired, The Awakening has  been hailed as an early vision of woman's  emancipation. This sensuous book tells of a woman's  abandonment of her family, her seduction, and her  awakening to desires and passions that threated to  consumer her. Originally entitled "A Solitary  Soul," this portrait of twenty-eight-year-old  Edna Pontellier is a landmark in American fiction,  rooted firmly in the romantic tradition of Herman  Melville and Emily Dickinson. Here, a woman in  search of self-discovery turns away from convention and  society, and toward the primal, from convention  and society, and toward the primal, irresistibly  attracted to nature and the sensesThe  Awakening, Kate Chopin's last novel, has been  praised by Edmund Wilson as "beautifully  written." And Willa Cather described its style as  "exquisite," "sensitive," and  "iridescent." This edition of The  Awakening also includes a selection of  short stories by Kate Chopin.

"This seems to me a  higher order of feminism than repeating the story  of woman as victim... Kate Chopin gives her female  protagonist the central role, normally reserved  for Man, in a meditation on identity and culture,  consciousness and art." -- From the  introduction by Marilynne Robinson.
About the Author
---
Kate Chopin (1851-1904) did not begin to write until she was thirty-six years old. Up to that time, her life gave no hint of either literary talent or literary ambition. Yet after the publication of her first stories in 1889, she enjoyed ten years of a productive, serious, and fairly successful career. Her first novel, At Fault (1890), had difficulty finding a publisher, so she brought it out at her own expense and sent review copies to important journals. Her short stories—close to a hundred of them—were published for the most part in prestigious national magazines. They gave her a solid reputation as a gifted 'local color' writer—that is, an author specializing in the depiction of a particular region of the country and its inhabitants. From these many stories, she culled two well-reviewed collections: Bayou Folk in 1894 and A Night in Acadie in 1897. The Awakening, now her best-known work, appeared in 1899. 

Critics of Chopin's own day disapproved of the sexual frankness of The Awakening and were especially disturbed by the narrator's neutrality toward the unconventional behavior of Edna Pontellier, the heroine. All reviews of the novel were unfavorable. Soon after this setback, a planned third collection of short stories was rejected by a publisher, and Kate Chopin essentially ceased to write. In poor health, she died some five years after The Awakening appeared. She was only fifty-three.