Washington's Spies: The Story of America's First Spy Ring (Paperback)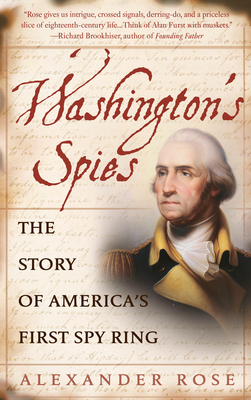 $18.00

Not Available In-Store - Usually Ships from Warehouse in 1-5 Days
Description
---
NEW YORK TIMES BESTSELLER • Turn: Washington's Spies, now an original series on AMC

Based on remarkable new research, acclaimed historian Alexander Rose brings to life the true story of the spy ring that helped America win the Revolutionary War. For the first time, Rose takes us beyond the battlefront and deep into the shadowy underworld of double agents and triple crosses, covert operations and code breaking, and unmasks the courageous, flawed men who inhabited this wilderness of mirrors—including the spymaster at the heart of it all.

In the summer of 1778, with the war poised to turn in his favor, General George Washington desperately needed to know where the British would strike next. To that end, he unleashed his secret weapon: an unlikely ring of spies in New York charged with discovering the enemy's battle plans and military strategy.

Washington's small band included a young Quaker torn between political principle and family loyalty, a swashbuckling sailor addicted to the perils of espionage, a hard-drinking barkeep, a Yale-educated cavalryman and friend of the doomed Nathan Hale, and a peaceful, sickly farmer who begged Washington to let him retire but who always came through in the end. Personally guiding these imperfect everyday heroes was Washington himself. In an era when officers were gentlemen, and gentlemen didn' t spy, he possessed an extraordinary talent for deception—and proved an adept spymaster.

The men he mentored were dubbed the Culper Ring. The British secret service tried to hunt them down, but they escaped by the closest of shaves thanks to their ciphers, dead drops, and invisible ink. Rose's thrilling narrative tells the unknown story of the Revolution–the murderous intelligence war, gunrunning and kidnapping, defectors and executioners—that has never appeared in the history books. But Washington's Spies is also a spirited, touching account of friendship and trust, fear and betrayal, amid the dark and silent world of the spy.
About the Author
---
Alexander Rose earned his doctorate from Cambridge University, where his prizewinning research focused on political and scientific history. He is the author of Kings in the North: The House of Percy in British History and American Rifle: A Biography, and his writing has appeared in The New York Observer, The Washington Post, and many other publications.
Praise For…
---
"Alexander Rose tells this important story with style and wit."—Pulitzer Prize–winning author Joseph J. Ellis
 
"Fascinating . . . Spies proved to be the tipping point in the summer of 1778, helping Washington begin breaking the stalemate with the British. . . . [Alexander] Rose's book brings to light their crucial help in winning American independence."—Chicago Tribune
 
"[Rose] captures the human dimension of spying, war and leadership . . . from the naive twenty-one-year-old Nathan Hale, who was captured and executed, to the quietly cunning Benjamin Tallmadge, who organized the ring in 1778, to the traitorous Benedict Arnold."—The Wall Street Journal
 
"Rose gives us intrigue, crossed signals, derring-do, and a priceless slice of eighteenth-century life. Think of Alan Furst with muskets."—Richard Brookhiser, author of Founding Father
 
"A compelling portrait of [a] rogues' gallery of barkeeps, misfits, hypochondriacs, part-time smugglers, and full-time neurotics that will remind every reader of the cast of a John le Carré novel."—Arthur Herman, National Review