Healthy Sleep Habits, Happy Child, 4th Edition: A Step-by-Step Program for a Good Night's Sleep (Paperback)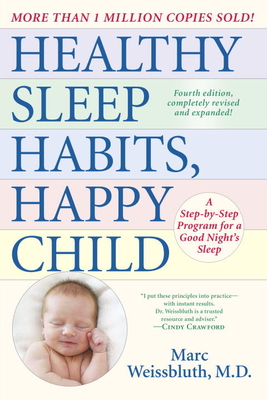 $18.00
Email or call for price.
Description
---
The perennial favorite for parents who want to get their kids to sleep with ease—now in a completely revised and expanded fourth edition!
 
In this fully updated fourth edition, Dr. Marc Weissbluth, one of the country's leading pediatricians, overhauls his groundbreaking approach to solving and preventing your children's sleep problems, from infancy through adolescence. In Healthy Sleep Habits, Happy Child, he explains with authority and reassurance his step-by-step regime for instituting beneficial habits within the framework of your child's natural sleep cycles. Rewritten and reorganized to deliver information even more efficiently, this valuable sourcebook contains the latest research on
 
• the best course of action for sleep problems: prevention and treatment
• common mistakes parents make trying to get their children to sleep
• different sleep needs for different temperaments
• stopping the crybaby syndrome, nightmares, bedwetting, and more
• ways to get your baby to fall asleep according to her internal clock—naturally
• handling nap-resistant kids and when to start sleep-training
• why both night sleep and day sleep are important
• obstacles for working moms and children with sleep issues
• the father's role in comforting children
• how early sleep troubles can lead to later problems
• the benefits and drawbacks of allowing kids to sleep in the family bed
 
Rest is vital to your child's health, growth, and development. Healthy Sleep Habits, Happy Child outlines proven strategies that ensure good, healthy sleep for every age.
 
Praise for Healthy Sleep Habits, Happy Child
 
"I put these principles into practice—with instant results. Dr. Weissbluth is a trusted resource and adviser."—Cindy Crawford
About the Author
---
A pediatrician with forty years of experience, Marc Weissbluth, M.D., is also a leading researcher on sleep and children. He founded the original Sleep Disorders Center at Chicago's Children's Memorial Hospital (now called the Ann and Robert H. Lurie Children's Hospital of Chicago) and is a professor of clinical pediatrics at Northwestern University School of Medicine. In addition to his own research, he has written about sleep problems in manuals of pediatrics, lectured extensively to parent groups, is a regular at the 92nd Street Y, and has appeared on The Oprah Winfrey Show. Dr. Weissbluth and his wife of more than fifty years, Linda, have four sons and eight grandchildren. They live in Chicago.
Praise For…
---
"I put these principles into practice—with instant results. Dr. Weissbluth is a trusted resource and adviser."—Cindy Crawford