Paradox Bound: A Novel (Hardcover)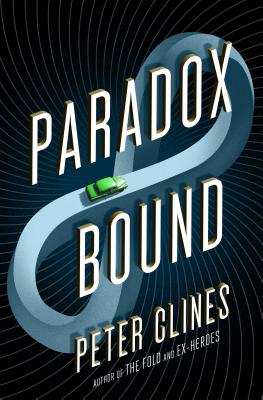 $26.00
Email or call for price.
Staff Reviews
---
What would you think if, over the course of your life, you met a woman with an impossible vehicle who seemed to appear and disappear in a way that defied the senses? You might think she was The Doctor. You'd be wrong, but not entirely. She just might be a time traveler with a secret that could change the course of history, and there are definitely monstrous beings hot on her trail. A new take on classic treasure hunt story that does not disappoint. Perfect for fans of Doctor Who, with enough realism to draw in even a reluctant science fiction reader. — From Kaitlyn's Picks
Description
---
Nothing ever changes in Sanders. The town's still got a video store, for god's sake.
 
So why doesn't Eli Teague want to leave?
 
Not that he'd ever admit it, but maybe he's been waiting—waiting for the traveler to come back. The one who's roared into his life twice before, pausing just long enough to drop tantalizing clues before disappearing in a cloud of gunfire and a squeal of tires. The one who's a walking anachronism, with her tricorne hat, flintlock rifle, and steampunked Model-A Ford.
 
The one who's being pursued by…something.
 
So when the mysterious traveler finally reappears, Eli's determined that this time, he's going to get some answers. But his hunt soon yields far more than he bargained for, plunging him headlong into a dizzying world full of competing factions and figures straight out of legend.
 
To make sense of the mystery at its heart, he must embark on a breakneck chase across the country and through two centuries of history­—with nothing less than America's past, present, and future at stake.
About the Author
---
PETER CLINES has published several pieces of short fiction and countless articles on the film and television industries. He is the author of The Fold and the acclaimed Ex-Heroes series. He lives in Southern California.
Praise For…
---
"A timey-wimey, full-barrel adventure novel that also teaches a non-ironic lesson in American civics...[featuring] an epithet-wielding, pistol-packing heroine that will capture hearts."
--Kirkus Reviews (starred)

"Lively, likeable, and wonderfully amusing."
--Publishers Weekly (starred)

"A fun, almost sweet sci-fi thriller...[our heroes] visit different periods of American history and continue to narrowly escape danger, all while exchanging sassy comebacks. For fans of Ernest Cline."
--Booklist 

"Always entertaining. . . . the action is swift and the faceless agents suitably chilling."
--Library Journal

"One cool novel. It has time travel and murders and faceless villains (I mean that literally) and I have a crush on the heroine. If the Tardis were a Model A Ford, this might be Doctor Who meets National Treasure."
—F. Paul Wilson, New York Times bestselling author of the Repairman Jack series

"A fast and resonant time-travel thriller and tour of America, bursting with fun ideas."
—Django Wexler, author of the Shadow Campaigns novels
 
"So good you'll want to invent time travel and send a copy back to yourself, just so you can read it again for the first time. A tour de force."
—Jason M. Hough, New York Times bestselling author of The Darwin Elevator