The Library at Mount Char: A Novel (Paperback)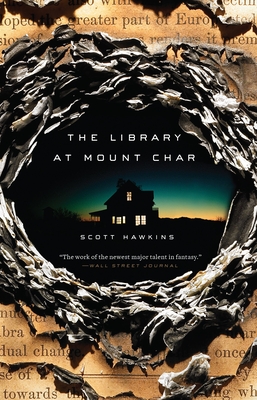 $17.00
Not Available In-Store - Usually Ships from Warehouse in 1-5 Days
Staff Reviews
---
The Library at Mount Char is a 7-layer bean dip of a horror story-- you know, if the cheese and guacamole were replaced with gore and chicanery. Transitioning between past and present, the hazy tale becomes clearer, but kept me guessing right up until the end. A group of people who had been abducted as children, "conditioned", and taught the myriad secrets of the world collected by Father (the omniscient and sadistic collector of said knowledge), in various collections of "catalogs" within The Library. All this divvied power and emotional trauma leads to the inevitable coup, which means of course, that mega-violence and the manipulation of man, beast and physics akin to magic must (of course) ensue.
—
Chris
Several books have been written lately about gods or god-like characters but none as interesting as Carolyn and her siblings. They are not your normal family - they have narcissism, ambition, greed and dysfunction. The difference between them and every other literary family? They have the power and the knowledge of the Universe at their fingertips....if they can only reach it. They race against each other, time, distant relatives and the ever looming threat of Father showing up. The writing is tight, intense and will leave you looking at your neighbors and thinking "Hmmm, I wonder...." And let's face it, we all judge a book by it's cover and THIS has one of the best covers ever!
—
Stephanie
July 2015 Indie Next List
---
"Mindblowing, outrageous, and visionary, this is without question the best fantasy I have read in many moons! Hawkins has penned a tale that both opens the reader up to new perceptions of the universe, its creation, and ascendency, and gives the adage 'absolute power corrupts absolutely' an entirely singular meaning. He has imagined characters who are simultaneously loveable and despicable and presents them in a way that is both terrifying and darkly funny. Whether or not fantasy is your genre of choice, The Library at Mount Char will amaze you!"
— Lynn Riggs (M), Books & Company, Oconomowoc, WI
Description
---
"Wholly original . . . the work of the newest major talent in fantasy."—The Wall Street Journal

"Freakishly compelling . . . through heart-thumping acts of violence and laugh-out-loud moments, this book practically dares you to keep reading."—Atlanta Magazine

A missing God.
A library with the secrets to the universe. 
A woman too busy to notice her heart slipping away.
 
Carolyn's not so different from the other people around her. She likes guacamole and cigarettes and steak. She knows how to use a phone. Clothes are a bit tricky, but everyone says nice things about her outfit with the Christmas sweater over the gold bicycle shorts.  

After all, she was a normal American herself once.   

That was a long time ago, of course. Before her parents died. Before she and the others were taken in by the man they called Father. 

In the years since then, Carolyn hasn't had a chance to get out much. Instead, she and her adopted siblings have been raised according to Father's ancient customs. They've studied the books in his Library and learned some of the secrets of his power. And sometimes, they've wondered if their cruel tutor might secretly be God.  

Now, Father is missing—perhaps even dead—and the Library that holds his secrets stands unguarded. And with it, control over all of creation. 

As Carolyn gathers the tools she needs for the battle to come, fierce competitors for this prize align against her, all of them with powers that far exceed her own. 

But Carolyn has accounted for this. 

And Carolyn has a plan. 

The only trouble is that in the war to make a new God, she's forgotten to protect the things that make her human.

Populated by an unforgettable cast of characters and propelled by a plot that will shock you again and again, The Library at Mount Char is at once horrifying and hilarious, mind-blowingly alien and heartbreakingly human, sweepingly visionary and nail-bitingly thrilling—and signals the arrival of a major new voice in fantasy. 

Praise for The Library at Mount Char

An engrossing fantasy world full of supernatural beings and gruesome consequences."—Boston Globe

"Vivid . . . the dialogue sings . . . you'll spend equal time shuddering and chortling."—Dallas Morning News"
About the Author
---
SCOTT HAWKINS works as a software engineer for Intel. He and his wife live in Atlanta, where they spend much of their time playing Olympic-caliber fetch with their large pack of foster dogs. THE LIBRARY AT MOUNT CHAR is his first novel.
Praise For…
---
"A spellbinding story of world-altering power and revenge . . . Hawkins has created a fascinating, unusual world in which ordinary people can learn to wield breathtaking power—and he's also written a compelling story about love and revenge that never loses sight of the human emotions at its heart. A wholly original, engrossing, disturbing, and beautiful book."—Kirkus Reviews (starred review)

"An extravagant, beautifully imagined fantasy about a universe that is both familiar and unfamiliar. . . . Hawkins makes nary a misstep in this award-worthy effort of imagination. You won't be able to put it down."—Booklist (starred review)

"A bizarre yet utterly compelling debut . . . might remind readers of Robert Jackson Bennett's or Neil Gaiman's horror/fantasies."—Library Journal (starred review)

"A terrific book, full of dark mystery and genuine beauty."—Richard Kadrey, New York Times bestselling author of Sandman Slim
 
"A first-rate novel… a sprawling, epic contemporary fantasy about cruelty and the end of the world, compulsively readable, with the deep, resonant magic of a world where reality is up for grabs. Unputdownable."—Cory Doctorow, New York Times bestselling author of Little Brother and Makers
 
"Funny, horrifying and original…the kind of story that keeps yanking you off in ridiculous new directions every time you think you know what's coming next."—David Wong, New York Times bestselling author of John Dies at the End
 
"The most genuinely original fantasy I've ever read. Hawkins plays with really, really big ideas and does it with superb invention, deeply affecting characters, and a smashing climax I did not see coming."—Nancy Kress, Hugo and Nebula Award-winning author of Beggars in Spain
 
"This book is batshit crazy. From the very first pages, the story grabs you by the guts and doesn't let go. It mashes together fantasy and thriller, love stories and dark comedy, into a wild trip at once unpredictable and unforgettable. You'll never look at a librarian in quite the same way."—Keith Donohue, New York Times bestselling author of The Stolen Child
 
"A pyrotechnic debut...The most terrifyingly psychopathic depiction of a family of gods and their abusive fathersince Genesis."—Charles Stross, Hugo and Locus Award-winning author of Accelerando and The Apocalypse Codex
 
"Don't pick up this book unless you want to read something you've absolutely never read before. The Library at Mount Char is funny, bizarre, moving, frightening, and surreal.  The most original work I've read in ages."—Walter Jon Williams, New York Times bestselling author of Destiny's Way and This is Not a Game