The Art of People: 11 Simple People Skills That Will Get You Everything You Want (Hardcover)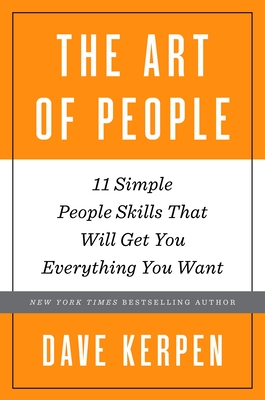 $27.00
Special Order - Subject to Availability
Description
---
What does it take to win success and influence?

Some people think that in today's hyper-competitive world, it's the tough, take-no-prisoners type who comes out on top. But in reality, argues New York Times bestselling author Dave Kerpen, it's actually those with the best people skills who win the day. Those who build the right relationships. Those who truly understand and connect with their colleagues, their customers, their partners. Those who can teach, lead, and inspire.
 
In a world where we are constantly connected, and social media has become the primary way we communicate, the key to getting ahead is being the person others like, respect, and trust. Because no matter who you are or what profession you're in, success is contingent less on what you can do for yourself, but on what other people are willing to do for you. Here, through 53 bite-sized, easy-to-execute, and often counterintuitive tips, you'll learn to master the 11 People Skills that will get you more of what you want at work, at home, and in life. For example, you'll learn:
 
·  The single most important question you can ever ask to win attention in a meeting
·  The one simple key to networking that nobody talks about
·  How to remain top of mind for thousands of people, everyday
·  Why it usually pays to be the one to give the bad news
·  How to blow off the right people
·  And why, when in doubt, buy him a Bonsai
 
A book best described as "How to Win Friends and Influence People for today's world," The Art of People shows how to charm and win over anyone to be more successful at work and outside of it.
About the Author
---
DAVE KERPEN is an entrepreneur, speaker, bestselling author. He is the founder and CEO of Likeable Local, a social media software company, and the chairman and cofounder of Likeable Media, an award-winning content marketing firm for brands. He is among the most popular writers in LinkedIn's Influencer program, one of the most-read contributors for Inc.com, and has been featured by CNBC, BBC, ABC World News Tonight, the CBS Early Show, the New York Times, and more. Dave has keynoted conferences and webinars across the globe. ​He is father to 3 beautiful children, husband to one amazing business partner, and trusted friend, colleague, and mentor to thousands.
Praise For…
---
Praise for The Art of People

"People skills— they can't be computerized, outsourced, or reduced to a rubric. That's why Dave Kerpen's The Art of People is more important now than ever— this book will teach you a set of irreplaceable skills that will help you in every area of your life. After all, what is more important— what will get you farther in life —than understanding and getting along with other people?"
—Daniel H. Pink, author of To Sell Is Human and Drive

"Strong people skills are how I built my business. I find it's a common thread amongst all successful people, and no matter what level your people skills are at today, after reading this book you will see a dramatic improvement!" 
—Barbara Corcoran, star of ABC's Shark Tank, Entrepreneur & Author of Shark Tales

"Smart, funny and immediately usable.  In our fast paced world, we educate and train on technical skills, but neglect the greatest predictors of success: your ability to connect and influence others.  In short, this is one of the few books that might actually get you a promotion, or a successful company of your own."
—Shawn Achor, happiness researcher and New York Times bestselling author of The Happiness Advantage

"The world of communication is rapidly shifting. To keep up, you could spend thousands of hours trying to figure out how to win fans and customers using the latest social networks (by the way, they may change next week), or you could buy this book, read Kerpen's proven-and-practical advice, and begin seeing the success you want right away. Bonus tip: the second choice is better."
—Chris Guillebeau NYT bestselling author of The Happiness of Pursuit and The $100 Startup

"People skills aren't about how many friends you have on Facebook or how many people tweet at you— it's about truly connecting and understanding those you work and live with. The Art of People hands you the tools you need to build meaningful relationships and transform your future."
—Adam Braun, New York Times bestselling author of The Promise of a Pencil

"Forget conferences and seminars and courses. Dave's tips and strategies won't just make you the smartest person in the room; they'll make you the most successful — and most liked — person in the room, too."
—Jeff Haden, Contributing Editor, Inc Magazine & Bestselling Author, Transform

"The secret to success in business and life? People. This book is the blueprint you need to #win. Dave knows people, and knows that understanding people is the key to reaching your goals — and helping them reach their own. In The Art of People, he pulls back the kimono and shows you exactly what you need to understand about those around you to live the life you dream."
—Claire Diaz-Ortiz, Author, Speaker, Early Twitter Employee

"Once again, Dave Kerpen delivers priceless strategies and profound advice for success and influence. The way Dave applies timeless wisdom and proven methods to practical applications is second to none. I highly recommend this book!"
—Dr. Steve Maraboli, Bestselling Author and Speaker

"This outstanding book is chock full of powerful strategies that you can use immediately to better yourself and your relationships with others."
—Dr. Travis Bradberry, #1 bestselling author of Emotional Intelligence 2.0

"Most people who claim to be a 'people person' actually aren't. Kerpen's book shows how to actually become one. Thoughtful and inspiring, The Art of People is as important for leaders as it is for the rest of us."
—Shane Snow, bestselling author of Smartcuts

"Full of good sound advice – things we should always keep in mind and utilize for better relationships."
—Lori Greiner, Best Selling Author, Inventor, Entrepreneur, and TV Personality

"This book is like How to Win Friends and Influence People—only better suited for today's world."
—Adam Grant, Wharton professor and New York Times bestselling author of Give and Take and Originals

"Dave Kerpen is one of my favorite people in the world. And now I know why! He has figured out the secrets of being absurdly likable. Now that Dave is revealing his methods in a book, I like him even more."
—AJ Jacobs, New York Times bestselling author of The Year of Living Biblically, My Life as an Experiment and The Know-It-All

"If there is one axiom that applies across any and all business, it is that you need to build relationships first, then do business. No one lives this mantra everyday more consistently or more effectively than Dave Kerpen. That's why The Art of People is such an important and enjoyable read. Dave's insights and unique perspective make this mandatory reading for anyone and everyone interested in how to engage with their customers and build meaningful and valuable relationships. Buy it. Read it!"
—Jim McCann, Founder and CEO, 1-800-FLOWERS.COM, Inc.

"From the guru of people skills comes an essential guide to building the relationships that will help you succeed in work and life. The Art of People offers terrific tips on becoming a better listener, networker, and communicator— the things to be if you want to get ahead and have the success you crave."
—Kate White, Author of I Shouldn't Be Telling You This: How to Ask for the Money, Snag the Promotion and Create the Career You Deserve

"An invaluable resource, full of practical, manageable tips, for anyone who deals with people. Which, of course, is all of us."  
—Gretchen Rubin, bestselling author of Happier at Home and Better Than Before

"Accomplishment involves connecting your dots to those of others and vice versa.  Great people skills maximize dot-connecting because they create relationships grounded in mutual trust and respect.  The 11 skills Kerpen identifies come with 53 tips on how to build them.  Here are my favorites:
 
          When meeting new people, 'be interested instead of interesting.'  Most people are more interested in themselves than you.  They talk about what's important to them.  Let them talk, talk and talk.  Using 'tell-me more' questions allows you to continually glean information from what they say and use it to provide 'we're on the same page' responses.  Like-mindedness builds connection.
 
           'Hire slow and fire fast – at work and in life.'  There are two types of flat tires – a puncture (which can be fixed) and a sidewall blowout (which can't be fixed).  Remember the difference when dealing with relationship issues.  The more time you spend trying to deal with what can't be fixed, the less time you'll spend building productive relationships.
 
          'You never get what you don't ask for.'  The fear of hearing 'no' keeps people from asking for a 'yes'.  Great salespeople are great closers; they always ask for 'yes'.
 
           'Make time your friend.'  How?  Spend most of your people time on 'priority' relationships and situations.  Kerpen's high-demand schedule has 'two office hours' each week set aside for meetings with new people.
 
          To get the most out of Kerpen's tips, complete the personality-type assessment in Appendix A.  The results frame your mindset for adapting the tips to your people skills."
—Jim Pawlak, Syndicated Writer for BIZ BOOKS