The Lies of Locke Lamora (Gentleman Bastards #1) (Mass Market)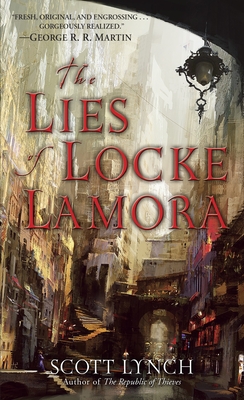 Other Books in Series
This is book number 1 in the Gentleman Bastards series.
Staff Reviews
---
This book was an amazing find for me. This book came into my hands when a customer came looking for it at my store, and well, the rest is history. The story is like a tale of Robin Hood and his merry men, but with more focus on stealing and not so much giving back to anyone. They are a cheery bunch of crazy men making their way in a place of gangs, thieves, and pirates. You follow the story of Locke Lamora, the most charismatic and sneaky of the bunch. He leads his men into the biggest heist of all, the treasure of a lord. They have planned and perfected how they would trick this man into giving away his fortune, but just when it seems they are about to be set for life, a stranger named the Gray King appears and he's out killing thieves and gangs of the city, and now Locke is in for more trouble than he planned.
—
Jess
Holy Shmoly Stephen Lynch has created an absolute winner of a book (and series) with more charming thieves and cunning rogues than an Ocean's Movie. The Lies of Locke Lamora takes the already exhilarating heist story and then sets it in a fantastical and delightfully dangerous city that really just ramps things up to 11. There's incredible fight scenes with all varieties of weaponry, hilarious dialogue from lovable characters, horrifyingly strong magic users and villains, and so much more that will have you flying through this book. Gentlemen Bastards book one will leave you wanting more, so start it up and then enjoy all the wonderful sequels! — From Liam's Picks
Have you ever wondered what Ocean's Eleven would be like if it was set in a fantasy parallel of Venice during the Italian Renaissance? Join the Gentleman Bastards as they sow mischief and breach the secret piece that has kept the nobility of Camorr safe from the nefarious gangs that run the slums. Scott Lynch weaves a fantastic tale that had me cheering on one page only to have me screaming in anger the next.
— From
Sergio's Picks
I purchased this book prior to my employment with Changing Hands based on Liam's staff recommendation, and I must agree that it's pretty great. The world building is top notch and the characters are *exceedingly* lovable. It does make liberal use of purple prose, so YMMV.
— From
Bee's Picks (page 2)
Description
---
"Remarkable . . . Scott Lynch's first novel, The Lies of Locke Lamora, exports the suspense and wit of a cleverly constructed crime caper into an exotic realm of fantasy, and the result is engagingly entertaining."—The Times (London)
 
An orphan's life is harsh—and often short—in the mysterious island city of Camorr. But young Locke Lamora dodges death and slavery, becoming a thief under the tutelage of a gifted con artist. As leader of the band of light-fingered brothers known as the Gentleman Bastards, Locke is soon infamous, fooling even the underworld's most feared ruler. But in the shadows lurks someone still more ambitious and deadly. Faced with a bloody coup that threatens to destroy everyone and everything that holds meaning in his mercenary life, Locke vows to beat the enemy at his own brutal game—or die trying.
 
Praise for The Lies of Locke Lamora
 
"Fresh, original, and engrossing . . . gorgeously realized."—George R. R. Martin
 
"Right now, in the full flush of a second reading, I think The Lies of Locke Lamora is probably in my top ten favorite books ever. Maybe my top five. If you haven't read it, you should. If you have read it, you should probably read it again."—Patrick Rothfuss, New York Times bestselling author of The Name of the Wind

"A unique fantasy milieu peopled by absorbing, colorful characters . . . Locke's wit and audacity endear him to victims and bystanders alike."—The Seattle Times
 
"A true genre bender, at home on almost any kind of fiction shelf . . . Lynch immediately establishes himself as a gifted and fearless storyteller, unafraid of comparisons to Silverberg and Jordan, not to mention David Liss and even Dickens."—Booklist (starred review)
 
"High-octane fantasy . . . a great swashbuckling yarn of a novel."—Richard Morgan
About the Author
---
Scott Lynch is the author of The Lies of Locke Lamora, Red Seas Under Red Skies, and The Republic of Thieves. He lives in Wisconsin and frequently visits Massachusetts, the home of his partner, science fiction writer Elizabeth Bear. He moonlights as a volunteer firefighter.
Praise For…
---
"Fresh, original, and engrossing . . . gorgeously realized."—George R. R. Martin
 
"Right now, in the full flush of a second reading, I think The Lies of Locke Lamora is probably in my top ten favorite books ever. Maybe my top five. If you haven't read it, you should. If you have read it, you should probably read it again."—Patrick Rothfuss, New York Times bestselling author of The Name of the Wind

"Remarkable . . . Scott Lynch's first novel, The Lies of Locke Lamora, exports the suspense and wit of a cleverly constructed crime caper into an exotic realm of fantasy, and the result is engagingly entertaining."—The Times (London)
 
"A unique fantasy milieu peopled by absorbing, colorful characters . . . Locke's wit and audacity endear him to victims and bystanders alike."—The Seattle Times
 
"A true genre bender, at home on almost any kind of fiction shelf . . . Lynch immediately establishes himself as a gifted and fearless storyteller, unafraid of comparisons to Silverberg and Jordan, not to mention David Liss and even Dickens."—Booklist (starred review)
 
"High-octane fantasy . . . a great swashbuckling yarn of a novel."—Richard Morgan