The Tide Will Erase All: Singularity Playtime Saga, Book One (Paperback)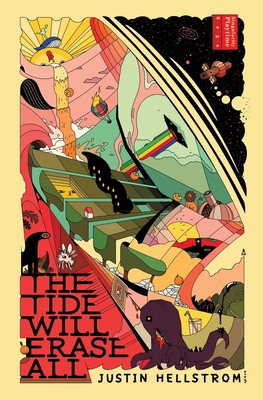 $16.95

Not Available In-Store - Usually Ships from Warehouse in 1-5 Days
Description
---
Wreathed in celestial cataclysm and child-like grandeur, The Tide Will Erase All hijacks your imagination to calculate the speed of light inside a dream.
A transreality phenomenon known as the Mouth of God foams with star saliva as it eats myth and constellation alike to corrode our laws of nature and steal away the night sky. Dreams from spacetimes unknown prowl toxic and deranged while beings sent from the Mouth of God plumb an unseen treasure from a helpless, traumatized earth.
The imagination of an eleven-year-old girl named Robot remains unphased by the astrocatastrophe. Having survived the emergence of the Mouth of God, Robot forms an expedition with a few surviving children and a lone astronomer to contact the world's last remaining telescope-an orbital observatory which they hope can puncture the exo-cosmic firmament and expose the core of all truth. But navigating a landscape of miracles and gore threatens to devastate the fabric of reality and their hearts all the same.
As the Mouth of God descends upon the galaxy and its emissaries embolden, Robot uncovers a rationale for the calamity that transcends all material fortune and dominance. A glimpse of emotional floodsurf where monsters from pre-existence sleep in tropic swells, waiting to be released. Waiting to drown the Mouth of God. Waiting to drown everything.
Balanced on the lip of extinction, Robot narrates her adventure through a walkie-talkie to astronauts aboard the orbital telescope, a story both contemplative and heartbreaking while soaked in the action influence of the best manga and anime.
With wide-eyed lyricism and hyper optic imagery-The Tide Will Erase All curates the surreal annihilation of a dream apocalypse with all the sadness, hope, and wonder of a teardrop falling in reverse. The start of a saga which unfolds as a Miyazaki film at the end of the world, a science fiction that seeks to become aflame in your hands and return to the stars.