The Intimacy Experiment (The Shameless Series #2) (Paperback)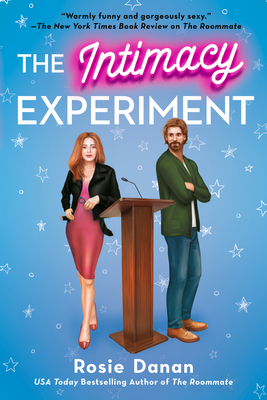 Other Books in Series
This is book number 2 in the The Shameless Series series.
Staff Reviews
---
I didn't think Rosie Danan could out-do The Roommate. Whew, was I wrong. Naomi Grant is absolutely the former sex worker and bisexual heroine of my heart, and Ethan Cohen is the hot rabbi love interest that I never knew I needed. When the two combine forces to provide an intimacy seminar as sponsored by Ethan's synagogue, sparks fly. While perhaps the unlikeliest of pairings in theory, there's no mistaking Ethan and Naomi's chemistry on the page. The tension is wonderfully built as Naomi and Ethan navigate love, sex, and of course...intimacy. Rosie Danan once again manages to create characters that virtually everyone can find a piece of themselves in, no matter what their background. Pick this one up - you won't regret it. — From Heather H.'s Picks (page 4)
Description
---
"Danan is becoming a go-to author."—New York Times Book Review

Naomi and Ethan will test the boundaries of love in this provocative romance from the author of the ground-breaking debut, The Roommate.

Naomi Grant has built her life around going against the grain. After the sex-positive start-up she cofounded becomes an international sensation, she wants to extend her educational platform to live lecturing. Unfortunately, despite her long list of qualifications, higher ed won't hire her.

Ethan Cohen has recently received two honors: LA Mag nominated him as one of the city's hottest bachelors and he became rabbi of his own synagogue. Low on both funds and congregants, the executive board of Ethan's new shul hired him with the hopes that his nontraditional background will attract more millennials to the faith. They've given him three months to turn things around or else they'll close the doors of his synagogue for good.

Naomi and Ethan join forces to host a buzzy seminar series on Modern Intimacy, the perfect solution to their problems--until they discover a new one--their growing attraction to each other. They've built the syllabus for love's latest experiment, but neither of them expected they'd be the ones putting it to the test.
About the Author
---
Rosie Danan writes steamy, bighearted books about the trials and triumphs of modern love. When not writing, she enjoys jogging slowly to fast music, petting other people's dogs, and competing against herself in rounds of Chopped using the miscellaneous ingredients occupying her fridge. As an American expat living in London, Rosie regularly finds herself borrowing slang that doesn't belong to her.
Praise For…
---
Alma's Best Jewish Romance of the Year

"Danan's book is at its very best when it's connecting faith, trust, strength and desire in complex ways...an ambitious and rewarding story."—New York Times Book Review

"This follow-up to Danan's steamy 2020 debut The Roommate is filled with humor, healing, and heady good times (and, yes, that is a naughty pun)."—Vulture

"Rosie Danan has a staggering gift for subverting expectations . . . The Intimacy Experiment on the whole, is a blessing of a book —tender, bruising, sexy, and transcendent."—Entertainment Weekly

"I could cry about how much I love Naomi and Ethan. Rosie Danan's writing brims with compassion and wit, and there's a tenderness that runs underneath everything—even when her characters are positive they're not falling for each other. A stunning, subversive romance that made me proud to be Jewish."—Rachel Lynn Solomon, author of The Ex Talk 

"The Intimacy Experiment by Rosie Danan is effervescent. It is the perfect combination of endearing vulnerability, swoon-worthy romance, and scorching chemistry. Rosie Danan brings us a charming exploration of the intersections of sex, love, faith, and identity in a fiercely feminist novel that will leave you breathless."—Denise Williams, author of How to Fail at Flirting

"The Intimacy Experiment delivers on every promise: humor, steam, and an 'unlikely' couple that readers will not only fight for, but admire."—Felcia Grossman, author of Dalliances and Devotion

"Focusing on prejudices and preconceived notions people may have about both sex workers and Jewish folks, this book brings patience, love, understanding, and high heat to the budding relationship between two apparent opposites who find themselves extremely attracted to each other."—Book & Film Globe