Can I Recycle This?: A Kid's Guide to Better Recycling and How to Reduce Single-Use Plastics (Hardcover)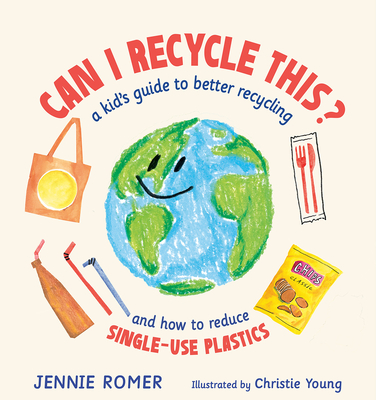 Description
---
You probably know that you're supposed to recycle—but you may not know how or why. This adaptation of the successful adult book, written by a lawyer and sustainability expert, will answer all your recycling questions.

Can I Recycle This? skips over preaching and platitudes common to books on environmentalism and instead gets right to the real information that kids need.

It takes readers through every step of the recycling process, from the moment that they throw an item in the bin to its journey through the recycling machinery and on its way to its new life. It gives kids the answers and resources they need to be far better informed than their parents, many of whom were raised on the un-nuanced and often inaccurate "recycling solves everything" mantra. It shows how sorting concepts that kids already know and practice can be applied to waste. And it empowers even early elementary school children to make smarter choices about consumption and disposal, using ideas and examples that they can understand.

Adapted from the adult nonfiction book of the same title, Can I Recycle This? is a both fun and educational book to teach the littlest readers the hows and whys of recycling, and to introduce them to the responsibility that we all have to protect the environment.

A Junior Library Guild selection!
About the Author
---
Jennie Romer is a lawyer, sustainability expert, founder of PlasticBagLaws.org, and former legal associate for the Surfrider Foundation's Plastic Pollution Initiative. She currently serves in a leadership role at the US Environmental Protection Agency. She is the author of Can I Recycle This? and has worked on plastic pollution reduction policy for nearly fifteen years.

Christie Young is an artist and illustrator currently based in Austin, Texas. She's collaborated with clients of all shapes and sizes, ranging from Penguin Random House to Bumble to Madewell. Her work is a reflection of her interests in nature, travel, and storytelling.
Praise For…
---
"There are plenty of books about recycling for this audience but few with such instant appeal. . . Robust material to get the next generation of environmentalists on the right path."—Kirkus

*"Have you ever finished your lunch and, as you're ready to throw away your trash, wondered, 'Can I recycle this?' This is a great, simplified manual to answer that question and more."—Booklist, starred review

*"This book is thorough and well-organized without being wordy or preachy. It strikes just the right note with just the right amount of information to inspire kids to take action. . . A first-rate book!"—School Library Connection, starred review

"An engaging springboard for environmental stewardship."—Publishers Weekly