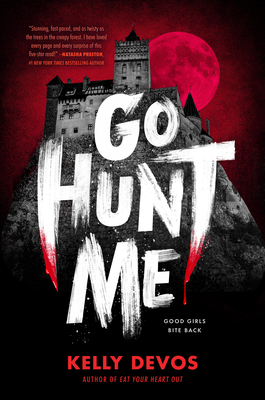 Description
---
For Dracula lovers and fans of Diana Urban's All Your Twisted Secrets, this spine-tingling thriller follows seven horror buffs as their dream trip to a remote Romanian castle turns into a nightmare when they begin to be killed one by one.

Alex Rush is ready for the trip of a lifetime.

She and her friends have made some creepily awesome films together throughout high school, so with only a few months left before they go their separate ways for college, they're determined to make the best one yet: an epic short film that reimagines the story of Dracula, filmed on location at a remote castle in Romania.

But when they get there, it's not quite the majestic setting they planned for. Menacing weapons line the walls, the twisted halls are easy to get lost in, and with no connection to the outside world, the group is unexpectedly off the grid. After just a few hours spent under its roof, Alex and her friends have no trouble imagining how this dark, terrifying castle inspired one of the most enduring horror novels of all time.

Only soon they no longer have to use their imaginations to understand the location's terrifying history—just as they get the film's first shot rolling, one of Alex's friends disappears, and she's nearly certain she saw a cloaked stranger lurking in the shadows. As more members of the group begin to meet an untimely demise, Alex is desperate to stop the bloodshed, even if it means facing a monster she never thought would be let loose.
About the Author
---
Kelly deVos is from Gilbert, Arizona, where she lives with her high school sweetheart, amazing teen daughter, and superhero dog, Cocoa. She holds a BA in creative writing from Arizona State University. When not reading or writing, Kelly can typically be found with a mocha in hand, bingeing the latest TV shows and adding to her ever-growing sticker collection. She is the author of FatGirl on a Plane, Day Zero, Day One and Eat Your Heart Out. Visit Kelly online at kellydevos.com.
Praise For…
---
"Stunning, fast-paced, and as twisty as the trees in the creepy forest. I have loved every page and every surprise of this five-star read!" —Natasha Preston, #1 New York Times bestselling author

"Go Hunt Me left me reeling and goosebumped. A bloody entertaining read!" —Erin A. Craig, New York Times bestselling author of House of Salt And Sorrows

"A suspenseful, smart, horror-movie-loving thriller that will keep you guessing until the last page. I loved it!" —Ash Parsons, author of You're So Dead and Girls Save the World in This One

"With fang-sharp dialogue, characters that refuse to be ignored, and a plot featuring more twists and turns than a creepy castle hallway, Go Hunt Me is a wild ride of a horror novel that will have you seeing shadows around every corner. Prepare to be kept up way past your bedtime." —Ginny Myers Sain, author of Dark and Shallow Lies

"With deadly stakes and killer twists, Go Hunt Me is a compulsive, thrilling read that grabbed me by the throat and didn't let go." —Kate Alice Marshall, author of I Am Still Alive and Rules for Vanishing

"Go Hunt Me is a high octane thrill ride grounded in an eerie gothic setting. Kelly deVos has mastered the jump scare and she isn't afraid to use it. I downed this book in one thrilling gulp, and reader beware—it's got bite." —Dana Mele, author of People Like Us and Summer's Edge

"Crisp writing builds tension and keeps the pages flying as the atmospheric and moody story becomes increasingly gruesome and twisty. A fast-paced thrill ride." —Kirkus Reviews