The Night the Lights Went Out: A Memoir of Life After Brain Damage (Hardcover)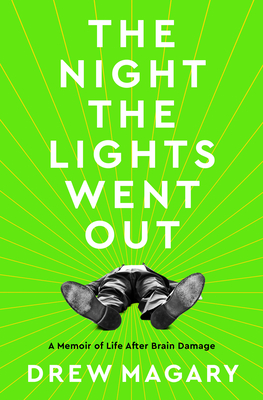 $27.00

Special Order - Subject to Availability
Description
---
A fascinating, darkly funny comeback story of learning to live with a broken mind after a near-fatal traumatic brain injury—from the acclaimed author of The Hike

"Drew Magary has produced a remarkable account of his journey, one that is filled with terror, tenderness, beauty, and grace."—David Grann, bestselling author of Killers of the Flower Moon

Drew Magary, fan-favorite Defector and former Deadspin columnist, is known for his acerbic takes and his surprisingly nuanced chronicling of his own life. But in The Night the Lights Went Out, he finds himself far out of his depths. On the night of the 2018 Deadspin Awards, he suffered a mysterious fall that caused him to smash his head so hard on a cement floor that he cracked his skull in three places and suffered a catastrophic brain hemorrhage. For two weeks, he remained in a coma. The world was gone to him, and him to it.

In his long recovery from his injury, including understanding what his family and friends went through as he lay there dying, coming to terms with his now permanent disabilities, and trying to find some lesson in this cosmic accident, he leaned on the one sure thing that he knows and that didn't leave him—his writing.

Drew takes a deep dive into what it meant to be a bystander to his own death and figuring out who this new Drew is: a Drew that doesn't walk as well, doesn't taste or smell or see or hear as well, and a Drew that is often failing as a husband and a father as he bounces between grumpiness, irritability, and existential fury. But what's a good comeback story without heartbreak? Eager to get back what he lost, Drew experiences an awakening of a whole other kind in this incredibly funny, medically illuminating, and heartfelt memoir.
About the Author
---
Drew Magary, a co-founder of Defector and a columnist for SF Gate, wrote at Deadspin for over a decade before quitting with the rest of the staff en masse in protest. He's the author of three novels, including Point B, The Hike, and The Postmortal. He lives in Maryland with his wife, his three kids, his dog, and 95 percent of a functioning brain.


Praise For…
---
"It's harrowing reading, but there are moments of hope and joy, particularly as he navigates fatherhood."—The New York Times
 
"Riveting . . . This is a deeply felt, and often very funny, good book."—Linda Holmes, NPR's Pop Culture Happy Hour

"Enjoyable reading for anyone who likes their recovery and life insights served with a side of wry humor and plenty of sarcasm."—New York Post

"From heartrending to hilarious, The Night the Lights Went Out is a deeply inspirational story of love, family, friendships, and the resiliency of the human spirit that will keep you riveted (and laughing) to the very last page."—Gilbert King, author of the Pulitzer prize–winning Devil in the Grove

"A visceral, transporting tale of life, death, and the liminal space between. And an enlightening, emotional evaluation of exactly what makes us who we are. This book is a necessary window into the aftermath of trauma and a reminder to never take our senses for granted."—Kelsey McKinney, author of God Spare the Girls

"Drew Magary has written about the darkest year of his life with honesty, insight, and the perfect amount of humor to remind us that he's one of the funniest writers around—even (or especially) when he's literally writing about life and death."—Reeves Wiedeman, author of Billion Dollar Loser

"Drew Magary's The Night the Lights Went Out is funny, because of course it is. But I was most struck by how searching and hopeful it is; a sincere exploration of the mysteries of the mind and body and what it means to lose part of yourself but not always be entirely certain of which part. The book is soulful, searing, and deeply human."—Will Leitch, author of How Lucky