Everything I Need to Know I Learned from E.T. the Extra-Terrestrial (Hardcover)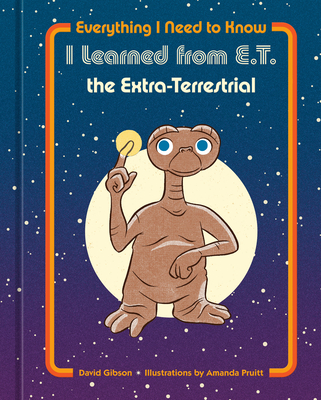 Description
---
This official book reveals essential life lessons and candid wisdom from E.T. the Extra-Terrestrial for its 40th anniversary.

This heartwarming little guide captures the joy and delight of E.T. the Extra-Terrestrial through bite-sized wisdom, vital lessons, and iconic quotes from the beloved film. With charming illustrations throughout, this book encourages readers to embrace the power of friendship, love others for who they are, overcome their fears, be sure to "phone home," and most important, to "be good." Releasing for the film's fortieth anniversary, this book will offer out-of-this-world inspiration that both adults and children will treasure for years to come.
About the Author
---
Journey back to the magic and adventure of E.T. the Extra-Terrestrial, the beloved masterpiece from Academy Award®-winning director Steven Spielberg. Henry Thomas, Drew Barrymore, and Robert MacNaughton star in the unforgettable story of a lost alien and the ten-year-old boy who helps him find his way home. This astounding story is sure to thrill viewers of all ages again with its timeless message of trust, courage, and the overwhelming power of friendship.