Good for a Girl: A Woman Running in a Man's World (Hardcover)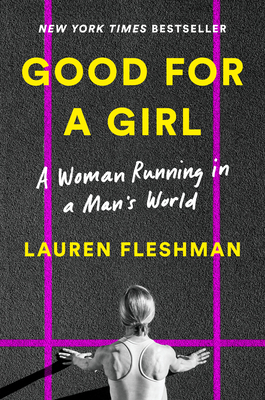 Description
---
* A New York Times Bestseller
* Winner of the William Hill Sports Book Of The Year Award
* A Financial Times Best Sports Book of 2023

Fueled by her years as an elite runner and advocate for women in sports, Lauren Fleshman offers her inspiring personal story and a rallying cry for reform of a sports landscape that is failing young female athletes

"Women's sports have needed a manifesto for a very long time, and with Lauren Fleshman's Good for a Girl we finally have one." —Malcolm Gladwell, author of Outliers and David and Goliath

Lauren Fleshman has grown up in the world of running. One of the most decorated collegiate athletes of all time and a national champion as a pro, she was a major face of women's running for Nike before leaving to shake up the industry with feminist running brand Oiselle and now coaches elite young female runners. Every step of the way, she has seen the way that our sports systems—originally designed by men, for men and boys—fail young women and girls as much as empower them. Girls drop out of sports at alarming rates once they hit puberty, and female collegiate athletes routinely fall victim to injury, eating disorders, or mental health struggles as they try to force their way past a natural dip in performance for women of their age.

Part memoir, part manifesto, Good for a Girl is Fleshman's story of falling in love with running as a girl, being pushed to her limits and succumbing to devastating injuries, and daring to fight for a better way for female athletes. Long gone are the days when women and girls felt lucky just to participate; Fleshman and women everywhere are waking up to the reality that they're running, playing, and competing in a world that wasn't made for them. Drawing on not only her own story but also emerging research on the physiology and psychology of young athletes, of any gender, Fleshman gives voice to the often-silent experience of the female athlete and argues that the time has come to rebuild our systems of competitive sport with women at their center.

Written with heart and verve, Good for a Girl is a joyful love letter to the running life, a raw personal narrative of growth and change, and a vital call to reimagine sports for young women.
About the Author
---
Lauren Fleshman is one of the most decorated American distance runners of all time, having won five NCAA championships at Stanford University and two national championships as a professional. Her writing has appeared in The New York Times and Runner's World. She is the brand strategy advisor for Oiselle, a fitness apparel company for women, and the cofounder of Picky Bars, a natural food company. She lives in Bend, Oregon, with her husband, triathlete Jesse Thomas, and their two children.
Praise For…
---
"A close-up look at the uncertain and often unhealthy climb toward stardom for women in organized sports . . . The rawness of Good for a Girl serves as a push to demand that the next crop of female athletes has it better." —The Washington Post

"Good for a Girl is in part a memoir of Fleshman's failures and successes, but it's also a call to action for the coaches, parents, and young women of future athletic generations. Fleshman argues convincingly that it's essential for the sports world to disentangle physical suffering from self-worth. In 288 funny, honest, and sometimes-wrenching pages, she makes clear that empowering girls to better understand the need for balance between pain and elite performance is not only the ethical thing to do—it's essential to their health and career longevity." —The Atlantic

"Part memoir, part critique of a sports system built around a man's body, Fleshman offers a searingly candid look at her own victimhood and complicity, interlaced with compelling data and concrete ideas on how we can change this environment . . . Fleshman is an undeniably masterful storyteller, owning her own complicity in the system while holding others accountable, in a loving and nuanced way." —Women's Running
 
"A moving coming-of-age memoir . . . The fast-paced, smoothly written narrative will resonate with student-athletes and is highly recommended for everyone involved with female athletes, from coaches to parents. Fleshman is a role model unafraid to share her vulnerability and advocate for gender equality." —Booklist (starred review)

"Good for a Girl is simultaneously a moving memoir and a call to action in how we think about—and train—girls and women in elite sports. It's a must-read—for anyone who loves running, for anyone who has a daughter, and for anyone who cares about creating a better future for young women." —Emily Oster, author of Expecting Better, Cribsheet, and The Family Firm

"If someone held a gun to my head and said 'Run,' I'd say, 'Nah, just shoot me.' And yet I could not put down Lauren Fleshman's thoughtful, elegant memoir: a necessary look at what women endure and deserve from the sports they devote their lives to." —Ariel Levy, author of The Rules Do Not Apply

"Good for a Girl is much more than a great running memoir. It's a remarkably candid tale of self-doubt and self-belief; of entrepreneurship, family, money, competition, and—importantly—female physiology. (Turns out women are not just smaller men!) It's an important book that also happens to be a page-turner." —David Epstein, bestselling author of Range and The Sports Gene

"Women's sports have needed a manifesto for a very long time, and with Lauren Fleshman's Good for a Girl we finally have one." —Malcolm Gladwell, author of Outliers and David and Goliath

"I tore through Lauren Fleshman's Good for a Girl. This is the book we've been waiting for: a coming-of-age story, told from inside our broken sports system—a system that was not built for the young athletes inside it, and certainly not for young women. Lauren's story is clear-eyed, passionate, nuanced, and unflinching; it will change the way you look at sports." —Kate Fagan, author of What Made Maddy Run

"Lauren Fleshman serves as a guide to two worlds unknown to most of us: elite athletics, but also, and more importantly, the unjust system that gifts men with riches and fame but crushes the hopes and bodies of women. She is both a champion and a survivor, and anyone who cares about running, athletics, or women must listen to her." —Peter Sagal, host of Wait, Wait, Don't Tell Me! and author of The Incomplete Book of Running

"Lauren Fleshman's Good for a Girl is a lyrical, insightful, and timely meditation on women's sports, women's bodies, and the fundamental issues of social justice exposed and unsolved in the world of elite athletics. As someone who finds no joy in movement, I was moved and riveted from start to finish. A must-read for anybody." —Kate Manne, author of Down Girl and Entitled

"This book breaks open the door for caged conversations to protect the health and integrity of growing athletes. It not only needs to be in the hands of women-identifying athletes, but also their peers, coaches, and parents. It is the invitation to have a long overdue conversation for a long overdue cultural shift." —Alysia Montaño, Olympian, co-founder of &Mother, and author of Feel-Good Fitness

"A superb memoir . . . [Fleshman] fearlessly exposes the often dark, demanding underbelly of female sports and how she believes it needs to be reformed . . . [Her] discussion of physiology and sports psychology enhance Fleshman's impassioned, deeply personal narrative. She beautifully balances the book with equal parts joy and victory, pain and heartache. Good for a Girl is a necessary, important read that will enlighten athletes of all genders, their coaches and those who cheer for them." —Shelf Awareness

"As [Fleshman] lays bare the price women pay for success in an athletic system that still favors males, she offers a thoughtful, much-needed plea for a more humane, gender-neutral sporting system. Inspirational and impassioned." —Kirkus

"Motivational . . . [Fleshman's] raw honesty when it comes to often taboo topics for professional female athletes (including menstruation and mental health struggles) is refreshing, as is her willingness to confront the ways professional racing 'folds and smashes women and girls into a male-based infrastructure.' Fleshman's determination stokes the competitive spirit in this rousing call to action." —Publishers Weekly