Steelheart (The Reckoners #1) (Paperback)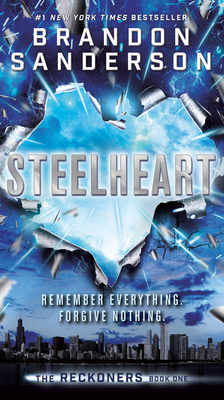 Other Books in Series
This is book number 1 in the The Reckoners series.
Staff Reviews
---
Think you've read enough about dystopian futures and superheroes? No, you haven't. Sanderson takes those two genres and hits the ground running, constructing a post-apocalyptic world ruled by ruthless, invulnerable superhumans called "epics." Even though Steelheart is packed with enough gritty action scenes to please any adrenaline-junkie, there's still plenty of meaty world building and meaningful character development. I was thrilled to be taken aback by no less than three major plot twists; two I didn't see coming, and one I *thought* I did, until the big reveal. I knew that Sanderson was a brilliant epic fantasy writer. His first foray into young adult science fiction proves that he's just a brilliant writer, period.
—
Jennie's Staff Picks
Description
---
The #1 New York Times bestseller from Brandon Sanderson, the author of Oathbringer, coauthor of Robert Jordan's The Wheel of Time series, and creator of the internationally bestselling Mistborn trilogy. And don't miss the rest of the Reckoners series: Firefight and Calamity.
   How far would you go for revenge if someone killed your father?
   If someone destroyed your city?
   If everything you ever loved was taken from you?
   David Charleston will go to any lengths to stop Steelheart. But to exact revenge in Steelheart's world, David will need the Reckoners—a shadowy group of rebels bent on maintaining justice.
   And it turns out that the Reckoners might just need David too.
   Look for book two in the Reckoners series, Firefight, available now.
Praise for the Reckoners series
#1 New York Times Bestselling Series
"
Another win for Sanderson
. . . he's
simply a brilliant writer.
Period." —Patrick Rothfuss, author of the
New York Times
and
USA Today
bestseller
The Name of the Wind
"
Action-packed.
" —EW.com  
"
Compelling
. . . . Sanderson uses plot twists that he teases enough for readers to pick up on to distract from the more dramatic reveals he has in store." —
The A.V. Club
About the Author
---
Brandon Sanderson is the author of the #1 New York Times bestselling Reckoners series: Steelheart, Firefight, and Calamity, as well as the internationally bestselling books in the Stormlight Archive and the Mistborn trilogy. He was also chosen to complete Robert Jordan's The Wheel of Time series. His books have been published in more than twenty-five languages and have sold millions of copies worldwide. He lives and writes in Utah. To learn more about Brandon and his books, visit him at brandonsanderson.com and follow @BrandSanderson on Twitter.