The Church of Baseball: The Making of Bull Durham: Home Runs, Bad Calls, Crazy Fights, Big Swings, and a Hit (Hardcover)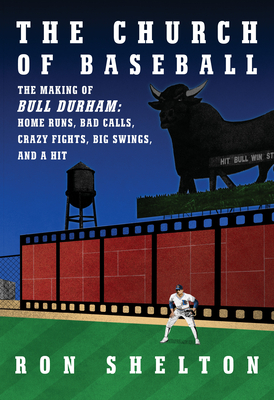 $30.00

Not Available In-Store - Usually Ships from Warehouse in 1-5 Days
Description
---
LA TIMES BESTSELLER • From the award-winning screenwriter and director of cult classic Bull Durham, the extremely entertaining behind-the-scenes story of the making of the film, and an insightful primer on the art and business of moviemaking.

"This book tells you how to make a movie—the whole nine innings of it—out of nothing but sheer will." —Tony Gilroy, writer/director of Michael Clayton and The Bourne Legacy

"The only church that truly feeds the soul, day in, day out, is the church of baseball."—Annie in Bull Durham

Bull Durham, the breakthrough 1988 film about a minor league baseball team, is widely revered as the best sports movie of all time. But back in 1987, Ron Shelton was a first-time director and no one was willing to finance a movie about baseball—especially a story set in the minors. The jury was still out on Kevin Costner's leading-man potential, while Susan Sarandon was already a has-been. There were doubts. But something miraculous happened, and The Church of Baseball attempts to capture why.

From organizing a baseball camp for the actors and rewriting key scenes while on set, to dealing with a short production schedule and overcoming the challenge of filming the sport, Shelton brings to life the making of this beloved American movie. Shelton explains the rarely revealed ins and outs of moviemaking, from a film's inception and financing, screenwriting, casting, the nuts and bolts of directing, the postproduction process, and even through its release. But this is also a book about baseball and its singular romance in the world of sports. Shelton spent six years in the minor leagues before making this film, and his experiences resonate throughout this book.

Full of wry humor and insight, The Church of Baseball tells the remarkable story behind an iconic film.
About the Author
---
RON SHELTON's Bull Durham launched a writing-directing career that includes White Men Can't Jump, Blaze (1989), Cobb, and Tin Cup, among other films. He also directed Jordan Rides the Bus, a documentary about Michael Jordan's year in the minor leagues. A former professional baseball player, he holds degrees from Westmont College and the University of Arizona. He currently lives in Los Angeles with his family.

Praise For…
---
"If you loved Bull Durham, you obviously must read Ron Shelton's book about how it was made. Less obvious, but equally true: if you simply love movies, you must read it. No insider has ever written so well, and so revealingly, about the script-rewriting, the studio-fighting, the actor-coddling, the entire sausage-making process of any movie." --Daniel Okrent; author of Last Call, The Guarded Gate, and Nine Innings

"I am among the legion of fans who loved the romantic comedy (and semi-autobiographical) movie Bull Durham, written and directed by Ron Shelton. His new book, The Church of Baseball: The Making of Bull Durham, is an enchanting education on how Crash and Nuke and Annie -- and Shelton -- and their madcap medley of co-characters overcame real and fictionalized obstacles to populate a variety of ballparks and bedrooms and, in dramatic fact, triumph over the snooty `suits' in Hollywood suites." --Ira Berkow, Pulitzer Prize-winning sports columnist and author of Baseball's Best Ever: A Half-Century of Covering Hall-of-Famers

"The Church of Baseball is a heart pumping ride, from pitch to script to screen to the Oscars, as Ron Shelton turns his minor league love triangle into the greatest sports movie of our time. No filmmaker has given such an unfiltered glimpse into the storytelling process. Shelton has a mutual love for filmmakers and ballplayers—the grunts who take field and the management that controls their dreams. While chasing through the white knuckle pace of movie production, Ron Shelton somehow finds that strand of DNA in all of us that roots for the man at the plate as he chases love, success, good scotch, high fiber, and the hanging curveball." --Jason Reitman, writer-director of Thank You for Smoking; Juno; Up in The Air; and Young Adult

"In 1988, Ron Shelton wrote and directed Bull Durham, maybe the best baseball movie ever. Now he tells the story of how that classic was made and the book is as funny, tough and touching as the picture. Home run." --David Thomson, author of The Biographical Dictionary of Film

"THE CHURCH OF BASEBALL is one of the best books ever written about the making of a movie. But it's much more than a first-rate insider's take on the business. It's a book about the human comedy. Ron Shelton's perceptions about people and predicaments have a novelistic richness. You don't need to know a thing about movies or the infield fly rule to savor THE CHURCH OF BASEBALL." --Peter Rainer, Author of Rainer on Film: Thirty Years of Film Writing in a Turbulent and Transformative Era; Finalist for the Pulitzer Prize in Criticism

"This book tells you how to make a movie – the whole nine innings of it – out of nothing but sheer will. And it's Ron Shelton so you can't stop smiling even when it all goes sideways. It's always fascinating to hear how great films fall together, this time you've got the guy who called the game spinning the yarn. Major League stuff." --Tony Gilroy, writer/director of Michael Clayton and The Bourne Legacy

"Rookie of the Year. A brilliant first book details the author's first movie, BULL DURHAM...At age 76, Ron Shelton has written his first book, and the biggest question upon reading it is, What took him so long? The Church of Baseball details the production of 1988's Bull Durham, which Shelton wrote and was his directorial debut. It's a remarkable account of how the Hollywood sausage is made, but it's also a touching account of the author's relationship with baseball...The movie, of course, ultimately became a classic. This book? Every bit as good."--Mark Bechtel; Sports Illustrated

"The Church of Baseball: The Making of Bull Durham is a fraught, rollicking and gossipy romp through the funny-in-retrospect ordeal of fighting for a cinematic project that seemed as unlikely to succeed as a Class A shortstop making it to the Show." --Elizabeth Nelson,The Wall Street Journal

"…an exceedingly enjoyable memoir of the making of "Bull Durham," and a reminder just how well that film's baseball scenes have held up through the years…Thirty-four summers after "Bull Durham" first hit theaters, its influence is still apparent." --Mike Vaccaro; New York Post


"...a reflective, first-person account of how he conceived the characters and story and then managed to bring it to life as a first-time film director. Shelton takes readers through the writing of the script in detail, highlighting his aims in each scene. That's followed by his selling the script to a studio, with himself attached as a neophyte director, and then hiring a crew, casting and shooting the movie, and navigating the editing process. The entire tale is colored by his continual clashes with studio executives on the oddest things imaginable....Told purely from the creator's perspective, this book is a lively, witty master class in screenwriting and film direction, much in the cheeky spirit of Bull Durham. VERDICT Highly entertaining and informative look at a popular film classic, this book should find wide interest among film and sports buffs." --John Maxymuk; starred Library Journal review

"Shelton's fabulous CHURCH OF BASEBALL [is] about so much more than sports…The book, just like Bull Durham, the classic film he wrote and directed in 1987, will stand the test of time… That there was a demand for this fabulous tome speaks to the enduring appeal of his classic… Shelton reveals studio heads originally didn't even deem [Susan Sarandon] worthy of an audition because she wasn't regarded as "hot" enough. In the best traditions of books about the movie business, the glimpse behind the curtain reveals this and so many other gossipy nuggets that reinforce the old William Goldman line about nobody really knowing anything in that town... "Perhaps Bull Durham has resonated all these years because it is about loving something more than it loves you back," writes Shelton. "It's about reckoning. It's about loss. It's about men at work, trying to survive in the remote outposts of their chosen profession . . . It cannot be dismissed that it's also about the joy of playing a game for a living. It's about team and connections and risk and reward." The book, like the movie, is about all of that and so much more." --Dave Hannigan, The Irish Times

"'Bull Durham' fans, rejoice at 'Church of Baseball… Shelton's breezy behind-the-scenes recap." --Douglass K. Daniel, AP News

"Ron Shelton hears America singing, schmoozing, and swearing. His writing-directing debut, Bull Durham (1988), transported fans into the offbeat mystique and comic muck of baseball…Shelton's new memoir, The Church of Baseball, does for filmmaking what Bull Durham did for the national pastime: it demystifies the craft, pillories the business, and celebrates the calling with wit and passion…Shelton's prose is as natural as his dialogue, and he conjures characters with casual mastery…The book takes us inside his screenwriting process as his characters emerge with distinct voices and signature first lines…In The Church of Baseball, as in Bull Durham, Shelton riffs on life in the American grain, and scales the heights of the homegrown surreal. Like Mark Twain, he reveals an unsentimental education that reads like a robust and impudent yarn." --Michael Sragow, Air Mail

"It's a detailed, nostalgic and, at times, uproarious inside story of the making of Bull Durham, and an account of Shelton's life in and out of baseball, which led him to write and direct the movie." --Peter Moore, Parade

"A marvelous book about a classic movie that is guaranteed to send fans back to the Church of Baseball to hear their favorite sermon one more time" --Booklist, starred review


"In this spectacular debut, screenwriter and director Shelton reflects on the deeply personal passion that brought his canonical sports film, 1988's Bull Durham, to life…Shelton produces a work that's humanizing and intimate. In addition to his fascinating analyses of the script's genesis…readers will revel in Shelton's own accounts of playing baseball professionally in the minor leagues in the 1960s. As he writes, it was the "fragile and absurd... wondrous and thrilling" world he discovered there that ignited his dreams to write the film. The result is an immensely moving look into the mind behind the masterpiece." (July) --Publishers Weekly, Starred Review

"A filmmaker's memoir about the making of one of the best sports movies of all time. Shelton's book is not simply a jaunty recollection of his directing debut, with all its attendant breakthroughs and headaches. The author, who displays sheer, unadulterated love for his subject, also delivers a savvy, unusually informative tutorial on how to take a motion picture from the concept stage to script development, casting, production, and post-production. Shelton examines all of this in a charismatic style that decodes jargon and engages from first page to last. There's plenty of gossip (mostly generous), surprising insights, useful screenwriting strategies, and tips for would-be directors on how to combat studio meddling. Even certified film buffs who have read numerous how-to books by those in the industry will find the author's advice sound and clarity refreshing. "Making a good and successful movie is a minor miracle every time," he writes in the introduction. He goes on to prove his point several times over, chronicling a montage of maddening impediments, unexpected reversals, scheming, happy accidents, and the unpredictable alchemy that is screen chemistry… He set about demystifying a game that clings to its mysteries like pine tar to a bat only to rediscover that some of those mysteries are real—and poetic. Fans of the film will have new reasons to appreciate it—and the team that made it." --Kirkus Reviews, Starred review