Tomorrow, and Tomorrow, and Tomorrow: A novel (Hardcover)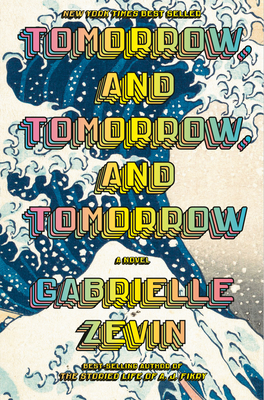 Staff Reviews
---

In 50 years from now, this gorgeous novel will still be a bestseller; it is an instant classic. Gabrielle Zevin tells the story of how a video game is created but also many stories of childhood friends growing into their twenties, inter-generational family threads, how individuals grow and change and love in their own ways. I have already read it twice and it might become a yearly read for me. Everyone will find a part of this book to love. — From Allie's Picks (page 2)
When two souls are bound to one another, there is little to be done in the way of separating one person from the other for very long. In spite of creative differences, fights, deaths, and even utter betrayals, the two paths will inevitably cross again. The depth of love rooted in the friendship Sam and Sadie have was deeply moving to follow, as they fall apart and come back together, time after time, over the course of thirty years. Please don't let the video game premise give you pause, if you are not tech-savvy! The relationship is the heart of this story, the games a vehicle, and I came away with an appreciation for both.
— From
Gemma's Picks
No other book this year has had me feel the absolute roller coaster of emotions that this book put me through. I laughed, I cried and I actually had to stop reading for about a week because I was so frustrated at some of the characters in this book. Sadie, Sam and Marx each embody traits that we all have and we may even know people in our lives that fit their traits to a T. Gabrielle Zevin tells a story so believable that we can put ourselves in the shoes and lives of these wonderfully human characters and live vicariously through them from beginning to end of this amazing story.
— From
Sergio's Picks (page 2)
Sam Masur, video game creator and amputee, loves Sadie Green, but not in *that* way. Except, when he does. But only when she is in another relationship. It's complicated. But so are all of the relationships between the characters of this beautiful, dynamic story. The cover is just the beginning of the beauty. I laughed, held back tears in the breakroom, and simply absorbed this book. I now know what an MMORPG is, but, more importantly, I have a deeper appreciation for the diversity of friendships.
— From
Danielle's Picks (page 2)
July 2022 Indie Next List
---
"I am deeply mourning finishing this book. Zevin has masterfully created a love story for friendship that will stay with me. While the characters were imperfect — so, strikingly human — following this span of 30 years left me wanting more."
— Vina Castillo, Kew & Willow Books, Kew Gardens, NY
Description
---
NEW YORK TIMES BEST SELLER • Sam and Sadie—two college friends, often in love, but never lovers—become creative partners in a dazzling and intricately imagined world of video game design, where success brings them fame, joy, tragedy, duplicity, and, ultimately, a kind of immortality. It is a love story, but not one you have read before.

"Delightful and absorbing." —The New York Times • "Utterly brilliant." —John Green
 
One of the Best Books of the Year: The New York Times, Entertainment Weekly, TIME, GoodReads, Oprah Daily

From the best-selling author of The Storied Life of A. J. Fikry: On a bitter-cold day, in the December of his junior year at Harvard, Sam Masur exits a subway car and sees, amid the hordes of people waiting on the platform, Sadie Green. He calls her name. For a moment, she pretends she hasn't heard him, but then, she turns, and a game begins: a legendary collaboration that will launch them to stardom.

These friends, intimates since childhood, borrow money, beg favors, and, before even graduating college, they have created their first blockbuster, Ichigo. Overnight, the world is theirs. Not even twenty-five years old, Sam and Sadie are brilliant, successful, and rich, but these qualities won't protect them from their own creative ambitions or the betrayals of their hearts.

Spanning thirty years, from Cambridge, Massachusetts, to Venice Beach, California, and lands in between and far beyond, Gabrielle Zevin's Tomorrow, and Tomorrow, and Tomorrow examines the multifarious nature of identity, disability, failure, the redemptive possibilities in play, and above all, our need to connect: to be loved and to love.
About the Author
---
GABRIELLE ZEVIN is the New York Times and internationally best-selling author of several critically acclaimed novels, including The Storied Life of A.J. Fikry, which won the Southern California Independent Booksellers Award and the Japan Booksellers' Award among other honors, and Young Jane Young, which won the South­ern Book Prize. Her novels have been translated into thirty-nine languages. She has also written books for young readers, including the award-winning Elsewhere. She lives in Los Angeles.
Praise For…
---
WINNER OF THE GOODREADS CHOICE AWARD • NEW YORK TIMES BEST SELLER • WINGATE PRIZE NOMINEE • LOS ANGELES TIMES BOOK CLUB PICK

One of the Best Books of the Year: The New York Times, TIME, Buzzfeed, Entertainment Weekly, Oprah Daily, Slate, Self.com, Bookpage, Kirkus, SheReads, GoodReads, Goop, and The What List

A New York Times Notable Book of the Year • A Jimmy Fallon Book Club Pick • A Time Must-Read Book of the Year • A Washington Post Notable Work of Fiction • BookPage Best Fiction of the Year

"Delightful and absorbing...Zevin burns precisely zero calories arguing that game designers are creative artists of the highest order. Instead, she accepts that as a given, and wisely so, for the best of them plainly are...Expansive and entertaining...Dozens of Literary Gamers will cherish the world she's lovingly conjured. Meanwhile, everyone else will wonder what took them so long to recognize in video games the beauty and drama and pain of human creation."
—Tom Bissell, The New York Times

"A tour de force... A moving demonstration of the blended power of fiction and gaming....Zevin describes herself as 'a lifelong gamer.' That level of experience could very well have produced a story of hermetically sealed nostalgia impenetrable to anyone who doesn't still own a copy of 'Space Invaders.' But instead, she's written a novel that draws any curious reader into the pioneering days of a vast entertainment industry too often scorned by bookworms. And with the depth and sensitivity of a fine fiction writer, she argues for the abiding appeal of the flickering screen."
—Ron Charles, The Washington Post

"Whatever its subject, when a novel is powerful enough, it transports us readers deep into worlds not our own. That's true of Moby Dick, and it's certainly true of Tomorrow, and Tomorrow, and Tomorrow, which renders the process of designing a great video game as enthralling as the pursuit of that great white whale….There are…smart ruminations here about cultural appropriation, given that the game, Ichigo, is inspired by Japanese artist Hokusai's famous painting The Great Wave at Kanagawa….It's a big, beautifully written novel about an underexplored topic, that succeeds in being both serious art and immersive entertainment."
—Maureen Corrigan, NPR's Fresh Air

"Engrossing....Though it contains plenty of nostalgia for the pioneer age of 1990s game design, this isn't primarily a novel of nerdy insider references....Videogames happen to be the medium by which [Zevin's characters] best express themselves and share in each other's life."
—Sam Sacks, The Wall Street Journal

"Woven throughout [Tomorrow, and Tomorrow, and Tomorrow] are meditations on originality, appropriation, the similarities between video games and other forms of art, the liberating possibilities of inhabiting a virtual world, and the ways in which platonic love can be deeper and more rewarding—especially in the context of a creative partnership—than romance."
—The New Yorker

"Tomorrow, and Tomorrow, and Tomorrow is a celebration of the narratives, in video games and in life, that reinforce just how important connection really is. In following Sam and Sadie's journey from Massachusetts to California and into the imagined worlds of their games, Zevin writes the most precious kind of love story."
—Annabel Gutterman, Time

"The story of three brilliant kids who found a videogame company, this book is about so much more—friendship, love, loyalty, violence in America and the magic of invented worlds. Gorgeous."
—Kim Hubbard, People

"Zevin is a great writer who makes you care deeply about her characters....Tomorrow, and Tomorrow, and Tomorrow resonated with me for personal reasons, but I think Zevin's exploration of partnership and collaboration is worth reading no matter who you are. Even if you're skeptical about reading a book about video games, the subject is a terrific metaphor for human connection."
—Bill Gates

"You don't have to be a gamer to appreciate the pulsing heart of this best-seller: In a story spanning three decades and references from Oregon Trail to Macbeth, Gabrielle Zevlin has written a modern, definitive story about work, love, and friends for whom you'd do and risk everything."
—Keely Weiss and Halie Lesavage, Harper's Bazaar

"A remarkably absorbing portrait of friendship, identity, and the urge to create something beautiful, whether it be on the page or in pixels….Zevin…clearly knows her way around an RPG, but it's the analog intimacy of Tomorrow's wise, sensitive storytelling that stays."
—Leah Greenblatt, Entertainment Weekly

"I've never played a video game in my life, and I was sucked into this book like it was Halo and I was a socially awkward tween in 2001. Really, this isn't just a book for people who understand life through the pixels, but for people who understand life through stories."
—Jenny Singer, Glamour

"One of the most special novels written in the past decade. This story follows two friends who form a thrilling creative partnership that drives them together and apart over the course of their young lives."
—Kiki Koroshetz, Goop

"Utterly absorbing...Until I read Tomorrow, and Tomorrow, and Tomorrow, I had never heard of anyone playing games the way my husband and I play games, the way that Sam and Sadie do—on campaign mode but passing the controller back and forth. It takes a shattering lack of ego to play this way, knowing that someone else has the power to make a decision that would change the storyline or garner the skills to play through certain sequences that you'll never see again. All that matters when you play like this is that you're moving forward, and you're together."
—Adrienne So, Wired

"This is a boy meets girl story that is never a romance – though it is romantic… Zevin blurs the lines between reality and play... Tomorrow, and Tomorrow, and Tomorrow is an artfully balanced novel – charming but never saccharine. The world Zevin has created is textured, expansive and, just like those built by her characters, playful."
—Pippa Bailey, The Guardian

"Two friends, who are often in love, but never lovers, must contend with the fame, joy and tragedy that comes with success after they enter the world of video game design. Spanning three decades and multiple locations, this love story by The Storied Life of A.J. Fikry author is anything but predictable."
—E! News, Tierney Bricker

"Tomorrow, and Tomorrow, and Tomorrow is a decade-spanning feat in storytelling, switching perspectives as the story winds through the years."
—Elena Nicolaou, TODAY Show

"Despite [her] fantastical virtual worlds woven in lush detail, Zevin wants us to take a hard look beyond the screen...At its heart, Tomorrow is a coming-of-age tale stretched, in so many ways, by grief and hurt. This is Zevin's tough love: There is no shortage of misfortune in life. Take a deep breath. Click continue....Tomorrow is not the type of book to accept a game over. It clutches onto that innocent hope ingrained in all video games."
—The Washington Post

"Tomorrow, and Tomorrow, and Tomorrow…is buoyant despite the illness and pain that speckles its characters' lives because they hope to meet again, to play again, to build again like gods….This book, with its respect for craft—the craft of love and games, or loving games—will remind you of how abundant one life is, how lucky we are to keep each other in our memories forever."
—Ashley Bardhan, Kotaku

"This is a great novel. Zevin has the ability to make you care about her creations within paragraphs of meeting them....The book is rich with characters whose intertwined fates power the narrative...We are glad of the privilege of accompanying Sam and Sadie on the adventure of growing up and discovering who they are, and wondering who they might have been."
—Erica Wagner, The Financial Times

"If your Insta and #BookTok feeds are filled with pics of this read...there's a reason why....Trust us when we say to give it a shot....You'll follow [Sam and Sadie] over the course of decades, from Massachusetts to California, as they deal with ambition, loss, success, and heartache. We're not crying, you are." 
—The Skimm

"Gabrielle Zevin's potent new novel feature[s] a memorable and oddly stirring meet-cute, with Sam getting the attention of his long-ago childhood friend Sadie by shouting across a crowded train platform that she 'has died of dysentery.' If you picked up on that Oregon Trail reference, you may appreciate this funny, unpredictable story of love and video games set in the late '90s, a time when a couple of indie programmers like Sam and Sadie could take the world by storm with nothing but a good idea and a stack of floppy disks."
—Patrick Rapa, The Philadelphia Inquirer

"Utterly brilliant. In this sweeping, gorgeously written novel, Gabrielle Zevin charts the beauty, tenacity, and fragility of human love and creativity. Tomorrow, and Tomorrow, and Tomorrow is one of the best books I've ever read." 
—John Green, author of The Anthropocene Reviewed

"My #1 book to recommend…Tomorrow and Tomorrow and Tomorrow… [is]  incredible, like The Amazing Adventures of Kavalier and Clay by Michael Chabon meets The Interestings by Meg Wolitzer. It's about love and friendship and video games."
—Emma Straub, Cup of Jo

"Is there such a thing as the Great American Gamer Novel? Because if not, I believe Gabrielle Zevin just invented it. She has crafted a brilliant story about life's most challenging puzzles: friendship, family, love, loss. By turns funny, poignant, wistful, and occasionally devastating, this book absolutely pwned me—in the very best way."
—Nathan Hill, author of The Nix

"Tomorrow, and Tomorrow, and Tomorrow is a beautifully wrought saga of human connection and the creative process, of love and all of its complicated levels. A gem of a novel, intimate yet sweeping, modern yet timeless. Bits of this book lingered in my head the way ghosts of Tetris pieces continue to fall in your mind's eye after playing."
—Erin Morgenstern, author of The Starless Sea

"Gabrielle Zevin has written an exquisite love letter to life with all its rose gardens and minefields. With wisdom and vulnerability, she explores the very nature of human connection. This novel, and its unforgettable characters, know no boundaries. To read this book is to laugh, to mourn, to learn, and to grow."
—Tayari Jones, author of An American Marriage

"Tomorrow and Tomorrow and Tomorrow is the sort of book that comes around once in a decade—a magnificent feat of storytelling. It is a book about the intersection between love and friendship, work and vocation, and the impossible and relentless pull of our own west-bound destinies. Gabrielle Zevin is one of our greatest living novelists, and Tomorrow just may be her magnum opus. Remarkable."
—Rebecca Serle, author of In Five Years

"A polished, thoughtful novel about loyalty and love that, like the best video games, grows more absorbing the further you venture into it."
—Connie Ogle, The Star Tribune

"Zevin has written a fascinating novel about two friends who collaborate on designing video games. These games are so imaginative and innovative that you will wish you could actually play them."
—Wisconsin Public Radio

"[A] brilliant tale of identity, human connection, and yes, love in all of its myriad of forms."
—Sabienna Bowman, PopSugar

"If you're into video games, this extraordinary coming-of-age/love story/social novel has your name on it. The story follows terrific characters from youth into their adult lives as founders of a successful gaming company. Even if you couldn't care less about video games, Zevin's signature narrative charms will still keep you riveted."
—Marion Winik, Newsday

"The brilliance of Zevin's tour de force is that you can come into this book with zero gaming knowledge and be blown away by her insights on the human condition, her prodigious capacity for storytelling, and how she weaves it all together — brilliant and brilliantly." 
—The Bridge

"Yes, it is a love story, but it is not one you have read before. Taking place over 30 years, this dazzling and intricately imagined novel by Gabrielle Zevin examines the nature of identity, disability, failure, and above all, our need to connect. Tomorrow, and Tomorrow and Tomorrow is one of our most anticipated books of the summer and we can't wait for you to read it." 
—B&N Reads

"[This] novel explores themes of identity, disability, play and love in an unforgettable and richly imaginative way." 
—She Reads

"Zevin… returns with an exhilarating epic of friendship, grief, and computer game development…. Zevin layers the narrative with her characters' wrenching emotional wounds as their relationships wax and wane... Even more impressive are the visionary and transgressive games… This is a one-of-a-kind achievement."
—Publishers Weekly, starred

"Riveting… Zevin has written the book she was born to write, a love letter to every aspect of gaming…Zevin's delight in her characters, their qualities, and their projects sprinkles a layer of fairy dust over the whole enterprise…Sure to enchant even those who have never played a video game in their lives, with instant cult status for those who have."
—Kirkus, starred

"Zevin creates beautifully flawed characters often caught between the real and gaming worlds, which are cleverly juxtaposed to highlight their similarities and differences. Both readers of love stories and gamers will enjoy. Highly recommended."
—Library Journal, starred

"It's impossible to predict how, exactly, you'll fall in love with Gabrielle Zevin's novel Tomorrow, and Tomorrow, and Tomorrow, but it's an eventuality you can't escape... Her artistic, inclusive world is filled with characters so genuine and endearing that you may start caring for them as if they were real. Above all, her development of Sam and Sadie's relationship is pure wizardry; it's deep and complex, transcending anything we might call a love story. Whether you care about video games or not is beside the point. Tomorrow, and Tomorrow, and Tomorrow is the novel you've been waiting to read."
—Chika Gujarathi, BookPage