Life and Fate: Introduction by Polly Jones (Everyman's Library Contemporary Classics Series) (Hardcover)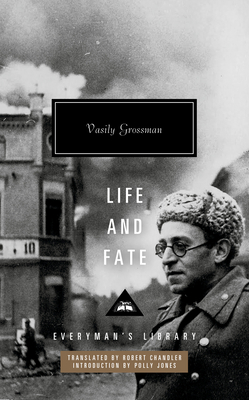 $32.00

Not Available In-Store - Usually Ships from Warehouse in 1-5 Days
Description
---
This panoramic novel about a family scattered across the Soviet Union and Europe during World War II is a monument of modern Russian literature by the Ukrainian-born writer hailed as "the Tolstoy of the USSR."

Suppressed by the KGB and years later smuggled out of the Soviet Union to be published, Vasily Grossman's novel is an unsparing story of ordinary Russians tragically caught between the fascism of the invading Nazis and the oppression of their own Soviet government.
 
The sprawling plot follows the travails of the extended family of Viktor Shtrum along the vast eastern front of the war. Shtrum is a brilliant nuclear physicist who faces rising anti-Semitism in Moscow while his relatives navigate the threat of camps and prisons on both the Soviet and the Nazi sides. Grossman's extensive wartime reporting, combined with his Tolstoyan narrative skills, allow him to portray with unprecedented detail and authenticity the human cost of the struggle between two freedom-denying powers. 
 
In vividly rendered scenes that range from the dramatic battle of Stalingrad to the remote Siberian gulag, and encompassing characters ranging from a grieving mother to a woman in love and from a six-year-old boy on the way to a gas chamber to Stalin and Hitler, Grossman's masterpiece is a profound and moving reckoning with the darkness of the twentieth century and a testament to the stubborn persistence of kindness and hope.

Everyman's Library pursues the highest production standards, printing on acid-free cream-colored paper, with full-cloth cases with two-color foil stamping, decorative endpapers, silk ribbon markers, European-style half-round spines, and a full-color illustrated jacket.
About the Author
---
VASILY GROSSMAN (1905–1964) was born in Berdichev in Ukraine, in one of the largest Jewish communities in eastern Europe. After studying chemistry and working as an engineer, he was discovered by Maxim Gorky and began publishing his writing. During World War II, Grossman covered the defense of Stalingrad and the fall of Berlin and he wrote the first account of a German death camp. The manuscript of  Life and Fate was seized by the KGB in 1960 and Grossman did not live to see it published, but it was smuggled out and published in Europe and North America in the early 1980s.

ABOUT THE INTRODUCER: Polly Jones is Associate Professor of Russian and Schrecker-Barbour Fellow at University College, University of Oxford. She has published widely on Soviet cultural history; she is the author of Revolution Rekindled and Myth, Memory, Trauma: Rethinking the Stalinist Past in the Soviet Union and is the editor of Writing Russian Lives: The Poetics and Politics of Russian Biography.
Praise For…
---
"Read it, and rejoice that the twentieth century has produced so thoughtful and so profound a literary humanist . . . [It] provides us with some of the most troubling and occasionally uplifting examinations of the human heart to be found in contemporary literature. A novel for all time." —THE WASHINGTON POST
 
"The greatest Russian novel of the twentieth century . . . Life and Fate will continue to dazzle and inspire—as unerring a moral guide today as it was fifty years ago." —FOREIGN POLICY
 
"Life and Fate is a testament to the strength of character that terrorized human souls are capable of attaining. It is a noble book." —THE WALL STREET JOURNAL
 
"[One of the] most ambitious novels of the twentieth century . . . To call Life and Fate a twentieth-century War and Peace hardly does justice to its startling blend of taboo-breaking historical investigation, profound philosophical thought, and literary innovation . . . Grossman sought to capture the scale and the ethical and literary challenge of unprecedented human suffering, while rooting the drama of Stalingrad and Stalinism in the timeless struggle for humanity and the individual soul." —from the Introduction by Polly Jones