50 Years of Ms.: The Best of the Pathfinding Magazine That Ignited a Revolution (Hardcover)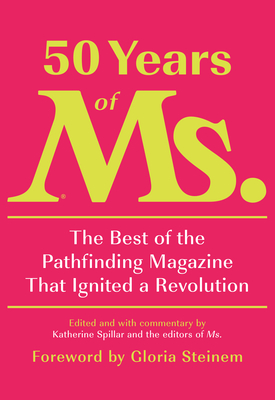 Description
---
The New York Times Book Review Editor's Choice • A celebration of Ms.—the most startling, most audacious, most norm-breaking of the magazine's groundbreaking pieces on women, men, politics (sexual and otherwise), marriage, family, education, work, motherhood, and reproductive rights, as well as the best of the magazine's fiction, poetry, and letters. • Featuring Billie Jean King, Alison Bechdel, and Audre Lorde, among many others."I've been a Ms. reader since its earliest days. The magazine's bold, boundary-breaking reporting has motivated me, infuriated me, and inspired me. And now this one extraordinary book—50 Years of Ms.—captures it all." —Jane Fonda, actor and activist "Ms.—in 1972—normalized being a woman, abortion and all. And here we are, 50 years later, needing that now more than ever." —Sarah Silverman, comedian, actor, and writer
For the past five decades
Ms.
has been the nation's most influential source of feminist ideas, and it remains at the forefront of feminism today, affecting thought and culture with a younger-than-ever readership (ages 16-20!).
Ms.
was the first U.S. magazine to: 
feature prominent American women demanding the repeal of laws that criminalized abortion
explain and advocate for the Equal Rights Amendment
rate presidential candidates on women's issues
feature domestic violence and sexual harassment on its cover, long before either was widely understood or acknowledged
commission and publish a national study on date rape
Here is the best reporting, fiction, and advertising, decade by decade, as well as the best photographs and features that reveal and reflect the changes set in motion by
Ms.
, along with the iconic covers that galvanized readers. 
Here are essays, profiles, conversations with and features by: Alice Walker, Cynthia Enloe, Pauli Murray, Nancy Pelosi, bell hooks, Eleanor Holmes Norton, Brittney Cooper, and Joy Harjo, as well as fiction and poetry by Toni Morrison, Joyce Carol Oates, Adrienne Rich, Rita Dove, and Sharon Olds, and many others.
About the Author
---
GLORIA STEINEM, writer, political activist, and feminist organizer, was a founder of New York and Ms. magazines. KATHERINE SPILLAR is the Executive Editor of Ms. magazine and Executive Director of the Feminist Majority Foundation. Spillar served four terms as President of the Los Angeles Chapter of the National Organization for Women. ELEANOR SMEAL is the publisher of Ms. and the president of the Feminist Majority Foundation which she cofounded.
Praise For…
---
"Ms. has been a bold, powerful, indomitable force in the fight for gender justice and equality. When the first issue hit newsstands in 1972, the magazine introduced our nation for the very first time to an unapologetic voice from the 'feminist frontlines': shining a bright light on urgent issues that had long been underreported. Ms. has fearlessly covered the issues that touch the lives of women, from domestic abuse and sexual harassment to workplace discrimination and reproductive care. Full of practical guidance and thoughtful insight, today Ms. remains an indispensable resource for navigating the challenges of the twenty-first century—because, as I always say, when women succeed, America succeeds!"
—Nancy Pelosi

"The first issue of Ms. magazine came out just after my first birthday, and I remember thinking, 'Finally, a smart, brave publication though a feminist lens!' Ms.—in 1972— normalized being a woman, abortion and all. And here we are, 50 years later, needing that now more than ever."
—Sarah Silverman

"Gloria Steinem and Ms. magazine changed the course of history for modern women, period. Who can say what direction things would have gone in without that movement, but there's no question our eyes were opened and have remained so. We just have to keep our eyes open—as well as our ears and hearts. It's constantly evolving, that's why it's called a movement. Always looking forward, baby."
—Whoopi Goldberg
 
"For five decades, this groundbreaking publication has been at the forefront of the fight for women's rights. By bravely and boldly making the case for a woman's right to build her own future—including protecting the right to choose—you have created a path for generations of women leaders and helped us all keep the faith even in the face of new and daunting challenges. Now, with the fundamental rights of so many women across America under threat, the work that Ms. magazine has pioneered is more important than ever."
—President Joe Biden

"Ms. magazine was crucial in the creation of the women's movement in the United States and the world—it inspired women to achieve our potential and take our place in society as feminist leaders. Ms. is just as important in today's world, as feminist leadership is needed to create a just international society."
—Dolores Huerta, co-founder, United Farm Workers, and President, Dolores Huerta Foundation 
 
"I can't imagine our lives without Ms. magazine, that most radical, heart-wise, irreverent, outrageous and odd magazine!  It is the only periodical that connects with all of women's lives, including those parts that secretly delight and scare us. Jai Maaa! (Victory to the mother!)"
—Alice Walker
 
"Ms. has proven itself to be a vital part of our national conversation, shaping and informing essential debates about women's rights and opportunities, and, most importantly: giving women a voice.
"You better believe I picked up an early copy, and have been an ardent reader over the years. As we know too well, women's work is never finished, and so I look forward to the next fiftyyears of Ms. Together, let's keep elevating women's voices and ideas. Onward!"
—Hillary Rodham Clinton
 
"As an aspiring journalist, Ms. showed me the power of the written word to shape policy and movements and to advocate for unrepresented voices. Unfortunately, the very issues that Ms. was founded to address 50 years ago persist today. The arrival of 50 Years of Ms. comes at the right moment in history and will serve as both a reminder of what we are capable of and a blueprint for how we continue the fight for women's equality."
—Soledad O'Brien
 
"I've been a Ms. reader since its earliest days. The magazine's bold, boundary-breaking reporting has motivated me, infuriated me, and inspired me. And now this one extraordinary book—50 Years of Ms.—captures it all. We are so lucky to have had visionaries at Ms. lighting the torch that's ignited generations of feminists."
—Jane Fonda, actor and activist
 
"In this day of information overload, Ms. Magazine aggregates all the news feminists need to navigate and improve the world for women. It keeps us informed of important events we need to understand and act on to end discrimination against women. 50 Years of Ms. is a must-read for all feminists."
—Loretta Ross, activist, professor, public intellectual, and MacArthur "Genius Grant" Fellowship recipient
 
""The most important fights of my lifetime—to pass the Equal Rights Amendment and to uplift the voices of the #MeToo movement—have been covered relentlessly over the years by Ms. magazine. I've been a reader of Ms. for many years and am forever grateful for the ways it shaped my activism. 50 Years of Ms. is truly a national treasure."
—Alyssa Milano
 
"Who would have thought that today we would need Ms. more than we ever needed it before? As many of us were coming of age, Ms. magazine was born. It was good to find inspiration from Gloria Steinem and Black women like Barbara Jordan and Shirley Chisholm, who were part of this beautiful movement. The magazine carried us through a journey we thought we would never have to retrace. Who would have believed that the fiftieth anniversary of Ms. magazine would find us in a fight for our bodies, our lives and our dignity? But aren't we grateful to have had the personal stories, news articles reflecting the movement and the encouragement of our magazine for all of these years preparing us to never accept "no" and to never go back! In these fifty years, Ms. magazine stood for us, for women from all backgrounds. Ms. magazine was our foundation. Ms. magazine stood up for us and we stood on it. We grew up in it. It is part of us. We will not go back. Yes, we will forge on. The women's movement will forge on. And Ms. magazine will forge on. Yes, we will!"
—Rep. Sheila Jackson Lee
 
"Finding Ms. and Ms.-minded women as the women's movement came of age helped me find my way."
—Julia Alvarez
 
"Ms. magazine has played a monumental role in building the women's movement over the past fifty years. It's more than a publication—it's an urgently needed call to action by and for women and girls across the country."
—Patricia Arquette
 
"Ms. has been dogged in starting and continuing conversations our country needs to have about gender equality. As some political leaders threaten to turn back the clock on women's rights, I'm grateful for the Ms. family keeping up the pressure. Our fight for equality is stronger with their tenacity and conviction."
—Rep. Katie Porter
 
"Ms. has been a voice for feminists for over fifty years, bringing together groundbreaking journalism and political advocacy. From calls to decriminalize abortion to support for the Equal Rights Amendment to courageous and outspoken coverage of domestic violence and sexual harassment, Ms. has never been afraid to put the real issues—and dreams— of women first. Ms. has always given a spotlight and a megaphone to the fight for equality and brought together women from all corners of American life to advocate for women's rights." 
—House Democratic Whip Katherine Clark