Vagabonds!: A Novel (Paperback)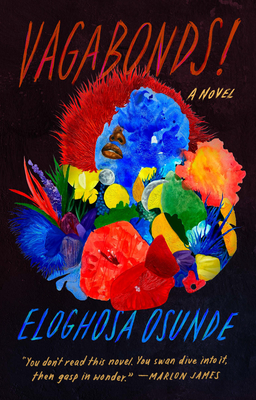 Staff Reviews
---
"Every page throbs with energy in this exhilarating novel about queer people loving each other in a country where their existence is literally outlawed, where spirits and the living commingle, where even the city itself—the volatile, many-eyed godhead of Lagos—has much to say. Kaleidoscopic, polyphonic, unapologetic, Vagabonds! is a ferocious debut."
— Brandon
Description
---
NAMED A BEST BOOK OF THE YEAR BY THE NEW YORKER

LONGLISTED FOR THE CENTER FOR FICTION FIRST NOVEL PRIZE AND THE VCU CABELL FIRST NOVELIST AWARD

"If you read one debut novel in 2022, this should be it." —Los Angeles Times

In the bustling streets and cloistered homes of Lagos, a cast of vivid characters—some haunted, some defiant—navigate danger, demons, and love in a quest to lead true lives.
 
As in Nigeria, vagabonds are those whose existence is literally outlawed: the queer, the poor, the displaced, the footloose and rogue spirits. They are those who inhabit transient spaces, who make their paths and move invisibly, who embrace apparitions, old vengeances and alternative realities. Eloghosa Osunde's brave, fiercely inventive novel traces a wild array of characters for whom life itself is a form of resistance: a driver for a debauched politician with the power to command life and death; a legendary fashion designer who gives birth to a grown daughter; a lesbian couple whose tender relationship sheds unexpected light on their experience with underground sex work; a wife and mother who attends a secret spiritual gathering that shifts her world. As their lives intertwine—in bustling markets and underground clubs, churches and hotel rooms—vagabonds are seized and challenged by spirits who command the city's dark energy. Whether running from danger, meeting with secret lovers, finding their identities, or vanquishing their shadowselves, Osunde's characters confront and support one another, before converging for the once-in-a-lifetime gathering that gives the book its unexpectedly joyous conclusion.
 
Blending unvarnished realism with myth and fantasy, Vagabonds! is a vital work of imagination that takes us deep inside the hearts, minds, and bodies of a people in duress—and in triumph.
About the Author
---
Eloghosa Osunde is a Nigerian writer and artist. An alumna of the Farafina Creative Writing Workshop, the Caine Prize Workshop, and the New York Film Academy, she has been published in The Paris Review, Gulf Coast, Guernica, Catapult, and other venues. Winner of the 2021 Plimpton Prize for Fiction and the recipient of a Miles Morland Scholarship, she is a 2019 Lambda Literary Fellow and a 2020 MacDowell Colony Fellow.
Praise For…
---
Paise for Vagabonds!:

"A vibrant blend of big-city life and contemporary mythology." —The New York Times

"A novel as vivid and varied as the city [of Lagos] itself." —Harper's Bazaar

"In a world that seeks to consign to the shadows those who don't conform, Osunde's vagabonds act as an illuminating force for one another." —The New Yorker
 
"Ghosts and dueling deities occupy Ms. Osunde's wild, phantasmagorical portrait of a city. . . . A note of empowerment appears, turning [Vagabonds!] into a kind of rallying cry. It is in the hidden margins of a corrupt metropolis, the stories affirm, that truth and bravery are to be found." —Wall Street Journal

"Tenderly brings those on the margins of society to the center, while highlighting their passions, their frustrations, and even their complex relationships with God." —Elle

"Lagos has featured in any number of novels by Nigerian writers . . . but usually the gaze is relentlessly male. . . . Vagabonds! is different: it tells compelling stories of survival, about women seizing agency in spite of the forces ranged against them."  —Adewale Maja-Pearce, London Review of Books

"Much like Toni Morrison, Osunde spins her fiction from the shadows and scars of her characters, as much as from any goodness they possess. . . . A book in which love overpowers taboo, and long-repressed truths about Nigerian identity hold the center."  —Astra Magazine
 
"Steeped in magical realism and a narrative voice reminiscent of early Salman Rushdie, Eloghosa Osunde's exuberant debut novel. . . thrusts readers into the heart of Lagos, Nigeria. . . . [and] convey[s] the resilience and joy of its nonbinary, trans and gay characters, even under these oppressive conditions." —Minneapolis Star Tribune

"If you read one debut novel in 2022, this should be it. With care, compassion and a gimlet eye for hypocrisy, Osunde builds a universe from Lagos, Nigeria's little-seen citizens: The gay, the trans, the abused and others. Magical realism works to great effect in connecting these stories, especially when spirits Tatafo and Èkó are involved, and readers will remain rapt to the end." —Los Angeles Times, "10 Books to Add to Your Reading List in March"

"I'm in awe of Osunde's writing. . . I can't wait for others to delve into the joyous, defiant world she has rendered for her debut novel, Vagabonds." —Caleb Azumah Nelson, Entertainment Weekly

"[Vagabonds!] shines, a novel told in the voices of a chorus of interesting characters that includes a fantastical element as well. . . .  readers get the great satisfaction of watching those on the outside intertwine with one another and take command of this mystical being that is controlling Lagos. It brings Lagos and its people, its vagabonds, to life with all its shadows and glittering light." —Shondaland

"Stunning and vivid . . . . Blending the mythical, the fantastical, and the real, Vagabonds! is a deeply-imaginative work and a celebration of the diversity of Lagos society." —Teen Vogue

"A bold new voice for bold new generations." —Los Angeles Times

"Refreshingly original . . . a daring novel that pushes the boundaries of literary convention." —Pittsburgh Post-Gazette

"[A] masterful debut . . . Each character, from a spectral godlike spirit to a transgender maid to a group of abused wives, all rise above their oppression to emerge transcended and ethereally beautiful." —Bay Area Reporter

"Vagabonds! is a book that forces you to pause and contemplate other experiences. For writers and other creators, this book does more. It is an excellent example of how to create a book that is beyond all categories simply true." —Olongo Africa

"A tour de force of magical realism . . . Vagabonds! takes us deep inside the hearts, minds, and bodies of a people in duress—and in triumph—in a way that only the best fiction can do." —Poets & Writers

"[A] kaleidoscopic debut, which more than earns the grammatical exclamation of its title. For the characters vibrantly rendered here, life itself is a form of resistance and Osunde captures them all with a singular tenderness and vivacity." —Chicago Review of Books
 
"Dazzling, haunting, angular, and funny. There is a freedom to Osunde's borderless writing, which captures the unruliness of a twenty-first century city while exposing the hypocrisies of its rulers, yet still finds amid the chaos possibilities for resistance." —TLS (London)
 
"This book has changed lives, taken people apart and, with love and care, put them together again. It's only been out a few days. . . . By the end of the novel, the thread of love-formed-resilience that connects all these stories is visible and solid. . . . Vagabonds! is righteous and unflinching truth . . . . [it] brings queer Nigerians closer to living true and free lives." –Autostraddle

"Vagabonds! will break your heart even as it restores your spirit." —Philadelphia Inquirer

"One of the most notable and visible writers rising up the ranks from Africa. . . . powerful and thought provoking. . . . Eloghosa Osunde's Vagabonds! is a letter of kinship. It speaks to those rendered vagabonds by their unending curiosity, their inability to stay in a place for long, those unable to stay in love, those who fell out of their former lives into a path that seems suitable, only to roaming; those lost and roaming in places they can't speak of." —Afrocritik

"Vagabonds! . . . arrests you. It sits you down and compels you to look at [its] characters, all of whom are wholly formed and terrifyingly real." —Mic

"An astonishing work of magical realism." –PopSugar

"Osunde's writing is rich and sensorial. . . . Vagabonds! is alive with magical potential in the face of oppression." —Creative Review

"From the intimacy of sexuality to the vastness of cityscapes, Osunde gives the reader a clear picture of the messy collision courses that are our lives. . . . [and] shows how each of her characters is part of something much larger than themselves—which is, in both the biblical and laical senses, awesome." –BookPage

"Magnificent. . . pulls off a triumphant celebration of queer survival. Throughout, Osunde crafts compassionate prose and seamlessly combines magic and grit. . . . A stunning introduction to a bold new writer." —Publishers Weekly, starred review

"A powerful debut novel about the power of love and stories to save people shunned by society for being themselves. . .  Osunde revels in the joy of storytelling to render a city and its outsiders in all their flaws and glory." —Kirkus, starred review

"An arresting and dazzling tale with a surprising elixir of lyricism and pidgin. . . Osunde's inventive and unique story releases its message like a confetti f percipience." —Booklist, starred review

"You don't read this novel. You swan dive into its sea of gods and monsters, lost girls, violent boys, and well-behaved people both righteous and wicked. And when you finally surface, that sound will be you, gasping in wonder." —Marlon James

"A triumph of a book. In Vagabonds! you will discover queer people finding ways to love each other in a society that outlaws queerness, and an explosive portrait of Nigeria that will blow your mind—in prose that feels so alive it practically vibrates off the page. A masterpiece."  —Lidia Yuknavitch

"A feast of a book, a marvelous ode to spirits and outsiders that is irreverent (and painfully funny) while being serious enough to drill a hole in one's chest. There is nothing in the world like this book." —Lesley Nneka Arimah 

"Vagabonds! offers a dazzling, hypnotic portrait of lives lived on the margins. Through Eloghosa Osunde's supreme imagination, the binary of reality and fantasy is shattered in poetic, kaleidoscopic color." —T Kira Madden

"Full of surprising, tender, biting language, Eloghosa Osunde's Vagabonds! sets a stage where gods play personal games with human lives. For its shape-shifting images, for its honesty, for the opportunity to sit with joy and discomfort—both necessary mortal things—this novel astounded me." —Dantiel W. Moniz