The Rested Child: Why Your Tired, Wired, or Irritable Child May Have a Sleep Disorder--and How to Help (Paperback)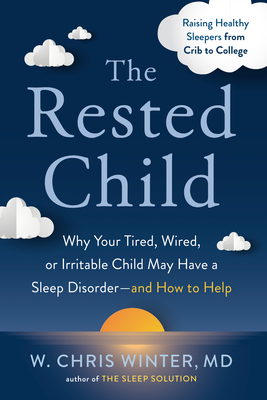 $18.00

Special Order - Subject to Availability
Description
---
A comprehensive guide to the varied sleep disorders that affect children from infancy to adolescence, many of which are commonly misdiagnosed, offering new wisdom to parents about how to ease their child's troubles.

Sleep disorders in children are on the rise. Experts have pronounced sleeplessness a "hidden health crisis" for young people, with 10 percent of children presenting with diagnosable sleep disorders--but well over half are misdiagnosed. Every year, tens of thousands of children are treated for diseases such as diabetes, learning disorders, or chronic pain, when the real root cause of their ailment may actually be a sleep disorder for which they're not being treated.

In this groundbreaking guide, neurologist and sleep expert Dr. Chris Winter identifies the signs and symptoms of the most common sleep disorders affecting children today, and he empowers parents and caregivers to understand the steps necessary to address and treat their children's sleep problems. From common issues such as too much screen time and night terrors, to narcolepsy, sleep apnea, and more, The Rested Child leaves no stone unturned. This book pulls back the curtain on the relationship between poor sleep quality and pediatric epidemics related to psychiatric health, rising obesity, ADD/ADHD, pain disorders, and other undiagnosed disorders of sleepiness and fatigue.

Finally parents have a resource to help them uncover the root of their children's problems, and, more important, to provide the answers on how to help.
About the Author
---
Dr. Chris Winter is a board-certified and internationally recognized sleep medicine specialist, as well as a board-certified neurologist. His first book, The Sleep Solution: Why Your Sleep is Broken and How to Fix It, was praised by New York magazine as one of the seven best books on sleep ever written and "The Best Book for Insomnia." He is a highly sought-after speaker and consultant for professional sports organizations, with clients including the Los Angeles Dodgers, the New York Rangers, and the Oklahoma City Thunder. He also regularly consults with U.S. military groups, as well as businesses and large corporations. His writing has been featured in The New York Times, Parenting, O, The Oprah Magazine, Health, CBS News, NPR, and Men's Health magazine.