Love on the Brain (Paperback)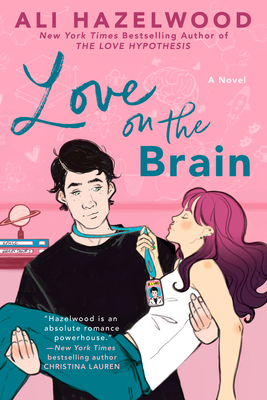 Staff Reviews
---
I could keyboard smash about how much I enjoy Ail Hazlewood's books; especially her characters! The women in her stories are brilliant scientists, hot messes, and lovable dorks. They feel like me and my other 20-something girl-friends, except we don't have Phds. Bee Konigswasser is one such neuroscientist that just wants to work on a dope NASA project and pet all the cats. Only problem is she is also working with Levi Ward, her professional nemesis. In her steamiest book yet Hazlewood tells a classic enemies to lover story, sprinkled with delightful dollops of feminism, the reminds us first impressions are not always what they seem and Marie Curie is the GOAT.
— From
Cailey's Picks (page 2)
There is definitely something about the co-worker trope that you just have to love. Especially when you throw in an amazing Enemies-to-Lovers plot! Hazelwood does it again. Her writing is perfectly comical, charming, and HOT. Bee is a beautiful character, inside and out- I really want to be her when I grow up- and Levy, well he is UGH (that was an excited ugh)! This book is absolutely everything I ask for in a romance novel! Academia based romance has definitely become my weakness. Thank you Ali Hazelwood! — From Athenya's Picks
Bee Königswasser is one of the new heroines of my heart. Whip smart? Check. Not willing to put up with any misogynistic behavior from the STEM men she's working with? Check. Skittish to commit despite being an all-around badass? Super check. Filled with an excellent cast of characters (can Ali Hazelwood's next book be a spinoff for Rocio, Bee's feisty, April Ludgate-like research assistant?), Love on the Brain is a satisfying, feminist read that's sure to please whether you've read The Love Hypothesis or not!
— From
Heather's H.'s Picks (page 2)
September 2022 Indie Next List
---
"Ali Hazelwood has done it again! This is NOT a novel that you can read a few pages here, a few pages there — it demands one sitting. With expert pacing, witty humor, and loveable characters, Love on the Brain is this fall's hot romantic comedy!"
— Stefanie Lynn, The Kennett Bookhouse, Kennett Square, PA
Description
---
An Instant New York Times Bestseller

A #1 LibraryReads and Indie Next Pick!

From the New York Times bestselling author of The Love Hypothesis comes a new STEMinist rom-com in which a scientist is forced to work on a project with her nemesis—with explosive results.

Like an avenging, purple-haired Jedi bringing balance to the mansplained universe, Bee Königswasser lives by a simple code: What would Marie Curie do? If NASA offered her the lead on a neuroengineering project—a literal dream come true after years scraping by on the crumbs of academia—Marie would accept without hesitation. Duh. But the mother of modern physics never had to co-lead with Levi Ward.
 
Sure, Levi is attractive in a tall, dark, and piercing-eyes kind of way. And sure, he caught her in his powerfully corded arms like a romance novel hero when she accidentally damseled in distress on her first day in the lab. But Levi made his feelings toward Bee very clear in grad school—archenemies work best employed in their own galaxies far, far away.
 
Now, her equipment is missing, the staff is ignoring her, and Bee finds her floundering career in somewhat of a pickle. Perhaps it's her occipital cortex playing tricks on her, but Bee could swear she can see Levi softening into an ally, backing her plays, seconding her ideas…devouring her with those eyes. And the possibilities have all her neurons firing. But when it comes time to actually make a move and put her heart on the line, there's only one question that matters: What will Bee Königswasser do?
About the Author
---
Ali Hazelwood is the New York Times bestselling author of The Love Hypothesis as well as a writer of peer-reviewed articles about brain science, in which no one makes out and the ever after is not always happy. Originally from Italy, she lived in Germany and Japan before moving to the US to pursue a PhD in neuroscience. When Ali is not at work, she can be found running, eating cake pops, or watching sci-fi movies with her three feline overlords (and her slightly-less-feline husband).
Praise For…
---
"With her sophomore novel, Ali Hazelwood proves that she is the perfect writer to show that science is sexy as hell, and that love can 'STEM' from the most unlikely places. She's my newest must-buy author."—Jodi Picoult, #1 New York Times bestselling author of Wish You Were Here

"I cannot get enough of her brand of brainy romance!...Writing with an emotionally brilliant and witty pen, Hazelwood is an absolute romance powerhouse."—Christina Lauren, New York Times bestselling authors of The Unhoneymooners

"Gloriously nerdy and sexy, with on-point commentary about women in STEM."—Helen Hoang, New York Times bestselling author of The Heart Principle
 
"STEMinists, assemble. Your world is about to be rocked."—Elena Armas, international bestselling author of The Spanish Love Deception

"Snappy dialogue with witty zingers make this tender enemies-to-lovers story, set at NASA in Houston, an unforgettable follow-up to neuroscientist Hazelwood's popular The Love Hypothesis…Light espionage, some derring-do, and an unexpected villain are just some of the delights in Hazelwood's smart, unusual, and superbly enjoyable tale."—Booklist, starred review

"The snappy prose, engaging and twisty plot, and utterly endearing characters combine to create pure romance gold."—Publishers Weekly

Praise for The Love Hypothesis

"A literary breakthrough…The Love Hypothesis is a self-assured debut, and we hypothesize it's just the first bit of greatness we'll see from an author who somehow has the audacity to be both an academic powerhouse and divinely talented novelist."—Entertainment Weekly

"Contemporary romance's unicorn: the elusive marriage of deeply brainy and delightfully escapist."—Christina Lauren, New York Times bestselling author

"Funny, sexy and smart, Ali Hazelwood did a terrific job with The Love Hypothesis."—Mariana Zapata, New York Times bestselling author