This One's for You (Hardcover)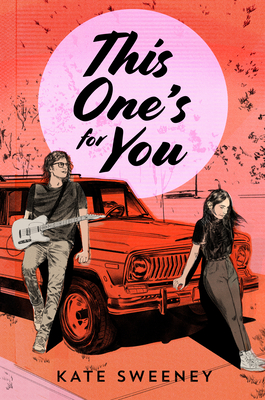 $18.99

Not Available In-Store - Usually Ships from Warehouse in 1-5 Days
Description
---
A gorgeous contemporary romance about two ex-best friends, Cass and Syd, on a life-altering road trip following the reunion tour of the Darlas—the band Cass's mom was in when she died. Perfect for fans of Nina LaCour, Mary H.K. Choi, and Jandy Nelson.

After their high school graduation, former best friends Cass and Syd are gearing up for their futures. Cass has planned to go to college to become an engineer, while Syd—despite the fact that her family thinks she's messed up her whole life—has lined up a sound internship at a historic music venue.

But Cass is keeping secrets. Though his dad has forbidden it, Cass has been playing music, taking trips to San Francisco BART stations to play and make money. Somehow, it's become a way for Cass to connect with his mother—who was also a musician—who died in a drunk driving accident on the way back from a gig when he was one.

But after Syd catches Cass playing at the BART station, and Cass finds out his mom's old band the Darlas is going on a reunion tour, everything changes. On impulse, Cass invites Syd to the first Darlas show, and without telling anyone, they make a break for it. Turning one show into a cross-country journey, the two former friends throw away all their plans for the future and embark on a life-altering road trip following the tour, keeping it a secret from their friends and family.

Along the way, they'll untangle the messy threads of how they became "ex"-best friends, experience the power of nature and music, and decide what they really want their lives to be. Maybe, through it all, Cass and Syd can find a way back to each other, too.
About the Author
---
Kate Sweeney was born in Athens, Georgia, and has since lived many places, including Los Angeles, New York City, and Salt Lake City. She began writing when she was sixteen. Her father–a novelist and screenwriter–had died five years prior, and in writing she found a way of bringing his voice back to her ears.

For the past ten years she has resided in the Bay Area, where she spends her time making music with her band, Magic Magic Roses, teaching literacy, and working with her husband at the family art-framing business.

She can be found online at @katesweeneywrites on Twitter and Instagram, and at her website https://www.katesweeneywrites.com/.
Praise For…
---
*"A beautifully written story about grief, love, and not just discovering who you are but finding the courage to declare, "This is who I am!" before the world...This is a must-read for music fans and romantics who believe in destiny but know fate alone can't hold up a relationship—even true love needs you to put in the work."--Booklist (starred review)

"Music fans will especially enjoy this story of two people learning to trust themselves—and each other."--Kirkus Reviews

"Amplifying raw emotion through imagery-rich prose, Sweeney explores mental health and the transition to adulthood...[and] captures the sensory immersion of musical performance...via lyrical alternating perspectives."--Publishers Weekly


Praise for CATCH THE LIGHT:

"Beautifully captured, like a photograph of a stolen moment. I ached for Marigold in her journey to move forward while not forgetting her past. Kate Sweeney's Catch the Light overflows with grief, love, and growing up."--Amy Spalding, bestselling author of We Used to Be Friends

*"Healing through art is a theme to which Sweeney, who is also a singer-songwriter, does beautiful justice. Her expressive prose renders quotable lines on nearly every page of Catch the Light as Marigold opens herself up to inhabiting the new life she's forging after—and despite—her great loss. Catch the Light is an affecting and affirming case for the painful, transformative inevitability of hope in the face of heartache."--BookPage (starred review)
 
"An edgy love story in which everyone seems to have a secret to hide."--Kirkus Reviews
 
"Sweeney writes with fluid elegance, effectively capturing the foggy disengagement often conferred by mourning...[while the romance] offers plenty of sweetness despite the shadows"--BCCB

"A captivating study of the ways grief affects families, friendships, and the very idea of love."--Booklist