Zia Erases the World (Hardcover)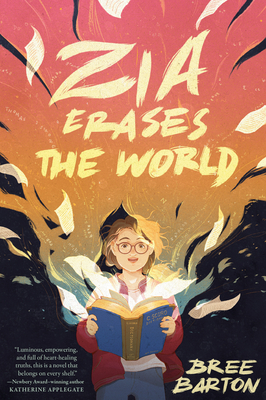 $16.99

Not Available In-Store - Usually Ships from Warehouse in 1-5 Days
Description
---
"Luminous, empowering, and full of heart-healing truths, this is a novel that belongs on every shelf."—Katherine Applegate, Newbery Award winning author

For fans of Crenshaw and When You Trap a Tiger comes the extraordinary tale of a headstrong girl and the magical dictionary she hopes will explain the complicated feelings she can't find the right words for—or erase them altogether.

Zia remembers the exact night the Shadoom arrived. One moment she was laughing with her best friends, and the next a dark room of shadows had crept into her chest. Zia has always loved words, but she can't find a real one for the fear growing inside her. How can you defeat something if you don't know its name?

After Zia's mom announces that her grouchy Greek yiayia is moving into their tiny apartment, the Shadoom seems here to stay. Until Zia discovers an old family heirloom: the C. Scuro Dictionary, 13th Edition.

This is no ordinary dictionary. Hidden within its magical pages is a mysterious blue eraser shaped like an evil eye. When Zia starts to erase words that remind her of the Shadoom, they disappear one by one from the world around her. She finally has the confidence to befriend Alice, the new girl in sixth grade, and to perform at the Story Jamboree. But things quickly dissolve into chaos, as the words she erases turn out to be more vital than Zia knew.

In this raw, funny, and at times heartbreaking middle grade debut, Bree Barton reveals how—with the right kind of help—our darkest moments can nudge us toward the light.
About the Author
---
Bree Barton lives in mythical Ithaca with her partner and two waggish dogs. She wrote her first book as "a humble child of ten"—her exact words in the query letter she sent to editors. Those editors told her to keep writing, and luckily, she did. Bree was eleven when her journey with the Shadoom began, and stories offered a special kind of balm. A handful of years later, she is the author of several young adult novels published in seven countries and four languages. Bree teaches dance and writing and loves connecting with readers of all ages. Zia Erases the World is her middle grade debut.


Praise For…
---
Raves for Zia Erases the World:

"A stunning middle grade debut full of delightful humor, inventive wordplay, and provocative questions, Zia Erases the World reminds us that it's only when we name our fears that we can truly own them."—Katherine Applegate, Newbery Award winning author

"A heartfelt and honest exploration of depression. Bree Barton handles sensitive subjects with such care and compassion, and this story reaches out to readers to say, 'I see you. You are not alone.'"—Tae Keller, Newbery Award winning author of When You Trap a Tiger

"A magical, inventive, optimistic story that never shies away from what it really feels like to be human."—Rebecca Stead, Newbery Award winning author

"A future classic. Zia's story will take you by the heartstrings and never let you go."—Marie Miranda Cruz, author of Everlasting Nora

"Barton's sparkling prose creates a striking and intimate look at middle school, family life, and the things we have to work to unwind about ourselves. A beautiful book written with equal parts compassion and spunk."—Corey Ann Haydu, author of Edgar-Award-nominated Eventown

"A moving, hopeful tale about confronting depression."—Kirkus Reviews

"Featuring a witty first-person narrator and threading in myriad cultural and etymological details, Barton's lightly magical middle grade debut emphasizes a potent message about 'finding light between the shadows.'"—Publishers Weekly

"Zia's desperation to right the world for everyone around her is endearing, even as the consequences of her rash decisions quickly erupt around her. Determined and inquisitive Zia and her search for a 'cure' to feel whole will resonate across the board—no matter what age."—Booklist

"[A] solid addition to middle grade fiction tackling mental health and intergenerational healing."—BCCB

"Barton fits a lot into the narrative—depression, dementia, economic inequality, Greek and Vietnamese heritages, the small indignities of school—without overwhelming the story."—The Horn Book