The Other Merlin (Emry Merlin #1) (Hardcover)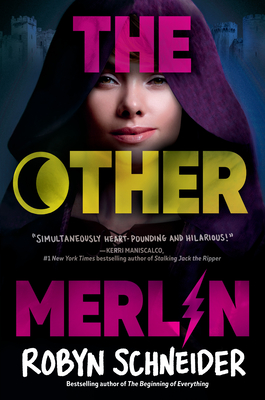 $18.99

Not Available In-Store - Usually Ships from Warehouse in 1-5 Days
Other Books in Series
This is book number 1 in the Emry Merlin series.
Description
---
ONE OF THE BEST BOOKS OF THE YEAR! - Publishers Weekly

"Simultaneously heart-pounding and hilarious, Robyn Schneider gives us a veritable romp through Camelot fueled by adventure and romance."
—Kerri Maniscalco, #1 NYT bestselling author of The Kingdom of the Wicked and Stalking Jack the Ripper

Channeling the modern humor of The Gentleman's Guide to Vice and Virtue, bestselling author Robyn Schneider creates a Camelot that becomes the ultimate teen rom-com hotspot in this ultra-fresh take on the Arthurian legend.

Welcome to the great kingdom of Camelot! Prince Arthur's a depressed botanist who would rather marry a library than a princess, Lancelot's been demoted to castle guard after a terrible lie, and Emry Merlin has arrived at the castle disguised as her twin brother since girls can't practice magic.

Life at court is full of scandals, lies, and backstabbing courtiers, so what's a casually bisexual teen wizard masquerading as a boy to do? Other than fall for the handsome prince, stir up trouble with the foppish Lord Gawain, and offend the prissy Princess Guinevere.

When the truth comes out with disastrous consequences, Emry has to decide whether she'll risk everything for the boy she loves, or give up her potential to become the greatest wizard Camelot has ever known.

About the Author
---
Robyn Schneider grew up in Southern California, where she spent her childhood reading fantasy novels and searching for secret passages. She's a graduate of Columbia University, where she studied creative writing, and the University of Pennsylvania Perelman School of Medicine, where she earned a Masters of Bioethics. Robyn is the bestselling author of The Beginning of Everything, Extraordinary Means, Invisible Ghosts, and You Don't Live Here. Her work is available across the world in over a dozen languages. She lives in Los Angeles with her TV producer husband, their tiny puppy, and far too many books.

Praise For…
---
BEST BOOK OF THE YEAR —Publishers Weekly
BEST CHILDREN'S BOOK OF THE YEAR - OUTSTANDING MERIT —Bank Street
BEST FICTION FOR YOUNG ADULTS —Young Adult Library Services Association
A RISE: FEMINIST BOOK PROJECT SELECTION

★ "Schneider's first foray into fantasy, a clever trilogy starter based in the King Arthur mythos, changes most of the canonical facts but gets everything that matters right in this funny, sharp, romantic, magic-filled book."
—Publishers Weekly (starred review)

★ "Rollicking humor, wry wit, and smoldering romance flourish amid political intrigues."
—Bank Street College of Education (starred review)

"Charming and sharply hilarious, Schneider's entrance into historical fiction is such a natural fit, demonstrated by the strength of her storytelling and joyous voice throughout this fun, clever (and queer) tale."
—Buzzfeed

"This book was a delight to read. Schneider crafts a deft world, painted alongside delightful characters and the perfect dash of wit. Everything I look for in my favorite novels—including a smoldering romance!—can be found in The Other Merlin, which is a wonderfully fresh take on Arthur and his storied knights of lore."
—Renee Ahdieh, New York Times bestselling author of The Beautiful and The Wrath and the Dawn

"Simultaneously heart-pounding and hilarious, Robyn Schneider gives us a veritable romp through Camelot fueled by adventure and romance. A wonderfully smart, refreshing take for fans of Arthurian legend,  but also simply a great read for anyone wondering about their place in the world." 
—Kerri Maniscalco #1 New York Times bestselling author of The Kingdom of the Wicked and Stalking Jack the Ripper

"Robyn Schneider brings everything I love about her contemporary books into fantasy with rich emotional arcs and friendships that are as compelling as the romance. These characters draw you in as the story keeps you guessing. I have no doubt this series will become a favorite for YA readers."
—Adrienne Young, New York Times bestselling author of Fable and Sky in the Deep

"An absolute joy from start to finish. It has the feel of a party you're just chuffed to have been invited to—sparkling characters, witty dialogue, and of course, great stories of derring-do. Schneider takes a familiar story and gives it the relevancy it deserves: with queerness, friendship, and, naturally, the woman wizard we've been waiting for."
—Maggie Tokuda-Hall, author of The Mermaid, The Witch, and The Sea

"Witty banter, engaging characters, risqué references, plus zero devotion to the source material add up to a read perfect for fans of The Lady Janies series. One part Arthurian legend, one part teen dramedy, all parts enjoyable."
—Kirkus Reviews

"Funny, thrilling, brave and bold, The Other Merlin is the perfect way to pass the time until the next Renaissance Faire. Schneider's Arthurian tale stands out amid a crowd of old, dusty duplicates."
—The BookPage

"Schneider's delightful reimagining of Arthurian legend sets Camelot as a hotbed for hormonal young nobles, who­—between dramatic turns of lust and love—partake in a lively blend of chivalry, questing, and courtly romance."
—Booklist

"The Other Merlin, a swoony and smart young adult fantasy novel that reimagines Camelot and its broad cast of characters in a new and clever way, with a young female Merlin at the center."
—The Mary Sue