Unwinding Anxiety: New Science Shows How to Break the Cycles of Worry and Fear to Heal Your Mind (Paperback)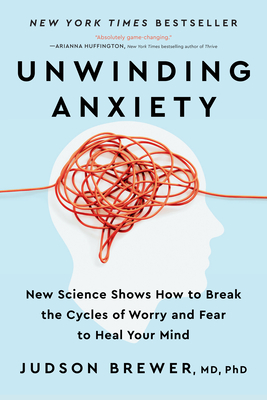 List Price: $20.00
Our Price: $18.00
(Save: $2.00 10%)
Description
---
New York Times and Wall Street Journal bestseller

A step-by-step plan clinically proven to break the cycle of worry and fear that drives anxiety and addictive habits

We are living through one of the most anxious periods any of us can remember. Whether facing issues as public as a pandemic or as personal as having kids at home and fighting the urge to reach for the wine bottle every night, we are feeling overwhelmed and out of control. But in this timely book, Judson Brewer explains how to uproot anxiety at its source using brain-based techniques and small hacks accessible to anyone.

We think of anxiety as everything from mild unease to full-blown panic. But it's also what drives the addictive behaviors and bad habits we use to cope (e.g. stress eating, procrastination, doom scrolling and social media). Plus, anxiety lives in a part of the brain that resists rational thought. So we get stuck in anxiety habit loops that we can't think our way out of or use willpower to overcome. Dr. Brewer teaches us to map our brains to discover our triggers, defuse them with the simple but powerful practice of curiosity, and to train our brains using mindfulness and other practices that his lab has proven can work.

Distilling more than 20 years of research and hands-on work with thousands of patients, including Olympic athletes and coaches, and leaders in government and business, Dr. Brewer has created a clear, solution-oriented program that anyone can use to feel better - no matter how anxious they feel.
About the Author
---
Judson Brewer MD, PhD, is an internationally renowned addiction psychiatrist and neuroscientist. He is a full professor in the School of Public Health, and Medical School at Brown University. His 2016 TED talk, "A Simple Way to Break a Bad Habit," has been viewed over 16 million times. He has trained Olympic athletes and coaches, government ministers and business leaders. His first book, The Craving Mind: from cigarettes to smartphones to love, why we get hooked and how we can break bad habits, was published in over 16 languages.
Praise For…
---
"One of the hardest things about tackling a bad habit is confronting the anxiety behind it. Jud Brewer has given us a breakthrough program with great tips and hacks that anyone can use to feel better.  We all need this book!"
—BJ Fogg, PhD, New York Times bestselling author of Tiny Habits

"Unwinding Anxiety provides a step-by-step guide to Judson Brewer's personally designed, clinically proven path that can alleviate your mind from anxiety, obsessive thinking, addiction, and more.  It guides your brain to rewire in helpful ways as it inspires your mind to understand it's inner processes more deeply and to live with more freedom, gratitude, interpersonal connection, and joy."
—Daniel J. Siegel, M.D., New York Times bestselling author of Aware

"You cannot thrive if you're perpetually anxious. It's that simple. Jud Brewer has given us a plan that can help us overcome our anxious thoughts, feelings and habits to create true well-being. It is absolutely game-changing." 
—Arianna Huffington, Founder & CEO, Thrive Global

"Grounded in the best of current science and totally user friendly, Unwinding Anxiety reveals how a powerful set of mindfulness tools can free us from the worry that rules our lives.  This is the most helpful and informative book on anxiety I've read!" 
—Tara Brach, Ph.D , author of Radical Acceptance

"In a world that can be overwhelming, Jud Brewer has created a plan to stop the overwhelm.  He shows us accessible ways to stop worry in its tracks and mindfulness techniques that can redirect our energy in positive, healing ways.  It's exactly what we need right now."
—US Representative Tim Ryan, Ohio

"An incredibly relatable and practical guide to anxiety. Judson Brewer's research has contributed greatly to our understanding of why anxiety is so hard to shake. This book gives us the tools to break free. Anxiety is at the root of so many of the habits we want to change. Unwinding Anxiety will not only help you deal with anxiety, but will also help you find freedom from the behaviors that hold you back."
—Kelly McGonigal, PhD, author of The Joy of Movement

"Brewer weaves together science from his lab and stories from his clinic to expertly illustrate how anxiety develops, becomes a habit loop, and why our anti-anxiety strategies continue to fail us. Unwinding Anxiety provides actionable steps that you can implement into your own life to stop this cycle. Compellingly written, this compassionate book is full of insights that couldn't have come at a better time."
—Jewel, New York Times bestselling author of Never Broken

"This may be the only book on anxiety you'll ever need. Drawing on his lab's latest neuroscience and clinically proven techniques, Dr. Brewer ingeniously reveals why anxiety loops are so hard to break. Showing clearly how and why worry is so addictive, he guides you how to shift through the gears to break the old habits that keep anxiety going, and to unwind the rope that's been coiled around your life. With new insights on every page, this is evidence-based psychological science at its best."
—Mark Williams, Emeritus Professor of Clinical Psychology, University of Oxford, UK, Co-author of Mindfulness: Finding Peace in a Frantic World

"In Unwinding Anxiety neuroscientist Judson Brewer offers a brilliant breakthrough, brain-based methods for lessening our anxiety-driven habits. And anxiety, after all, is the common cold of our emotional life."
—Daniel Goleman, author of Emotional Intelligence

"Judson Brewer has written a relatable, introspective guide to overcoming anxiety. Backed by research and experience Unwinding Anxiety is an exploration on how anxiety grows in our brains and offers a key to unwinding those habitual thought patterns. Much more than relaying research and science, this book offers user-friendly, practical steps to the possibility of managing worry!" 
—Sharon Salzberg, author of Lovingkindness and Real Change

"A helpful guide...These evidence-based, structured recommendations will be useful to anyone who feels caught in a negative loop."
–Publishers Weekly