Trouble with Lichen (Paperback)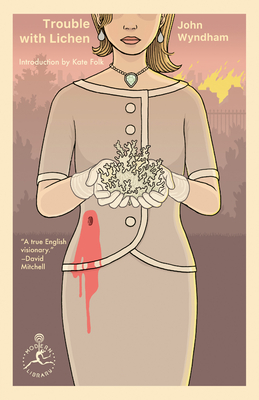 $17.00

Not Available In-Store - Usually Ships from Warehouse in 1-5 Days
Description
---
A "sharp, amusing story" (The Guardian) about the fountain of youth and its implications for women's rights, by one of the twentieth century's most brilliant—and neglected—science fiction and horror writers, whom Stephen King called "the best writer of science fiction that England has ever produced."

"It was a genius move for John Wyndham to center an age-slowing narrative on women, who are still today pressured to remain youthful-looking forever, or succumb to social invisibility. . . . Wyndham was uniquely gifted at skewering humankind's foibles while maintaining a shred of hope that our better angels would prevail."—Kate Folk, from the introduction

What if humans discovered the secret to prolonged life?
 
Francis Saxover and Diana Brackley, two biochemists investigating a rare lichen, separately discover that it has a remarkable property: It slows the aging process almost to a halt. Francis, realizing the horrifying implications of an ever-youthful wealthy elite, decides to keep his findings a secret. But the younger and more daring Diana sees an opportunity to overturn the male status quo and free women from the career-versus-children binary—in short, a chance to remake the world.
About the Author
---
John Wyndham (1903–1969) is considered a pioneer of science fiction and horror, though he preferred to think of himself as a "logical fantasist." He began writing science fiction and detective stories in the 1920s, but shifted to science fiction post-WWII, focusing on themes of disaster, invasion, and first contact. His best-known works include The Day of the Triffids (1951) and The Midwich Cuckoos (1957). A pacifist and socialist, Wyndham was alive to the impact of sexism, classism, and prejudice and his novels reflect his liberal politics.
Praise For…
---
Praise for John Wyndham

"The best writer of science fiction that England has ever produced."—Stephen King

"Wyndham was a true English visionary, a William Blake with a science doctorate."—David Mitchell

"[Wyndham] did more than any other British writer since H. G. Wells to make science fiction popular. . . . His plots, however fantastic, were characterized by inventiveness, clarity and a profound sympathy for mankind."—The New York Times

"[John Wyndham] singlehandedly invented a whole pile of sub-genres of science fiction. It's as if . . . he was plugged in to the world's subconscious fears and articulated them one by one in short, amazingly readable novels."—Jo Walton