Fit for the Gods: Greek Mythology Reimagined (Paperback)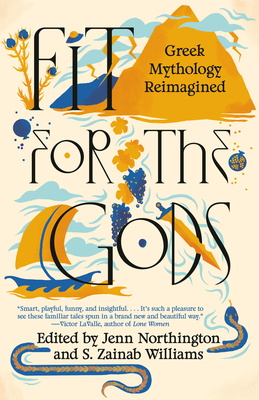 Description
---
An anthology of gender-bent, queered, race-bent, and inclusive retellings from the enchanting and eternally popular world of Greek myth, featuring stories by:

Marika Bailey • Alyssa Cole • Zoraida Córdova • Maya Deane • Sarah Gailey • Zeyn Joukhadar • Mia P. Manansala • Juliana Spink Mills • Susan Purr • Taylor Rae • Jude Reali • Suleikha Snyder • Valerie Valdes • S. Zainab Williams • Wen Wen Yang

Zeus, Athena, Apollo, Aphrodite, and the other denizens of Mount Olympus feel almost as present and larger than life today as they did when they were worshipped as gods. Humanity has been telling and retelling stories about the characters from Greek and Roman myth for centuries—heck, the Romans liked the Hellenic originals so much, they remade them faster than Marvel remakes Spider-Man movies. And from Virgil's Aeneid to Xena: Warrior Princess to Percy Jackson to The Song of Achilles, the obsession has never waned.

Yet Fit for the Gods shows how these stories still have a power of metamorphosis that would impress Ovid. Brave, bold, and groundbreaking, the stories in Fit for the Gods will be like ambrosia for those craving fresh interpretations of their favorite myths, and give long-time fans a chance to finally see themselves in these beloved legends.
About the Author
---
JENN NORTHINGTON is the co-editor of the Locus Award-nominated anthology Sword Stone Table, a former bookseller, and a current reviewer, podcaster, and editor with Riot New Media Group.
S. ZAINAB WILLIAMS is a writer, editor, and illustrator based in Asheville, NC. A podcaster and director of content for Book Riot, and a member of PEN America's Literary Awards Committee, she spends most of her days thinking about how to make the world of books and reading more inclusive and progressive.
Praise For…
---
"By masterfully playing with race, gender and queerness, this refreshing anthology reimagines the classics of Greek mythology."
—Karla J. Strand, Ms. Magazine

"An anthology of gender-bent, queered, and multiracial retellings of the most popular and epic Greek myths. . . . Fit For The Gods offers a refreshing look at those tales."
—Brea Baker, Elle

"An all-star group of authors . . . subvert the canon of Greek mythology. . . . Puts a more diverse, inclusive twist on the classic tales. . . . There's something for everyone in this collection."
—Elizabeth Held, Parade

"Smart, playful, funny, and insightful, these stories scratched an itch I didn't even realize I had. Such a pleasure to see these familiar tales spun in a brand new, and beautiful way. I had a blast with this book."
—Victor LaValle, author of Lone Women

"There's nothing I love more than reimagined myth, and this anthology is exactly what I love—full of wild, wonderful reimaginings that add to the longstanding tradition of mythological retellings. From emotional and fantastical, to evocative and sexy, there's something here for everyone. Fit for the Gods reads like the nectar of them."
—Sarah MacLean, bestselling author of Heartbreaker

"Sure, Zeus could transform himself into a swan. So what? The authors of these stories have done one better: transforming ancient myths into something bright, strange, and new. From shadowy soirees to futuristic floodwaters to the pale blinking of distant galaxies, Fit for the Gods proves once and for all that even the oldest myths truly are ever-relevant."
—GennaRose Nethercott, author of Thistlefoot

"Fit for the Gods reimagines, subverts, and expands the Greek mythological canon in thrilling and inspiring ways, across space and time and perspectives and genres. The labyrinth as an escape room for a last-ditch intervention, the Furies as a Filipino-American detective agency, Odysseus trapped by their spaceship's AI—every story in this brilliant collection is both a surprise and a satisfying delight."
—Jane Pek, author of The Verifiers

"These stories reimagine classic Grecian mythological characters in diverse, inclusive, and thought-provoking new ways. . . . Sure to change the way you look at Mount Olympus forever."
—Susie Dumond, Book Riot

"The retellings' variety ensures there's plenty to enjoy. . . . This collection should please Greek myth fans who want to approach familiar stories from a queer, feminist perspective. Recommended."
—Erin Niederberger, Library Journal

"Intriguing. . . . Captivating. . . . A collection of impressive breadth that will reward the mythically minded."
—Kirkus Reviews

"Journey to Mount Olympus this summer with an anthology that puts an inclusive spin on your favorite Greek myths through authors playing with genre, sexuality, gender, and more."
—Kelly Gallucci, We Are Bookish, "30 Summer Books to Have on Your Radar"