The Big Journal for Anxious People (Big Activity Book) (Paperback)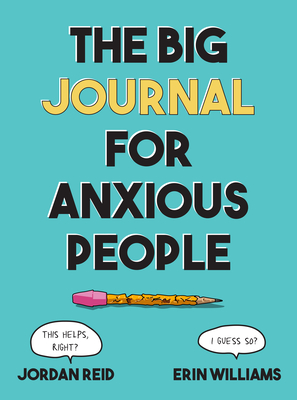 Description
---
Journal your way to inner peace—or at least to feeling a little less alone in your stress, anxiety, and 3:00 a.m. doomscrolling—with this hilarious, relatable, interactive journal.

The human body is 80 percent water, so we are basically cucumbers with anxiety (#themoreyouknow). Next time you feel a freak-out emerging, set your phone to the side—or, even better, turn it off—and reach for this journal instead. Jordan Reid and Erin Williams want you to remember that you're in good company: Anxious people are some of the funniest and most interesting and creative humans on the planet. (They know, because they are two of them.) So if you've got 99 problems and 86 of them are completely made-up scenarios in your head, write them down and let them go. With hilarious prompts, brilliant quotes, mental health facts, straight-talking advice, and plenty of space to draw, The Big Journal for Anxious People is a must-have for anyone who needs a little less overthinking and a little more chill.
About the Author
---
Jordan Reid is the founding editor of the lifestyle blog Ramshackle Glam and the author of several titles, including the Big Activity Book series. Her work has appeared in Mashable, BuzzFeed, Newsweek, and Bustle, among other national media outlets. She lives in California with her two children, various pets, and a Roomba named Thanos.

Erin Williams is the author and illustrator of five books, including Commute: An Illustrated Memoir of Female Shame and the Big Activity Book series. Her work has appeared in MoMA Magazine, The Believer, Salon, BuzzFeed, and Synapsis, among other publications. She lives in Westchester with her spouse, daughter, and a one-eyed cat named Peanut.