Trespasses: A Novel (Hardcover)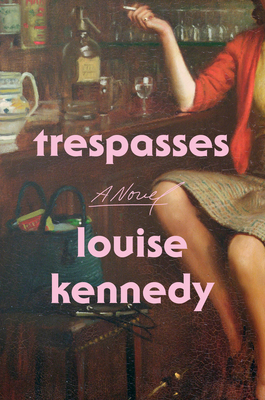 $27.00

Not Available In-Store - Usually Ships from Warehouse in 1-5 Days
Staff Reviews
---
Impossible to believe this is Kennedy's first novel. For a debut to have such depth of character, such quality of writing, a grasp of history in unsettled Ireland, and empathy for all of them is a true work of art. We meet Cushla, a young schoolteacher who helps out in her family's bar in the evenings and cares for her school kids by day and is constantly worrying about her helplessly alcoholic mother, as she falls helplessly in love with a man she meets in the bar. The Troubles are not only in her country but in the love affair that brings trouble to her life when you are rooting for it to pass her over. Brilliant.
— From
Gayle's Picks (page 2)
November 2022 Indie Next List
---
"When Catholic teacher Cushla Lavery & Protestant barrister Michael Agnew meet, the spark is immediate. Set in 1970s Belfast, Louise Kennedy captures a time of fierce loyalties, suspicion, and bigotry that smolders from the first page."
— Diana Van Vleck, Bloomsbury Books, Ashland, OR
Description
---
NAMED A BEST BOOK OF THE YEAR BY THE WASHINGTON POST

SHORTLISTED FOR THE WOMEN'S PRIZE FOR FICTION

"Brilliant, beautiful, heartbreaking."—J.Courtney Sullivan, New York Times Book Review
 
"TRESPASSES vaults Kennedy into the ranks of such contemporary masters as McCann, Claire Keegan, Colin Barrett, and fellow Sligo resident, Kevin Barry." —Oprah Daily

Set in Northern Ireland during the Troubles, a shattering novel about a young woman caught between allegiance to community and a dangerous passion.

Amid daily reports of violence, Cushla lives a quiet life with her mother in a small town near Belfast, teaching at a parochial school and moonlighting at her family's pub. There she meets Michael Agnew, a Protestant barrister who's made a name for himself defending IRA members. Against her better judgment, Cushla lets herself get drawn in by him and his sophisticated world, and an affair ignites. Then the father of a student is savagely beaten, setting in motion a chain reaction that will threaten everything, and everyone, Cushla most wants to protect.
About the Author
---
Louise Kennedy grew up near Belfast. She has written for The Guardian, The Irish Times, and BBC Radio 4, and she is also the author of a collection of short stories, The End of the World Is a Cul de Sac. Before becoming a writer, she worked as a chef for almost thirty years. She lives in Sligo, Ireland.
Praise For…
---
Praise for Trespasses:

"Brilliant, beautiful, heartbreaking. . .  A rising sense of tension throughout comes to a shocking head. I am not a crier, but by the final pages of Trespasses, I was in tears. It's a testament to Kennedy's talents that we come to love and care so much about her characters. And that reading about a long and difficult period from the recent past feels not like history, but like a warning." —J.Courtney Sullivan, New York Times Book Review

"Brilliantly depicted. . . . Kennedy has written a captivating first novel which manages to be beautiful and devastating in equal measure." —The Washington Post

"Absorbing. . . . vivid, skillful. . . . wise far beyond its first book status, Trespasses vaults Kennedy into the ranks of such contemporary masters as McCann, Claire Keegan, . . . [and] Kevin Barry." —Oprah Daily

"Kennedy doesn't shy away from either fun or femininity. . . . By attending to romance and courtship, and by writing about beatings and bombings alongside gossip and domestic detail, Kennedy refuses to shrink or ignore any part of her characters' lives. . . . She demonstrates how artificial it is for fiction to divide love and war." —The Atlantic

"I absolutely loved Trespasses . . . .a rare book. Cushla's world is so acutely rendered, her inner life so vivid, that as she finds a new freedom with Michael you will genuinely worry for her. . . .  It's impossible not to be gripped by her story." —Douglas Stewart, author of Shuggie Bain, on CNN

"A gorgeous, searingly intimate debut about the perils of following one's heart." —People Magazine

"Kennedy's powerful writing, tragic humor and vivid characters will move and haunt you." —San Francisco Chronicle

"[A] deeply evocative novel in the particularity of social description and ambience, in its atmosphere of menace, and in the urgency of the emotions portrayed — sexual passion, guilt, shame, fear, hatred and compassion. Kennedy is masterly." —Star Tribune

"Louise Kennedy's debut has all the drama we need as our era of ironic devout Catholicism comes to a close. 1975! Belfast! A young Catholic woman has an affair with a married Protestant barrister! Drama! Intrigue! Incense! Sin!" —Nylon

"A devastating novel filled with love and passion amid a brutal and desperate time." —Chicago Review of Books

"Will fill every historical fiction fan with gratitude. . . . The novel's brilliance lies in Kennedy's commitment to nuance. . . . achiev[ing] the complexity of a multigenerational saga without sacrificing the striking intricacies of its central protagonist's story." —BookPage

"Kennedy's characters are born and live under dark stars; she illuminates the unescapable harms that occur in that darkness." —Kirkus Reviews

"Kennedy does a marvelous job at portraying Cushla's immense guilt and passion" —Publishers Weekly

"Thrilling, wise, and moving, Trespasses is a remarkable novel about the wages of love in a time marked by brutality, strife, and above all, a will to hope. A totally absorbing read." –Brandon Taylor

"A beautiful, devastating novel. It feels real and true, and it loves its characters, utterly authentic people trying to live ordinary lives in desperate times. This book will last." —Nick Hornby
 
"Trespasses touches tenderly and hits hard – a compulsively readable love story which is also a lament for a society agonizingly divided against itself. Every word rings true." —Emma Donoghue

"Distinguished by a quality rare in fiction at any time: a sense of utter conviction. It is a story told with such compulsive attention to the textures of its world that every page feels like a moral and intellectual event." —The Guardian

"A heartbreaking story of forbidden love." —Sunday Times (UK)
 
"Transcends time and place. . . Trespasses feels so authentic it's as if nobody wrote it at all; it always existed" —Irish Independent

"Kennedy writes with fierce power. . . . her tenderly sharpened prose open to feelings so presently intimate that her sentences take shape like a body beside you. . . . A writer of exceptional empathy, style, and skill." —Irish Times

"A master storyteller. . . . The novel was invented for writing like this." —Sunday Independent