Making It Home: Life Lessons from a Season of Little League (Paperback)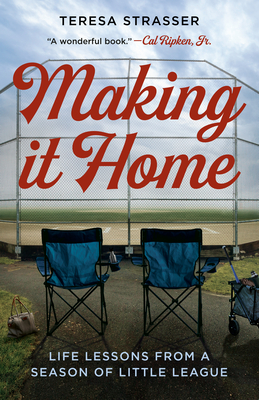 Description
---
An achingly heartfelt and surprisingly funny memoir about family, grief, and moving forward by an award-winning writer and TV personality.
 
When her brother dies from cancer, and then her mother just four months later, Teresa Strasser has no one to mourn with but her irresponsible, cantankerous, trailerpark-dwelling father. He claims not to remember her chaotic childhood, but he's a devoted grandpa, so as her son embarks on his first season pitching in Little League, Teresa and Nelson form a grief group of two in beach chairs lined up behind the first base line.
 
There are no therapeutically trained facilitators and no rules other than those dictated by the Little League of America, and the human heart. For Teresa and her father, the stages of grief are the draft, the regular season, and the playoffs. One season of baseball becomes the framework for a memoir about family, loss, and the fundamentals of baseball and life. They cheer, talk smack about other teams, scream at each other in the parking lot, and care way too much about Little League.
 
Making It Home is a bracingly honest journey through grief, self-doubt, and anxiety armed with humor and optimism. After all, America's pastime may be just a game, but it always leaves room for redemption, even at the bottom of the lineup.
About the Author
---
Teresa Strasser is an Emmy-winning writer (Comedy Central) and Emmy-nominated television host (TLC). She has been a contributor to the Los Angeles Times, USA Today, the Arizona Republic, The Jewish Journal, HuffPost, and The Today Show. Her first-person essays have garnered three Los Angeles Press Club Awards, including Columnist of the Year. She's appeared on The View, CNN, Good Morning America, The Talk, and Dr. Phil. Radio and podcast audiences know her as Adam Carolla's co-host. Her first memoir, Exploiting My Baby: Because It's Exploiting Me was a Los Angeles Times bestseller and optioned by ABC.
Praise For…
---
"It's a perfect book for fans of baseball, and also wonderful for those who aren't." — Good Housekeeping

"Baseball has always been a way for people to come together.  In Making It Home Teresa and her father used baseball to come together and work through some of the most difficult circumstances we can imagine. This is a story about a team that becomes a family and a family that becomes a team. It is a wonderful book that powerfully captures how we work through life's challenges with baseball as a backdrop." – Cal Ripken, Jr.

"Strasser knocks it out of the park,"— Publishers Weekly (starred review)

"Strasser writes in a voice that seems as if she's telling you the story right next to you; a story about swings and misses, errors and strikeouts and growing up… and that's just in the bleachers. It is ultimately a reminder that being on a team - on the field or at home - especially through the hard times, makes life better; the wins sweeter and the losses softer. That is the magic of baseball. That is the magic of this book."--David Mickey Evans, writer/director of Sandlot

"A complex and beautiful ride through grief, baseball, being a daughter and being a mother.... Teresa has the ability to lift you up, make you laugh and rip your heart out within the same paragraph. Making it Home is about so much more than grief and baseball, it's also about love, parenting, acceptance and the power of forgiveness. It's like reading great art –it's gripping, poetic, powerful, magical, at times funny and at times heartbreaking. I feel forever changed having experienced it."-- New York Times bestselling author Stefanie Wilder-Taylor
 
"I loved this book. It is certainly not about any specific stages of grief; nor is it prescriptions for 'getting over it.' This is a story about learning to lose with patience and self-compassion — in baseball and in life." — Dr. Drew Pinsky, physician and New York Times bestselling author
 
"We know baseball and the movies have had a long love affair. This story taught me that baseball and grief are having a relationship of their own. This memoir — a tale of a broken and glued-together American family — has the thrilling peaks and crushing valleys of the seventh game of a World Series. And with every page, you can see the movie unfold in your imagination. It'll be a good picture, too, though you'll always tell your friends, "'Sure, but the book was better.'" --Ben Mankiewicz, Turner Classic Movies
 
"As a sports parent, I know the power of the connection sports can bring (and the agony of twelve-hour volleyball tournaments farther away than any outlet mall you've ever been to). Teresa captures this beautifully. This book may be about Little League, but Teresa is a Major League talent." --Adam Carolla, New York Times Bestselling author and podcaster
 
"A beautifully crafted story that, I promise you, you have not read anywhere before. Is it heartbreaking? Yes. Will it cause you to tear up? Possibly. But at the same time, it's undeniably funny, a bit scurrilous, disrespectful, and outrageous. Did I mention funny? " -- Cable Neuhaus, Columnist, Saturday Evening Post