The Marriage Portrait: A Novel (Large Print / Paperback)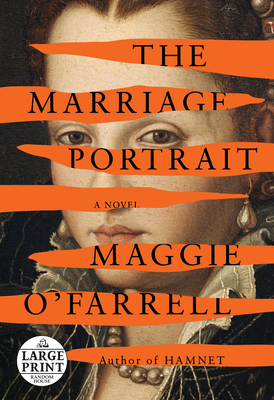 $30.00

Coming Soon - Available for Pre-Order Now
Staff Reviews
---
Maggie O'Farrell is a brilliant writer and never disappoints me. Though the subject matter--a wealthy teenager given to a much older Duke who expects absolute loyalty, obedience, and her acquiescence to nightly sex to create an heir to the throne--is difficult to read, one cannot but hope for the young woman to rebel against her plight. Control of women's bodies and minds is foremost in the mind of many men of power and this historical novel reveals that men will stoop to anything to get their way and women will resist until that is no longer an option or they are intelligent enough to recognize the danger they are in and seek relief through any means possible. O'Farrell's Lucrezia is artistic, innocent, kind and insightful. She's a wonderful heroine and will be remembered long after you close the book.
— From
Gayle's Picks (page 1)
Description
---
The author of Hamnet—New York Times best seller and National Book Critics Circle Award winner—brings the world of Renaissance Italy to jewel-bright life in this unforgettable fictional portrait of the captivating young duchess Lucrezia de' Medici as she makes her way in a troubled court.

Florence, the 1550s. Lucrezia, third daughter of the grand duke, is comfortable with her obscure place in the palazzo: free to wonder at its treasures, observe its clandestine workings, and devote herself to her own artistic pursuits. But when her older sister dies on the eve of her wedding to the ruler of Ferrara, Modena and Reggio, Lucrezia is thrust unwittingly into the limelight: the duke is quick to request her hand in marriage, and her father just as quick to accept on her behalf.
 
Having barely left girlhood behind, Lucrezia must now enter an unfamiliar court whose customs are opaque and where her arrival is not universally welcomed. Perhaps most mystifying of all is her new husband himself, Alfonso. Is he the playful sophisticate he appeared to be before their wedding, the aesthete happiest in the company of artists and musicians, or the ruthless politician before whom even his formidable sisters seem to tremble?
 
As Lucrezia sits in constricting finery for a painting intended to preserve her image for centuries to come, one thing becomes worryingly clear. In the court's eyes, she has one duty: to provide the heir who will shore up the future of the Ferranese dynasty. Until then, for all of her rank and nobility, the new duchess's future hangs entirely in the balance.
 
Full of the beauty and emotion with which she illuminated the Shakespearean canvas of Hamnet, Maggie O'Farrell turns her talents to Renaissance Italy in an extraordinary portrait of a resilient young woman's battle for her very survival.
About the Author
---
MAGGIE O'FARRELL was born in Northern Ireland in 1972. Her novels include Hamnet (winner of the National Book Critics Circle Award), After You'd Gone, The Vanishing Act of Esme Lennox, The Hand That First Held Mine (winner of the Costa Novel Award), and Instructions for a Heatwave. She has also written a memoir, I Am, I Am, I Am: Seventeen Brushes with Death. She lives in Edinburgh.
Praise For…
---
"A vivid depiction of the harsh manners and rigid expectations for women within ducal courts in 16th-century Italy . . . O'Farrell is a marvelous stylist, and The Marriage Portrait is full of the same kinds of intense details that made Hamnet come alive. Her characters are captivating and believable, and the landscape of Renaissance Italy is a veritable gift to the senses, so powerfully does O'Farrell evoke the sights, sounds and smells of forest, castle and barnyard." —BookPage, [starred review]

"Finely detailed. . . . This beguiling tale of power, politics and one woman's fight for agency is yet another masterpiece by the author of Hamnet." —The Globe and Mail

"Lush, provocative . . . A captivating portrait of a woman attempting to free herself from a golden cage. Fans of the accomplished Hamnet won't be disappointed by this formidable outing." —Publishers Weekly [starred review]

"A compelling portrait of a young woman out of step with her times . . . a vivid portrait of a turbulent age and a vibrant heroine." —Kirkus Reviews