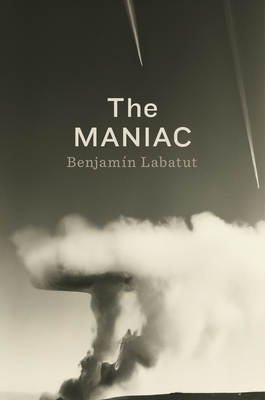 Staff Reviews
---
It begins with a bang and the series of events that follows, changes the course of human history. Benjamin Labatut absolutely rocked me to my core with The Maniac as he traces John von Neumann's, the most brilliant mind of the last century, achievements and life's trajectory. The Maniac will pull you into an autofictitious world that will leave you feeling haunted and enthralled about our future as a species and relationship with AI. Labatut showcases his own genius as he creates a kaleidoscopic look at a complicated time in history with an eye to a future that has not yet happened, but is inevitable. This is the type of novel you will hand to everyone you know and force them to discuss it with you, I know I will.
— From
Quinn's Picks
October 2023 Indie Next List
---
"One of the most fascinating books of the year. Labatut delivers a terrifying, dispassionate, utterly compulsive amalgam of fact and fiction, raising profound moral questions on unchecked scientific advancement and the dawn of AI."
— Alex Brubaker, Midtown Scholar Bookstore, Harrisburg, PA
Description
---
Named a Best Book of 2023 by The Washington Post, The New York Public Library, and Publishers Weekly • a national bestseller • a New York Times Editor's Choice pick • Longlisted for the 2024 Andrew Carnegie Medal for Excellence in Fiction

"Captivating and unclassifiable, at once a historical novel and a philosophical foray . . . Labatut is a writer of thrilling originality. The MANIAC is a work of dark, eerie and singular beauty." —The Washington Post
 
"Darkly absorbing . . . A brooding, heady narrative that is addictively interesting." —Wall Street Journal

From one of contemporary literature's most exciting new voices, a haunting story centered on the Hungarian polymath John von Neumann, tracing the impact of his singular legacy on the dreams and nightmares of the twentieth century and the nascent age of AI

Benjamín Labatut's When We Cease to Understand the World electrified a global readership. A Booker Prize and National Book Award finalist, and one of the New York Times' Ten Best Books of the Year, it explored the life and thought of a clutch of mathematicians and physicists who took science to strange and sometimes dangerous new realms. In The MANIAC, Labatut has created a tour de force on an even grander scale.

A prodigy whose gifts terrified the people around him, John von Neumann transformed every field he touched, inventing game theory and the first programable computer, and pioneering AI, digital life, and cellular automata. Through a chorus of family members, friends, colleagues, and rivals, Labatut shows us the evolution of a mind unmatched and of a body of work that has unmoored the world in its wake.

The MANIAC places von Neumann at the center of a literary triptych that begins with Paul Ehrenfest, an Austrian physicist and friend of Einstein, who fell into despair when he saw science and technology become tyrannical forces; it ends a hundred years later, in the showdown between the South Korean Go Master Lee Sedol and the AI program AlphaGo, an encounter embodying the central question of von Neumann's most ambitious unfinished project: the creation of a self-reproducing machine, an intelligence able to evolve beyond human understanding or control.

A work of beauty and fabulous momentum, The MANIAC confronts us with the deepest questions we face as a species.
About the Author
---
Benjamín Labatut is a Chilean author born in the Netherlands in 1980. He was raised in The Hague before settling in Chile, where he lives and works. He is the author of Antarctica starts here (2009), a short story collection; After the Light (2016), a series of scientific, philosophical, and historical notes on the void; The Stone of Madness (2021), a diptych on madness, chaos, and modernity; and When We Cease to Understand the World (2021), a book that explores the ecstasy and agony of scientific breakthroughs and has been translated into over thirty languages.
Praise For…
---
"Wonderfully counterintuitive . . . You just throw up your hands and think, Who cares what discourse label we assign this stuff? It's great." —Tom McCarthy, The New York Times Book Review

"Labatut's latest virtuosic effort, at once a historical novel and a philosophical foray, is a thematic sequel, an exploration of what results when we take reason to even further extremes . . . A contemporary writer of thrilling originality . . . The MANIAC is a work of dark, eerie and singular beauty." —Becca Rothfeld, The Washington Post

"Darkly absorbing . . . A brooding, heady narrative that is addictively interesting . . . Certainly read this gripping, provocative novel." —Sam Sacks, Wall Street Journal

"What [Labatut] brings to the page is something almost indescribably layered and complex that feels like a genre unto itself . . . Labatut has an uncanny ability to inhabit the psyche of these subjects—even though he's conjuring up their recollections, they still come across as wholly reliable narrators. There is so much depth and profundity within their reminiscing, so much foreshadowing of the present moment when it seems AI is all we're hearing about." —Allison Arieff, San Francisco Chronicle

"The novel's final section, a thrilling human-versus-machine matchup, points to what von Neumann had wrought—and reflects the warnings of Labatut's Wigner. Although its science never strays from what's been reported in the real world and although Labatut honors the discipline of historical fiction, The MANIAC qualifies as science fiction, at least as practiced by Mary Shelley and her adaptors. Neither Shelley nor Labatut includes in their work a scene of a scientist shouting, 'It's alive!' as some cursed creation lumbers to life. But the warning of that moment powers The MANIAC as surely as electricity enlivened Frankenstein's monster, a breakthrough who, in every telling, boasts the capacity to break us." —Alan Scherstuhl, Scientific American

"Labatut's dark vision of modern science, and the way he skillfully distorts von Neumann's biography to communicate that darkness, will be familiar to readers of When We Cease to Understand the World . . . In addition to explaining the basics of cellular automata, Labatut turns the idea into a symbol of von Neumann's failure to respect the difference between the gamelike abstractions of mathematics and the messy seriousness of human life . . . Labatut imagines one Go official's view on the matter, saying, 'There's no point in playing out the endgame if you know you're going to lose, right?' Today, when AI is on the cusp of making everyone from coders to truck drivers obsolete, that question feels more uncomfortably relevant than ever." —Adam Kirsch, The Atlantic
 
"Utterly absorbing . . . The book drives at the amorality with which von Neumann and his brilliant cohort set humanity on an apocalyptic path . . . [A] terrifying sense of skirting the abyss." —The Sunday Times

"His singular technique of chronicling scientific innovation via fictionalized narrative is superbly effective, drawing the reader through a tale of technological trepidation with all the nervous patience of a burning bomb fuse. It is as thrilling as it is troubling—one of those disquieting reads whose conflicts and questions churn in your mind long after you have finished reading." —Nautilus

"Labatut's unique framing of John von Neumann's brilliance and his descriptions of the transcendent power of computers and AI creates a disturbing, awe-inspiring, and inevitable vision, one foreseen by von Neumann, of an ominous future dominated by near infinite technological possibilities." —Booklist (starred review)

"The MANIAC arrives not a second too late to help us make sense of the burgeoning AI revolution . . . It's a necessary book, a harrowing one, and it will change the way you look at the world around you." —LitHub

"Labatut's book will provoke and inform, leaving us no more sure-footed in our nascent age of AI but certainly more aware." —BookPage

"Labatut elegantly captures the sense of geniuses outstripping the typical boundaries of intellectual achievement and paying a price for it . . . Sharply written fiction ably capturing primitive emotions and boundary-breaking research." —Kirkus
 
"After the slender yet incendiary When We Cease to Understand the World, Labatut returns with a sensational epic of the Hungarian American physicist and computer scientist John von Neumann . . . Labatut mesmerizes in his accessible depictions of complex scientific material and in his inspired portraits of the innovators. In his previous book, Labatut grappled with the ways in which scientific breakthroughs offered new means of experiencing reality; this one succeeds at showing how acts of genius might break the world forever. Readers won't be able to turn away." —Publisher's Weekly (starred review)
 
"Labatut has created his own genre: fictionalized accounts of great minds in the history of science, whose genius drives them to madness . . . The MANIAC charts the sweep of modern computing, from its first inklings in punched cards used in jacquard textile looms, all the way to dramatic confrontations between artificial intelligence and acclaimed masters of chess and Go. Labatut's prose is lucid and compelling, drawing readers on a frightening but fascinating journey; even the most right-brained among them will gain insight into the power and potential dangers of AI. Highly recommended." —Library Journal (starred review)

UK PRAISE

"Brilliantly cerebral." —Sunday Telegraph (five stars)

"[Labatut] is fast emerging as the most significant South American writer since Borges . . . There is no one writing like him anywhere in the world." —Telegraph

"Intoxicating . . . this marvel of a book, which inspires awe and dread in equal measure, is stalked by the greatest terrors of the 20th century, yet its final heart-stopping sentence makes clear the greatest terrors are yet to come." —Daily Mail

"A dark, strange novel by a rising literary star." —New Scientist

"Absorbing . . . The MANIAC reads like physicist Carlo Rovelli crossed with the cosmic horror of HP Lovecraft." —Chris Power, Sunday Times

"Monstrously good . . . Reads like a dark foundation myth about modern technology but told with the pace of a thriller." —Mark Haddon

"As addictive as a true crime tale." —Mail on Sunday

"Both entertains and provokes . . . His infernal vision of science captures something of the unsettling vertigo of living right here in the Anthropocene after all." —TLS

"Labatut's voice comes from the future, to free us from the curse of our present." —Wolfram Eilenberger, author of Time of the Magicians