Scarlet (Lunar Chronicles #2) (Prebound)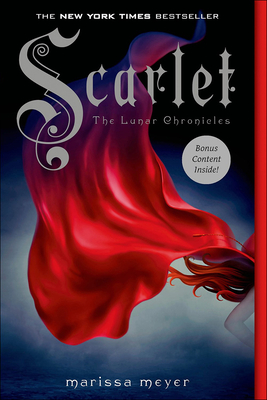 Other Books in Series
This is book number 2 in the Lunar Chronicles series.
Staff Reviews
---
Meyer continues to deliver heart-pounding thrills in her followup to Cinder. Her new female protagonist, Scarlet, is Cinder's more headstrong counterpart: quick to speak her mind, good with guns and ships, and willing to turn France upside down in search of her missing grandmother. Her love interest, Wolf, is a nod to the Big Bad Wolf in ways that Meyer reveals in some meaty plot twists. Cinder and others from the last book also return, while Meyer takes masterful care to expand both the personalities of her menagerie of characters and the genre-busting world building she started in the last book in New Beijing. Meyer does the almost unthinkable in teen fiction and simultaneously develops two complete female characters in a shifting point of view, who both have more connections with the plot and each other than the oft-recycled love triangle troupe used in less original books. Scarlet is teen fiction for smart, independent women and girls tired of useless female protagonists only relevant because of the flawless, empty men they fall in love with.
—
Jennie
Spring '13 Kids List
---
"Cinder: Lunar Chronicles Book One introduced a wildly creative world and an unusual, highly satisfying update to classic fairy tale characters. Scarlet, the second book in the series, will sate fans' appetites for more. Scarlet and Wolf, a street fighter and her reluctant bodyguard, go on a mission to find Scarlet's grandmother, while Cinder's story picks up where the first book ended, with her escape from prison. The secrets and motivations that bring their stories together are unpredictable and prompt more questions than answers. I can't wait for the next book!"
— Rebecca Waesch, Joseph-Beth Booksellers, Cincinnati, OH
Description
---
Cinder is back and trying to break out of prison--even though she'll be the Commonwealth's most wanted fugitive if she does. Halfway around the world, Scarlet Benoit's grandmother is missing. It turns out there are many things Scarlet doesn't know about her grandmother, or the grave danger she has lived in her whole life. When Scarlet encounters Wolf, a street fighter who may have information as to her grandmother's whereabouts, she is loath to trust this stranger, but is inexplicably drawn to him, and he to her. As Scarlet and Wolf unravel one mystery, they encounter another when they meet Cinder. Now, all of them must stay one step ahead of the vicious Lunar Queen Levana.
About the Author
---
Marissa Meyer's first book in the Lunar Chronicles, "Cinder, "debuted on the "New York Times" bestseller list. Marissa lives in Tacoma, Washington, with her husband and their three cats.