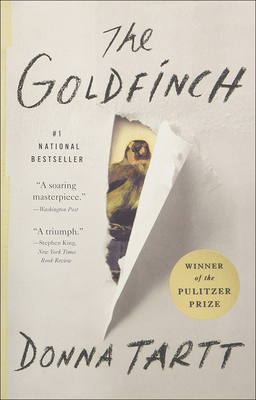 $35.40

Not Available In-Store - Usually Ships from Warehouse in 1-5 Days
Staff Reviews
---
This is a finely-wrought Dickensian bildungsroman that follows the life of Theodore Decker and his tangled link to a seventeenth-century painting. Humor, peculiarity, terror, aching existential dread-- Tartt elicits it all in winding, imagistic prose. (Her writing almost tangibly glows-- the first time I read this, I thought, for the first several pages, that it must be a fantasy novel because of the pure magic with which she world-builds.) Tartt has a striking way of combining action-laced plot with subtle and poignant meditations on art, family, and loss. The one & only book that has my whole heart and will have it always.
—
Caroline
Description
---
""The Goldfinch" is a rarity that comes along perhaps half a dozen times per decade, a smartly written literary novel that connects with the heart as well as the mind....Donna Tartt has delivered an extraordinary work of fiction."--Stephen King, "The New York Times Book Review" Composed with the skills of a master, "The Goldfinch" is a haunted odyssey through present day America and a drama of enthralling force and acuity.
It begins with a boy. Theo Decker, a thirteen-year-old New Yorker, miraculously survives an accident that kills his mother. Abandoned by his father, Theo is taken in by the family of a wealthy friend. Bewildered by his strange new home on Park Avenue, disturbed by schoolmates who don't know how to talk to him, and tormented above all by his unbearable longing for his mother, he clings to one thing that reminds him of her: a small, mysteriously captivating painting that ultimately draws Theo into the underworld of art.
As an adult, Theo moves silkily between the drawing rooms of the rich and the dusty labyrinth of an antiques store where he works. He is alienated and in love-and at the center of a narrowing, ever more dangerous circle.
"The Goldfinch" is a novel of shocking narrative energy and power. It combines unforgettably vivid characters, mesmerizing language, and breathtaking suspense, while plumbing with a philosopher's calm the deepest mysteries of love, identity, and art. It is a beautiful, stay-up-all-night and tell-all-your-friends triumph, an old-fashioned story of loss and obsession, survival and self-invention, and the ruthless machinations of fate.
About the Author
---
Donna Tartt is the author of the novels "The Secret History" and "The Little Friend." She was born in Greenwood, Mississippi and is a graduate of Bennington College. She lives in New York.