The Strangers (Books of Elsewhere #4) (Prebound)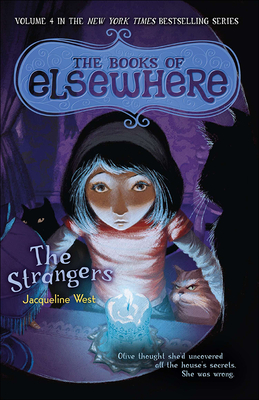 $19.80

Not Available In-Store - Usually Ships from Warehouse in 1-5 Days
Other Books in Series
This is book number 4 in the Books of Elsewhere series.
Description
---
"This haunting fantasy thriller brings together the quirkiness of Roald Dahl and darkness of Neil Gaimen."
--Austin Family
"The story was well-written, clever, and completely unpredictable...a great summer read that will let your imagination run wild."
--TIME for Kids
Olive thought she'd uncovered all the house's secrets. She was wrong.
It's Halloween night when strangers come to Linden Street...and something dear to Olive goes missing. To what lengths will she go to get it back? Can she trust the strangers? Will she turn to a new and dangerous magic within the paintings of Elsewhere? Or will she put her faith in her own worst enemies to save the people and home she loves?
The stakes grow higher, the secrets more dangerous, and mystery and magic abound as Olive, the boys, and the cats uncover the true nature of the house on Linden Street. A must-read fantasy series for fans of Pseudonymous Bosch, "Coraline," and Septimus Heap.
This is the fourth book in the Books of Elsewhere series.
About the Author
---
A two-time Pushcart nominee for poetry, Jacqueline West came to writing by way of opera (she studied vocal performance) and acting (she worked as an actress at a dinner theatre while earning her degree). Looking back on it, it's hard for Jacqueline to believe she ever wanted to be an opera singer, but singing, acting, and writing have one thing in common, she says: "They're all about telling a story, about getting inside the mind of someone other than yourself." The Books of Elsewhere series was inspired by a strange old house in Jacqueline's home town--three floors, cracking paint, sagging porches--that was owned by a professor who created all sorts of odd contraptions. Like lots of kids who live mostly in their imaginations, Jacqueline was obsessed with all things mysterious, creepy, and darkly funny, and with stories where magic intersects with everyday life. She was enthralled by Roald Dahl, Lewis Carroll, John Bellairs, Mrs. Frisby and the Rats of Nimh, Calvin and Hobbes, Bunnicula, etc. Jacqueline lives with her husband and their dog, Brom Bones (of Sleepy Hollow fame) in Red Wing, MN. Her first YA novel, tentatively titled All Our Yesterdays, is on our winter 2014 list.