School for Good and Evil (Prebound)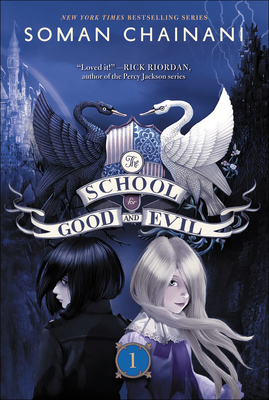 Staff Reviews
---
After this stunning cover grabs you, prepare yourself for an epic adventure! Soman Chainani thrills us with his new take on a fractured fairy tale. Taking the core of both sides — good and evil — and whipping them into a story you will not put down. Best friends Sophie and Agatha think they know which side they belong to in the fairy tale world. When the school master comes for them and places them in opposite schools, they must face their true selves and they find a way to survive their own stories. Great for readers who like a throwback to fairy tales (which I do!).
—
Brandi
Description
---
The New York Times bestselling The School for Good and Evil, the first book in the series, is an epic journey into a dazzling new world, where the only way out of a fairy tale is to live through one. This paperback edition features an Extras section, giving readers a chance to see which school they'd be in and a Q&A with the author, Soman Chainani.
With her glass slippers and devotion to good deeds, Sophie knows she'll earn top marks at the School for Good and join the ranks of past students like Cinderella, Rapunzel, and Snow White. Meanwhile, Agatha, with her shapeless black frocks and wicked black cat, seems a natural fit for the villains in the School for Evil.
The two girls soon find their fortunes reversed--Sophie's dumped in the School for Evil to take Uglification, Death Curses, and Henchmen Training, while Agatha finds herself in the School for Good, thrust among handsome princes and fair maidens for classes in Princess Etiquette and Animal Communication.
But what if the mistake is actually the first clue to discovering who Sophie and Agatha really are?