Sword of Summer (Magnus Chase and the Gods of Asgard #1) (Prebound)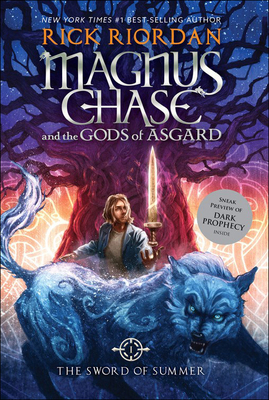 Staff Reviews
---
I didn't think Rick Riordan could come up with a character I liked more than Percy Jackson, but I was dead wrong. In his newest series that centers on the Norse gods (you know - Odin, Thor, Loki...those guys), Riordan gives us his most enthralling character to date in the form of Magnus Chase. If the name sounds familiar, it should. Fans of Percy Jackson will remember Annabeth Chase, daughter of Athena. Magnus is her cousin, and yes, she makes appearances in the story. The story is told through Magnus himself and the voice Riordan gives Magnus is far from a Percy Jackson repeat. I thoroughly enjoyed the juxtaposition of snark and humility in Magnus, and actually caught myself laughing out loud in several places. There are definite inside jokes that readers of the previous three series will appreciate, and as always, the writing makes this book nearly impossible to put down. I truly feel that this is Riordan's best work yet and await the next installment with bated breath!
—
Scott
Description
---
Magnus Chase has seen his share of trouble. Ever since that terrible night two years ago when his mother told him to run, he has lived alone on the streets of Boston, surviving by his wits, staying one step ahead of the police and truant officers. One day, he's tracked down by an uncle he barely knows-a man his mother claimed was dangerous. Uncle Randolph tells him an impossible secret: Magnus is the son of a Norse god.
The Viking myths are true. The gods of Asgard are preparing for war. Trolls, giants, and worse monsters are stirring for doomsday. To prevent Ragnarok, Magnus must search the Nine Worlds for a weapon that has been lost for thousands of years.
When an attack by fire giants forces him to choose between his own safety and the lives of hundreds of innocents, Magnus makes a fatal decision.
Sometimes, the only way to start a new life is to die . . .
About the Author
---
Rick Riordan, dubbed "storyteller of the gods" by Publishers Weekly, is the author of five #1 New York Times best-selling middle grade series with millions of copies sold throughout the world: Percy Jackson and the Olympians, The Heroes of Olympus, and the Trials of Apollo, based on Greek and Roman mythology; the Kane Chronicles, based on Ancient Egyptian mythology; and Magnus Chase and the Gods of Asgard, based on Norse mythology. Rick collaborated with illustrator John Rocco on two best-selling collections of Greek myths for the whole family: Percy Jackson's Greek Gods and Percy Jackson's Greek Heroes. Rick lives in Boston, Massachusetts with his wife and two sons. Follow him on Twitter at @camphalfblood.