Batavia's Graveyard: The True Story of the Mad Heretic Who Led History's Bloodiest Mutiny (Paperback)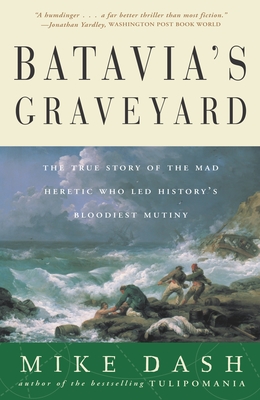 $17.00
Not Available In-Store - Usually Ships from Warehouse in 1-5 Days
Staff Reviews
---
This is simply the most exciting work of historical nonfiction I have ever read. A familiar tale in Australia, it has remained sadly unknown to American readers. The villain is like some unholy combination of Captain Bligh, Jim Jones, and Dracula. He meets his match in a scrappy underdog hero who could have emerged from classic Hollywood. A bloody good adventure yarn, something of a "Lord of the Flies" for adults with strong stomachs, I promise you won't have more fun with a true adventure book, perhaps ever.
—
Stephen
Description
---
In 1628 the Dutch East India Company loaded the Batavia, the flagship of its fleet, with a king's ransom in gold, silver, and gems for her maiden voyage to Java; the ship itself was a tangible symbol of the world's richest and most powerful monopoly.

The company also sent along a new employee to guard its treasure. He was Jeronimus Corneliszoon, a disgraced and bankrupt man with great charisma and dangerously heretical ideas. With the help of a few disgruntled sailors, he hatched a plot to seize the ship and her riches. The mutiny might have succeeded, but in the dark morning hours of June 3, 1629, the Batavia smashed through a coral reef and ran aground on a small chain of islands near Australia. The captain and skipper escaped the wreck, and in a tiny lifeboat they set sail for Java—some 1,500 miles north—to summon help. More than 250 frightened survivors waded ashore, thankful to be alive. Unfortunately, Jeronimus and the mutineers had survived too, and the nightmare was only beginning.
About the Author
---
Mike Dash is the author of the national bestseller Tulipomania. A journalist and Cambridge-educated historian, he lives in London.
Praise For…
---
"Brilliantly crafted, deeply researched . . . a gruesome and powerfully written history. [Dash] provides a thorough look at the underlying subject of all expedition stories—the human heart." —Star-Tribune (Minneapolis)

"Horrific and mesmerizing . . . No history I've read in years places you so deeply inside a piece of the past."—National Geographic Adventure

"Scholarly and exhilarating. Not only history, but an enthralling sea yarn and true-crime thriller." —Associated Press

"I read it in one sitting, absolutely enchanted." —St. Louis Post-Dispatch