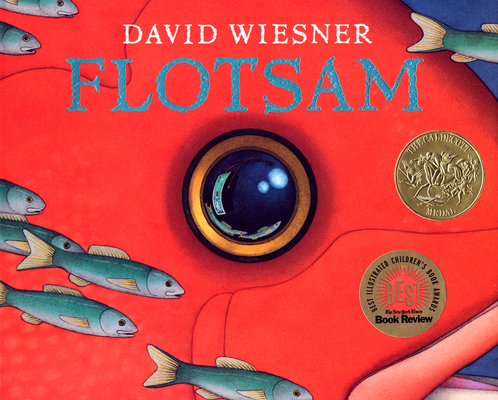 $18.99
Not Available In-Store - Usually Ships from Warehouse in 1-5 Days
Staff Reviews
---
Take a trip in the sea with this book! Caldecott award-winning author David Weisner (of Tuesday) does it again. This time take a glimpse into the ocean world when a little boy discovers an old fashioned camera washed up on the shore filled with wondrous images. But who has taken the pictures? Find out as you turn the beautiful and brightly illustrated pages. Not only will Flotsam please your eyes, it will stimulate your imagination as you create your own story with this wordless picture book.
—
Brandi S.
Description
---
A bright, science-minded boy goes to the beach equipped to collect and examine flotsam--anything floating that has been washed ashore. Bottles, lost toys, small objects of every description are among his usual finds. But there's no way he could have prepared for one particular discovery: a barnacle-encrusted underwater camera, with its own secrets to share . . . and to keep.

Each of David Wiesner's amazing picture books has revealed the magical possibilities of some ordinary thing or happening--a frog on a lily pad, a trip to the Empire State Building, a well-known nursery tale. In this Caldecott Medal winner, a day at the beach is the springboard into a wildly imaginative exploration of the mysteries of the deep, and of the qualities that enable us to witness these wonders and delight in them.
About the Author
---
David Wiesner is internationally renowned for his visual storytelling and has won the Caldecott Medal three times—for Tuesday, The Three Pigs, and Flotsam—the second person in history to do so. He is also the recipient of three Caldecott Honors, for Free Fall, Sector 7, and Mr. Wuffles. He lives near Philadelphia with his family. www.hmhbooks.com/wiesner 
Praise For…
---
"Wiesner offers another exceptional, wordless picture book that finds wild magic in quiet, everyday settings." Booklist, ALA, Starred Review

"New details swim into focus with every rereading of this immensely satisfying excursion." Publishers Weekly, Starred

"A mind-bending journey of imagination." School Library Journal, Starred

"In Wiesner's much-honored style, the paintings are cinematic, coolly restrained and deliberate...An invitation not to be resisted." Kirkus Reviews, Starred

"Wiesner's detailed watercolors make the absurd wonderfully believable...and children will surely love 'Flotsam' from start to finish." New York Times Book Review Notable Book

"The meticulous and rich detail of Wiesner's watercolors makes the fantasy involving and convincing." Horn Book

"Wiesner continues to show children that things aren't always what they seem. Would the Caldecott committee consider a three-peat?" Bookpage

"Wiesner returns with his traditional wordless-narrative format for another fantastical outing." Bulletin of the Center for Children's Books