I'm Trying to Love Spiders (Hardcover)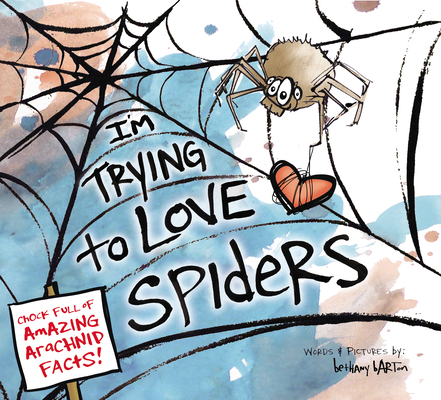 $16.99
Not Available In-Store - Usually Ships from Warehouse in 1-5 Days
Staff Reviews
---
I think this book was written for me. I am pretty sure I have a mild to not so mild case of undiagnosed arachnophobia. I can't even look at a photo of a spider without cringing. But I safely read this entire book and can now say I actually like a spider book - book being the keyword here. This may not have cured my spider fears, but it certainly has given me some facts to appreciate about spiders. It's funny and informative and not at all scary. Finally, a book that will appeal to everyone, no matter their phobia level.
—
Brandi
Description
---
The Official Spider Test.

What do you do when you see a spider?
a. Lay on a BIG spidey smoocheroo.
b. Smile, but back away slowly.
c. Grab the closest object, wind up, and let it fly.
d. Run away screaming.

If you chose b, c, or d, then this book is for you (If you chose a, you might be crazy.)

I'm Trying to Love Spiders will help you see these amazing arachnids in a whole new light, from their awesomely excessive eight eyes, to the seventy-five pounds of bugs a spider can eat in a single year And you're sure to feel better knowing you have a better chance of being struck by lightning than being fatally bit by a spider. Comforting, right? No? Either way, there's heaps more information in here to help you forget your fears . . . or at least laugh a lot
About the Author
---
Bethany bARTon was drawing monsters for her other picture books (This Monster Needs A Haircut, This Monster Cannot Wait) when a spider crawled across the page and demanded her attention. Since she couldn't smash Mr. Spider into her artwork, she decided to try and love him. It wasn't easy (RIP Mr. Spider) but in the process, this book was born. When she isn't writing or illustrating books about awesome and icky things, Bethany spends her days decorating sets and painting miniatures for film/TV. Bethany lives in Los Angeles with her rad husband, their adorable son, and an outrageous number of garden spiders she won't let anybody smash. (Well... unless they're really big.)